Say it with a Sock
11 Ratings | 10 Reviews
Say It With a Sock is a fun sock-of-the-month club for men, women, and kids. Subscribers can choose whether they would like one or two surprise pairs of socks every month.
You can check out all of our Say It With a Sock reviews to see deliveries for kids as well!
This is a review of the medium-sized 2-pair "Patterned" subscription for $19.99 + free shipping.
This box was sent to us at no cost for review. (Check out the review process post to learn more about how we review boxes.)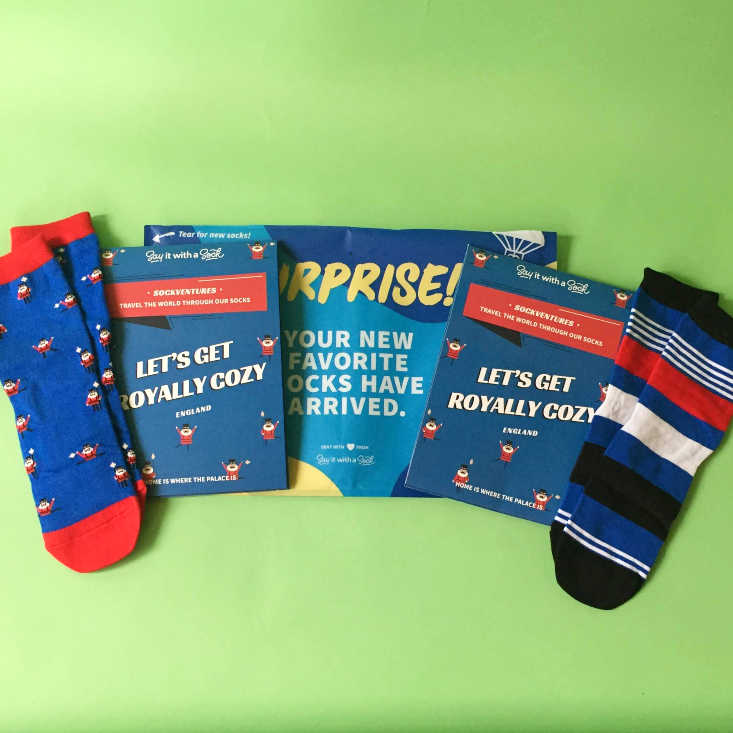 About Say It With a Sock
The Subscription Box: Say It With a Sock
The Cost: $12.99 + free shipping/month for one pair or $19.99 + free shipping/month for two pairs. Save with longer subscriptions.
The Products: One or two pairs of mystery socks
Ships to: The US, Canada, UK, Australia, Ireland, Belgium, Finland, France, Germany, Luxembourg, Netherlands, Spain, Denmark, Norway, Sweden, Austria, Italy, and Switzerland—all for free!
Say It With a Sock 2-Pair April 2020 Review
I've noticed something cool on my Say It With a Sock packaging this year - it simply says, "Medium," and didn't specify a gender for the package, like it has in the past! I really like this change, and when I visit the SIWAS website, the messaging is much the same, breaking the options down by size, but also mentioning in parentheses that Large is suggested for men, and Medium is suggested for Women, to help many find their fit. I really like that they did away with gender labels and made this sub accessible and friendly for all folks.
The socks arrive with a card to give you some explanation of the goodies, and also keeps the socks nice and flat in the mailer so that they don't get rumpled. This month's theme is "England," with two pairs of socks that reflect the mother country! Let's take a closer look.
Striped Socks
The patterned pair in this box is especially sharp! Not just evenly-spaced stripes, these are a dynamic mix of thick and thin stripes that are both clean and bold in equal measure. The black and white make these especially wearable with lots of different outfits, and would also be really cute peeking out from a pair of jeans. Say It With a Sock's signature blend of 70% combed cotton, 25% polyester, and 5% spandex will keep these in great shape and looking new for a long time.
Guard Socks
I'm a big fan of anything that makes me giggle these days, and these certainly fit that bill! These little guys seem to be working in a little bit of exercise in between their duties as guardsmen, and as always, a good pun wins my heart every time. As much as I want to keep these for myself, my mom absolutely loves British television, movies, etc, so I think I'll pass these along to her. I know they'll make her smile as much as they did for me!
Verdict: I was so happy to see that Say It With a Sock had such a strong theme in this box! I loved that the socks coordinated with each other in spirit and color both, and the adorable guard socks really made me happy. The way the weather has been going in Pennsylvania lately, it seems like I'll be wearing socks until July, so thank goodness I have access to such comfortable socks to keep my feet from getting cold during the day. These are high quality, fun accessories that really are so useful.
To Wrap Up:
Can you still get this box if you sign up today? The socks are a mystery! Sign up and see which fun designs you end up with!
Value Breakdown: These two pairs of socks cost $19.99 with free shipping, making each pair $9.99. The cotton content of these adds a lot of value, as do the craftsmanship, durability, and bright multitude of colors per sock.
Check out all of our Say It With a Sock reviews!
Keep Track of Your Subscriptions: Add this box to your subscription list or wishlist!
What do you think of the "England" edition of Say It With aSock?