Bookroo
18 Ratings | 14 Reviews
Bookroo is a monthly book subscription for children that sends quality books sure to engage kids in reading. They offer three subscription options:
The Board Book Club, which includes 3 books for ages 0-3 for $19.95 + $4.99 shipping/month,
The Picture Book Club, which includes 2 hardcover books for ages 2-6 for $19.95 + $4.99 shipping/month, and
The Chapter Book

Club

, which includes 2 books for ages 7-10 for $24.95 +

$4.99

shipping/month.
This review is of the Board Book box for ages 0-3.
This box was sent to us at no cost for review. (Check out the review process post to learn more about how we review boxes.)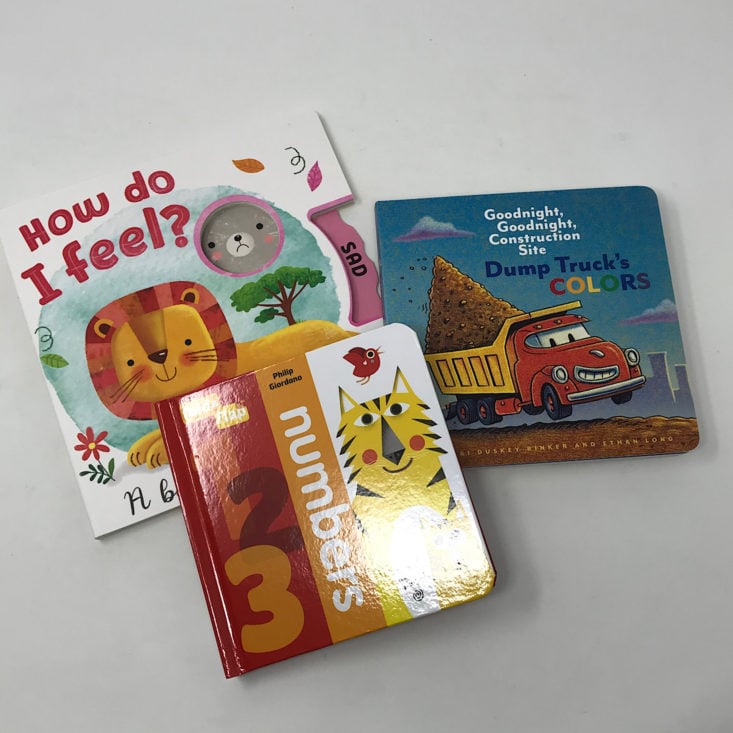 About Bookroo
The Subscription Box: Bookroo Board Book Club
The Cost: $19.95 a month + shipping (save with longer subscriptions)
The Products: 3 children's board books selected to inspire a lifelong love of reading
Ships to: The US for $4.99, Canada for $16, and worldwide for an additional shipping charge
Good to know: They also offer an option for alternating monthly between board books and picture books if you have children of multiple ages!
Bookroo Board Book March 2020 Review
Bookroo sends the books individually wrapped each month which is such a nice treat. This month's paper is in celebration of them turning 5!
Bookroo always includes an insert that gives a brief description of the books you receive with the board book box selections listed on one side and the picture book box selections on the other. They encourage you to share your books on social media and to leave a review of your book.
Fold a Flap Numbers by Philip Giordano - Retail Value $9.99 (found here for $8.52)
Our first book is a fun way to learn numbers with lots of animals and flaps that open in every direction which are great for little hands and developing fine motor skills. This is a great way to reinforce counting skills and it goes all the way up to ten, although it does jump to 20 on the very last page, which I found a bit odd. It is great for continuing the counting, though. The kids loved the artistic animal illustrations and my youngest enjoyed the interactiveness of the flaps on each page!
How Do I Feel? by Bendon Books - Retail Value $6.99
Our second book is interactive, too, with a wheel to spin as the child tries to determine which emotion the character is feeling based on the events described on the first page. While the spinning wheel and different animal faces were engaging and fun, what I appreciated was how it taught them to recognize emotions and think critically about what was happening within the pages. Plus there were adorable animals and bright colors throughout which added to the fun!
Goodnight, Goodnight Construction Site: Dump Truck's Colors by Mrs. Peanuckle - Retail Value $6.99 (found here for $6.71)
We have read Goodnight, Goodnight Construction Site before so it was exciting to see another book from this series. This time we are going over colors and they didn't just include the rainbow colors, but also included neutral colors, like brown and black. Each page used the color vocabulary multiple times to reinforce them and the illustrations were so nicely done. My youngest loves cars and trucks and we have been working on colors with him, so this was a perfect book for him!
Verdict: The kids really enjoyed the books we received from Bookroo this month. The fact that two of them were so interactive with flaps to lift or a wheel to spin was so fun and engaging for them and they also loved all of the animals. In addition to being fun, I thought these were all great educational books whether it was teaching numbers, reinforcing colors, or even helping them to identify emotions. You're never going to get an incredible value from a board book box since they are less expensive in general, but these came pretty close to our box cost of $24.94 ($19.95 a month + $4.99 shipping) with a total value of $23.97. I think there is also some added value in having the books vetted for you and shipped to your door in cute wrapping paper for a fun surprise!
To Wrap Up:
Can you still get this box if you sign up today? No, you will receive the April box.
From Bookroo:
If you order between the 5th and the 15th of the month, your box will ship in our monthly batch the business day following the 15th. If you order between the 1st and the 4th, or the 16th and the 31st, your box will ship the weekend following your purchase. All subsequent boxes will ship with our monthly batch the business day.
Value Breakdown: At $24.94 ($19.95 + $4.99 shipping) for this box, here is what you are paying approximately for each book:
Numbers - $10.40
How Do I Feel? - $7.27
Dump Truck's Colors - $7.27
Read all of our Bookroo reviews and check out our Kids Subscription Box Directory for other fun boxes your child might enjoy!
Keep Track of Your Subscriptions: Add this box to your subscription list or wishlist!
What do you think of this month's Bookroo?