Pura Vida
30 Ratings | 4 Reviews
Pura Vida Bracelet Club is a jewelry subscription box that sends members sets of coordinated boho bracelets for $14.95 per month. They also offer Pura Vida Jewelry Club, which has a wider variety of jewelry each month. (Check out our Pura Vida Jewelry Club reviews to learn more!)
Pura Vida is a charitable subscription box company, too—they've partnered with over 190 charities and support artisans the world over.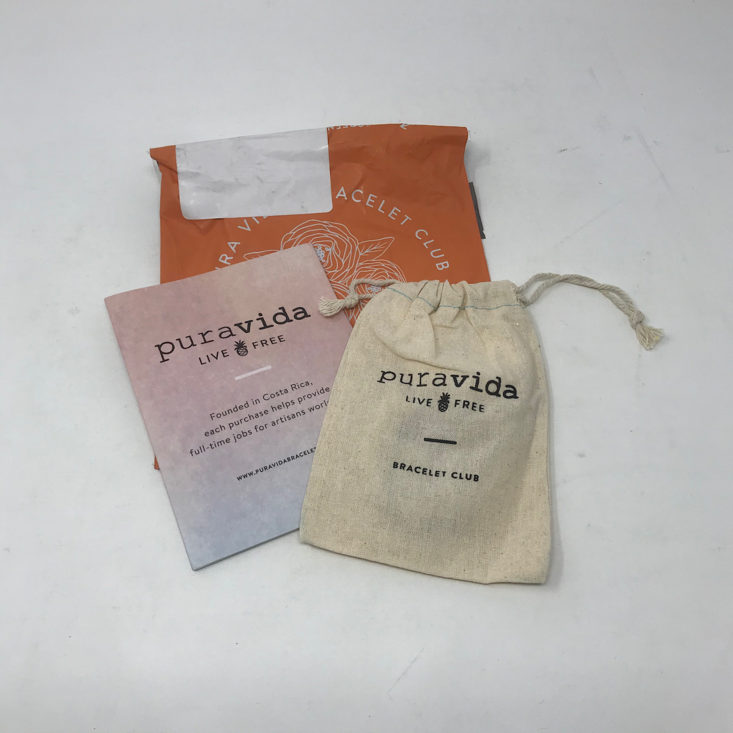 This box was sent to us at no cost for review. (Check out the review process post to learn more about how we review boxes.)
About Pura Vida Bracelet Club
The Subscription Box: Pura Vida Bracelet Club
The Cost: $14.95 + free shipping. Save with longer subscriptions.
ACTIVE DEAL: Free Shipping on US Orders $45+. No coupon needed - just use this link.
The Products: Three exclusive, woven bracelets (up to a $50 value)
Ships to: The US for free, internationally for $5.00
Good to Know: Orders ship out within 4-5 days of purchase.
Pura Vida Bracelet Club March 2020 Review
Pura Vida sent this cute fold-out card that tells a little bit about their company and how they give back. This card also includes a nice thank you for your support as well as a cute sticker hidden behind that fun pineapple at the end of the card!
Lucky Charms Pack
This month we received a little pack full of luck for St. Patrick's Day. Your bracelets will arrive in a small drawstring bag with the Pura Vida Monthly Club logo on the outside. These bags are great for storing your bracelets or taking them with you when you travel.
Lucky Charms Bracelet
Our first bracelet is so festive with a braided green string and silver charms with a four-leaf clover, horseshoe, and wishbone. I always love a great holiday design and this one is cute but subtle with the dainty little charms.
The wishbone and horseshoe look very similar so it creates a great sense of balance on the bracelet.
White Braided Bracelet
Our next bracelet is one that will go with so many others thanks to the classic design. This thick white braid is a nice contrast to the others we received this month.
This one has a beachy vibe to me and I have a feeling I'll get a lot of use out of it!
Jade Beads Bracelet
This last bracelet is my favorite. I love that they chose such a nice muted stone with these little jade gemstone beads. Jade is said to bring you luck, so these were a great choice! They look nice with the thin tan braided string, too. Very zen!
What a pretty bracelet!
Here they all are together. So cute and festive without being over the top!
I love that these bracelets feature bands that you can adjust to fit your wrists comfortably. If the bracelet ends are too long on your wrist, check out this YouTube tutorial on how to shorten the ends!
The threads are also coated in wax, which means you can wear them at the beach or in the shower if you're too lazy to remove them like I am! These bracelets definitely hold up over time, which is one of the many reasons I love them.
The Verdict: I love the little bits of luck that Pura Vida Bracelet Club sent us this month! While these are great for the month of March and St. Patrick's Day, the white bracelet and jade bracelet will be great to wear year-round. I love the cuteness of the four-leaf clover and charms on the green string for a more festive look, too! Overall, this was a great pack this month for $14.95!
To Wrap Up:
Can you still get this box if you sign up today? You'll likely receive the April pack. From Pura Vida:
Orders ship within 4-5 days of purchase. Your card will be charged $14.95 + tax on the 7th of each month, and your pack will arrive around the 15th.
ACTIVE DEAL: Free Shipping on US Orders $45+. No coupon needed - just use this link.
Value Breakdown: At $14.95 for this box, you're paying about $4.98 for each bracelet.
Check out all of our Pura Vida Bracelet & Jewelry Club reviews to learn more and discover the best jewelry subscription boxes of 2020!
Keep Track of Your Subscriptions: Add this box to your subscription list or wishlist!
What do you think of the Pura Vida Bracelet Club?