Bullymake Box
135 Ratings | 63 Reviews
Bullymake Box is a monthly subscription box for power chewers. You all have heard about (and seen) some of Nyx's exploits with plush toys from dog subscription boxes so when I heard about this one, I had to sign up immediately. Nyx is definitely a power chewer! You pick your dog's weight in 10-pound increments so this is a box for an 80-pound dog (Nyx weighs about 87 right now).
My Subscription Addiction paid for this subscription. (Check out the review process post to learn more about how we review boxes.)
About Bullymake Box
The Subscription Box: Bullymake Box
The Cost: $39 a month + free US shipping. Save with 3-, 6-, and 12-month subscriptions.
The Products: Toys and treats specifically tailored for heavy chewing dogs (no plushes). You can enter specific allergy information for your dog on the checkout screen. You can also choose to receive a "toys only" box as I did because of Nyx's dietary issues. You can also now customize the types of toys you receive–see more about how to do so below.
Ships to: The USA (for free!) and Canada (for $8)
Good to Know: If you want a toys-only box, you should select that during sign-up. Otherwise you will get the default box, which does include some treats. Now you can also go into your account and change your preferences regarding treats, toy type, etc.
Bullymake Box October 2019 Review
There was a Halloween theme this month:
Not all boxes are the same due to the fact that you can choose your dog's size in 10 pound increments, choose a toys-only box, and now choose the types of toys, and the newer information cards reflect that.
Tombstone Nylon Chew
This is the first of three Halloween-themed nylon chews. (Please note, you can get rubber toys and/or treats as well, it depends on your sign-up options. We get nylon toys because Nyx likes them the best.) This is flatter than the others but has some edges for gripping. This one seems super sturdy so far. You can see Nyx playing with it below.
Candy Bar Nylon Chew
This isn't just flat but it is hard to show the rounded bottom part in a photo. Anyway, it's something of a different thickness and shape from the tombstone and Nyx thinks it's great as well. As an aside, I think some of these toys are flavored but the flavors don't seem to aggravate Nyx's inflammatory bowel disease, which is great.
Nylon Bat Chew
Since this came in the bag, it's probably the main themed toy for the month, but it doesn't make for great pictures when a mostly black dog is chewing on it. This has a different shape than either of the other toys, so it's nice for the sake of variety. Nyx is just happy to get toys every night but I try to rotate which ones she gets to keep her interest so I'm pleased everything had a different shape.
Canvas Bat Toy
I *think* this is a bat. We leave our third toy choice open and usually get ropes but this bat seems appropriate for a Halloween box. It is a thick canvas and a bit crinkly (no stuffing -- you'll never get plushes with this subscription). Nyx has not damaged it yet although she is typically pretty hard on this type of toy and I'm sure it'll be looking a bit worse for wear after a few more play sessions.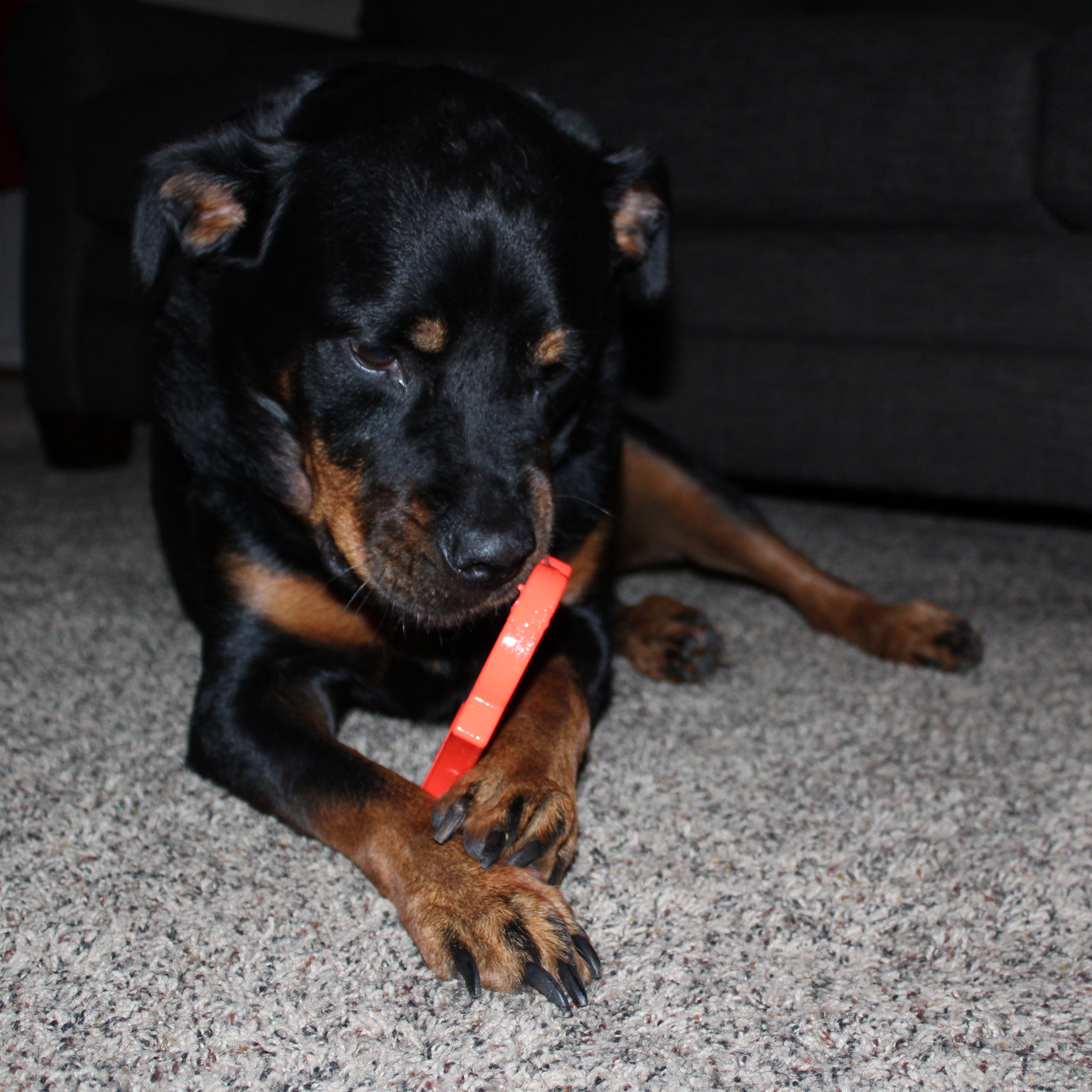 Here are some pictures of Nyx with the tombstone toy. She had a lot of fun although that's not always evident from the photos. These nylon toys are absolutely the highlight of her month and they usually last her until the next Bullymake Box comes.
Verdict: I couldn't calculate a total value for the October Bullymake Box because all of the toys were Bullymake exclusives but not available in their shop. However, I'd say this was a typical month for this subscription for us. This is one of Nyx's favorite boxes to receive each month and I like the customization – some people and dogs might find three nylon toys boring, but this is literally Nyx's favorite type of toy, ever, and getting three of them means three times the entertainment (and also they last a long time). But if nylon toys aren't your dog's thing, other options are available. I'm not sure which toy was Nyx's favorite as she was pretty enthusiastic about all of them.

To Wrap Up:
Can you still get this box if you sign up today? No, your first shipment would be November's. You can sometimes buy some of the exclusive toys at the Bullymake Shop if something catches your eye (this month's toys may take a few weeks to get put into the shop). Also, please note there are some box variations here so you may not always receive the same box as Nyx gets, even if you choose the same profile values when you sign up.
Value Breakdown: At $39 for the box, you are paying an average of $9.75 per item.
Check out our past reviews of Bullymake Box and the best pet subscription boxes of 2019 for lots of other great boxes for dogs!
Keep Track of Your Subscriptions: Add this box to your subscription list or wishlist!
What do you think of the October 2019 Bullymake Box? Do you subscribe to any dog or cat boxes?