Spiritú Box Summer 2019 Review
Spiritú Box
Spiritú is a quarterly subscription that delivers unique brands of beauty, lifestyle, and artisanal products.
Spiritú also has an online store which is a place for Latina entrepreneurs and creators to showcase their passions, crafts and products! 
My Subscription Addiction paid for this box. (Check out our review process post to learn more about how we review boxes.)
The Cost: $39.99 per quarter
COUPON: Use code SUNNY to save 25% off your first box!
The Products: Over $100 of curated beauty, lifestyle and artisanal products.
Ships to: Continental US for free; to Alaska, Hawaii, and Puerto Rico for $9.95
Spiritú
Summer 2019 Review
My box included a pamphlet that showed the contents of the box. It includes an image of the product, retail values and a description for each.
This small card placed at the top of the box highlights its retail value, along with the artist responsible for this month's box artwork.
This information card came with the bag shown below. It shows Mexico on the front and on the back it gives more information:
This bag was handmade by a family of artisans in Chiapas, Mexico and is distributed by Malinalli Art You Can Wear, a Los Angeles based brand founded by Mexican entrepreneur Virdiana Odriozola.
Malinalli Artisanal Bag – Listed Value $20.00 
I love this first item in my box! The bag is made of really beautiful colors—black with purples, oranges and reds. It closes with a zipper that has a rose-pink tassel and a green ball. The bag is a really great size, too! I am able to fit quite a bit in it!
Daniel Stone x Spiritú Limited Edition Candle, 8 oz – Retail Value $45.00 
I love candles, especially long-lasting candles. This candle boasts 60 hours of burn time and smells of white tea and ginger root. I light this candle and leave it burning in my master bathroom. The candle is made of coconut wax and is really soft, even before being burned. The label has also been exclusively designed for Spiritú by artist Anna Alvarado who was inspired by the uniqueness of women and flowers: resilient and forever blossoming. The candle leaves a light scent in my bathroom that floats into my bedroom which I really like. I just don't know if I can spend $45 alone on a candle. I am really happy to have such an exclusive kind in this box, though!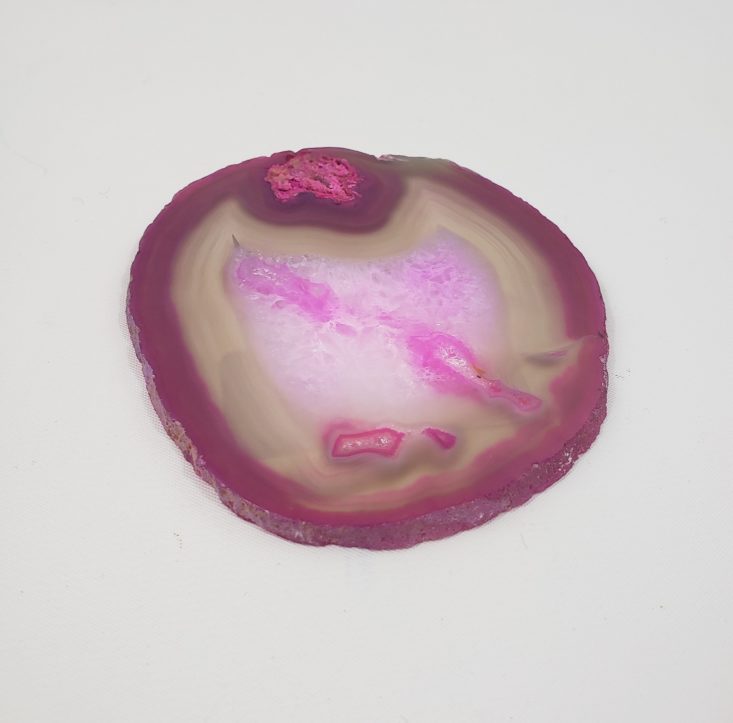 Natural Brazilian Agate Candle Holder – Retail Value $12.00
When Liz released spoilers earlier this month, I was hoping to get the pink holder, even though all of them are gorgeous! I was super excited when I opened my box to see the pink one. It really is a beautiful piece featuring a few different shades of pink. It is about an inch thick and isn't too heavy. 
It looks really great together, especially with the lights off.
Murad Refreshing Cleanser, 6.75 oz – Retail Value $39.00
Wow! This is a great cleanser included in my box and Murad is a nice but expensive brand. The first time I used, or even heard of, Murad was in a subscription box as an amazing moisturizer, so I was really psyched to try this cleanser. The product has a pearly sheen and spreads easily on my skin. It leaves my skin so soft and I have even noticed a change in my skin tone. I leave this on my sink in my restroom next to my toothbrush to make sure I use it every day. Key ingredients in this cleanser are cucumber extract to sooth over-processed skin, Hawaiian white ginger to help hydrate and soften skin and algae extract to enhance skin smoothness. I follow up with an essence oil, then moisturizer. Also included was a 25% off code for an online purchase.
Dove Body Wash Mousse, Rose Oil, 10.3 ounces – Retail Value $5.94, Listed Value $5.99
I love Dove products and am a devout user of the baby shampoo and wash for my 11-month-old. For myself, I like to use exfoliators, but got a great body wash in my New Beauty subscription that I have been using lately. I was curious and excited to try this new wash for myself. It is a foam product, so when I opened it up and pumped it once, a lot came out! It smells really good and isn't too overpowering which I really appreciate! This product also doubles as shaving cream which is perfect for me; I don't like to use shaving cream and use my body wash when I shave so that alone made me an instant lover of this product. I ended up using this new body wash as an excuse to take a middle-of-the-day shower to test it out and has been the body wash I have reached for lately. It leaves my skin soft and clean with a hint of a rose scent.
Clinique Happy Perfume, 0.14 oz –Listed Value $5.50, Buy a 0.15oz rollerball bottle for $21.00
You know, I am not sure if it was Clinique Happy or a Mary Kay perfume that was my first perfume, but this made me smile a little. This bottle is perfect for my purse or desk for when I need to freshen up. The scent is citrus-floral like. I like it because it is light and not too heavy. This is a good one I can share with my daughter, who is 8 and absolutely loves perfumes.
Clinique Pretty Easy Liquid Eyelining Pen in Black – Retail Value $22.00, Listed Value $11.00
This couldn't have come at a more perfect time! I have recently cleaned out my makeup and threw away too many dried out pencils. I like this kind of liquid liner; it is easy to hold and easy to use. The brush helps to create a clean line in one stroke, which is so much easier than an actual pencil where I have to do a couple of strokes that sometimes leads to an uneven line. The color I received is black, which is perfect, though I would have been just as happy with brown. In regards to the value, I referred to Ulta, Sephora and Clinique directly and all the values were $22.00 even though my card reflected $11.00. The only difference I could tell in the two is the color of the cap: mine was silver and the others are all black. It's possible that they have recently updated the look which could account for the difference in price.
Verdict: I was really, really pleased with my first box; I got so many great products! I also love that this box features items created by Latina women so I can really discover some great things like the bag I got in this month's box. One of my favorite things about this box is that even though it is curated by Latina women and features items created by Latina creators and entrepreneurs, it is really a great box for any person of any gender or nationality. Altogether, the seven items in my box boasted a $164.94 value for just $39.99 which is almost four times its value, and is a pretty great deal!
To Wrap Up:
Can you still get this box if you sign up today?: At this time, you can still sign up for the summer box!
COUPON: Use code SUNNY to save 25% off your first box!
Value Breakdown: At $39.99 for this box, here's what you are paying approximately for each item:
Handmade bag – $4.98

Daniel Stone Candle – $10.97

Candle Holder – $2.97

Murad Cleanser – $9.37

Dove Body Wash – $1.37

Clinique Happy Perfume – $4.97

Clinique Eye Liner – $5.36
Check out our best women's subscription boxes as voted on by our readers!
Keep Track of Your Subscriptions: Add this box to your list or wishlist!
Spiritú Box is a quarterly box that empowers and supports Latina creators. "From the original artwork on the outside to the beauty, lifestyle and artisanal products on the inside. $39.99 each season, filled with over $100 of amazing products!"
I am a mother of 2 going on 3 soon and enjoy the little things in life, especially in surprise form! Monthly subscription boxes give me that surprise every time I see the mailman delivering them! My favorite boxes include beauty boxes, lifestyle boxes and anything pregnancy-related boxes; my all time favorite is my
FabFitFun
subscription.
I am a mother of 2 going on 3 soon and enjoy the little things in life, especially in surprise form! Monthly subscription boxes give me that surprise every time I see the mailman delivering them! My favorite boxes include beauty boxes, lifestyle boxes and anything pregnancy-related boxes; my all time favorite is my
FabFitFun
subscription.
You Might Also Like
Our reviewers research, test, and recommend the best subscriptions and products independently; click to learn more about our
editorial guidelines
. We may receive commissions on purchases made through links on our site.