Sock Panda
17 Ratings | 14 Reviews
Sock Panda is a monthly sock subscription service for men, women, tweens, and kids ages 3-8. When you sign up, you'll pick some style preferences and note whether you'd like to receive one or two pairs per month. With each shipment, you'll receive a new selection of quality socks from their own house brand with plenty of eye-catching colors and unique designs.
According to the Sock Panda site, this subscription's products are designed in Venice, CA and made in a family-run factory in Lima, Peru. Sock Panda is committed to making the world a better place — as of December 2017 the company has donated nearly 100,000 socks to homeless shelters, low-income senior centers, hospitals, and underprivileged classrooms throughout the country!
This review is of the Men's 2-pair "Daring & Bold" subscription ($19 a month).
This box was sent to us at no cost for review. (Check out the review process post to learn more about how we review boxes.)
About Sock Panda
The Subscription Box: Sock Panda for Men
The Cost: $13.00 + free shipping per month for one pair, or $20.00 + free US shipping per month for two. Save by subscribing to 6- or 12-month plans.
The Products: One or two pairs of unique, high-quality socks (many made with 85% Peruvian cotton).
Ships to: U.S. for free. Ships internationally for $3.00.
Sock Panda for Men June 2019 Review
This little card was included in my package this month describing the charitable aspect of Sock Panda. When you join Sock Panda, you can choose between one or two pairs of socks a month. You also can choose between "Stylish & Suave," "Daring & Bold," or one of each. I chose "Daring & Bold" for my husband because he gets a kick out of them! (See what I did there?)
Globe Socks
What funny socks! Sock Panda sure does have some unique designs! These globe socks are really cute. Both pairs of socks this month are a blend of Peruvian cotton, nylon, and spandex, and my husband said they are really soft and comfortable. He wears a size 10.5 shoe, and these fit really well. He likes these a lot!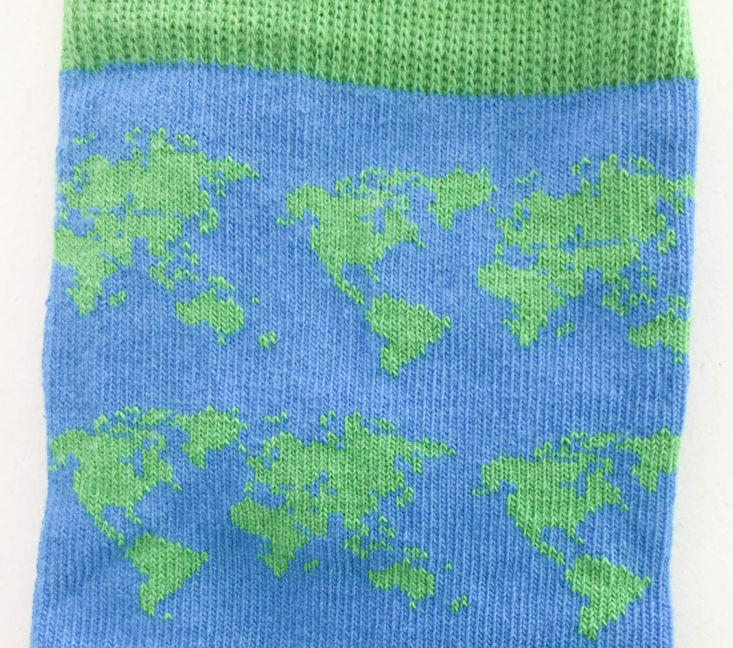 World Map Socks
I think my husband and I both preferred this pair this month. When they are peeking out from under pants or jeans, they look like just regular patterned socks, albeit in a really fun color scheme. But close up, you can see that it is a world map pattern. That is so cool! In addition to being comfortable, they have a high quality feel, too. They are stretchy and comfortable without feeling too thin. Plus they are breathable in this heat!
The Verdict: This was my husband's third month of Sock Panda, and I think he really liked the socks a lot! We also really like the charitable giving aspect of this subscription. He and I both commented on how nice it is to have a new pair of good socks. It's just a little luxury that you don't think much about, but they really make a difference. Both pairs were comfortable and supportive, and they were also very nice looking. You can't ask for more than that!
To Wrap Up:
Can you still get this box if you sign up today? You might not get this exact set if you place your order today.
Value Breakdown: This subscription cost $20.00 total for two pairs of socks (price + US shipping), meaning each pair is $10.00.
Check out all of our Sock Panda reviews and the top men's subscription boxes, as voted by our readers!
Keep Track of Your Subscriptions: Add this box to your subscription list or wishlist!
Have you tried Sock Panda? What's your favorite pair so far?