Pura Vida Bracelets Club Subscription Review – May 2019
Pura Vida Bracelets Club is a jewelry subscription box that sends members sets of coordinated boho bracelets for $14.95 per month. They also offer Pura Vida Jewelry Club, which offers wider variety of jewelry each month. (Check out our Pura Vida Jewelry Club reviews to learn more!)
Pura Vida is a charitable subscription box company, too—they've partnered with over 190 charities and support artisans the world over.
My Subscription Addiction paid for this box. (Check out the review process post to learn more about how we review boxes.)
About Pura Vida Bracelets Club
The Subscription Box: Pura Vida Bracelets Club
The Cost: $14.95 + free shipping
The Products: Three exclusive, woven bracelets (up to a $50 value)
Ships to: US for free, internationally for $5.00
Good to Know: Orders ship out within 4-5 days of purchase.
Pura Vida Jewelry Club May 2019 Review
Pura Vida always includes a nice card explaining how they give back. You also get a fun sticker tucked inside an envelope thanking you for your support. It's such a nice touch. Plus, you can win a free bracelet by sharing your goodies on social media.
Your bracelets will arrive in a small drawstring bag with the Pura Vida Monthly Club logo on the outside. These bags are great for storing your bracelets or taking them with you when you travel.
Pearl Beaded Bracelet
I haven't seen pearls from this subscription before, and I love it! I think the white pearls look so nice against the soft mint-colored string. The pearls are each unique in size and shape and held in place with a tiny knots.
Here it is on. I love the delicate look of the string of pearls!
Peach, Mint, and White String Bracelet
This next bracelet is a bit of a contrast to the pearl style. It has a more casual style, but it still coordinates with the other styles thanks to its matching mint string. This one definitely gives me summer vibes, probably because the peach and mint remind me of orange and lime sherbet!
Here it is on. I like how the pale colors look together!
Seed Bead and Shell Charm Bracelet
This last bracelet has a white string to match the multi-colored bracelet, and the tiny pearl seed beads also go well with the first bracelet. The tiny beads look so nice and beachy next to the small seashell charm, which is very detailed on the top, but smooth underneath. It has the words "Pura Vida" on it.
Here it is on. The silver charm is the perfect accent for a subtle beach look, especially when it's stacked with the other bracelets.
Here are the bracelets stacked together in a few different ways. The colors and styles are definitely beachy and perfect for summer!
I love that these bracelets feature bands that you can adjust to fit your wrists comfortably. If the bracelet ends are too long on your wrist, check out this YouTube tutorial on how to shorten the ends!
The threads are also coated in wax, which means you can wear them at the beach or in the shower if you're too lazy to remove them like I am! These bracelets definitely hold up over time, which is one of the many reasons I love them.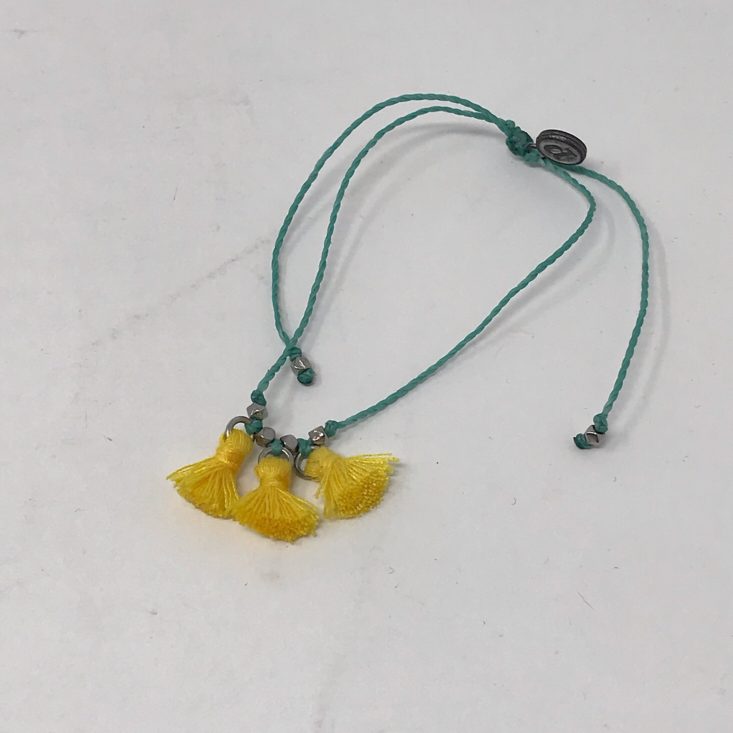 BONUS Silver Triple Tassel Anklet
This month I actually received a bonus anklet, which was a fun surprise! I believe other subscribers received this as well, but there was no information or anything regarding this in the package. I love the color of the string and those fun yellow tassels.
I don't own any anklets, but this one is really fun and a great way to dress up my sandals! It is actually super comfortable to wear, too.
The Verdict: This was another great pack from Pura Vida Bracelets Club, and I'm excited that they even included a bonus anklet! The bracelets and anklet had a great, summery, beach vibe, and I am enjoying wearing them now that the weather is beginning to feel that way. At only $14.95 each month, this is a great subscription that I look forward to receiving each month!
To Wrap Up:
Can you still get this box if you sign up today? It looks like this pack is still available, but sign up by the 30th to get it. From Pura Vida:
Orders ship within 4-5 days of purchase. Your card will be charged $14.95 + tax on the 7th of each month, and your pack will arrive around the 15th.
Value Breakdown: At $14.95 for this box, you're paying about $4.98 for each bracelet. If you count the bonus anklet, it brings the average down to $3.74 per piece.
Check out all of our Pura Vida Bracelets & Jewelry Club reviews to learn more and the best jewelry subscription boxes of 2019!
Keep track of your subscriptions: Add this box to your subscription list or wishlist!
What do you think of the Pura Vida Bracelets Club?
Pura Vida Jewelry Club
How do subscribers rate Pura Vida Jewelry Club?
---
Want more Pura Vida Jewelry Club? See our:
Never miss a post: get email alerts about Pura Vida Jewelry Club!
Enable notifications (

) to get the latest Pura Vida Jewelry Club spoilers, reviews, deals, and news delivered to your inbox.