Star Wars Smuggler's Bounty Box Review – February 2019
Star Wars Smugglers Bounty is a geek subscription box and is part of Funko's subscription box model – this one is specifically sold and shipped through Amazon now – and is still available bi-monthly.
My Subscription Addiction paid for this box. (Check out the review process post to learn more about how we review boxes.)
About Smuggler's Bounty
The Box: Star Wars Smugglers Bounty
The Cost: $29.99 bi-monthly + free shipping
The Products: Each box includes exclusive collectible product created by Marvel/Star Wars & Funko including apparel, collectibles, and accessories.
Ships to: US only at this time. 
February 2019 Smuggler's Bounty Review
This box takes us to the swampy depths of Dagobah and has some familiar faces: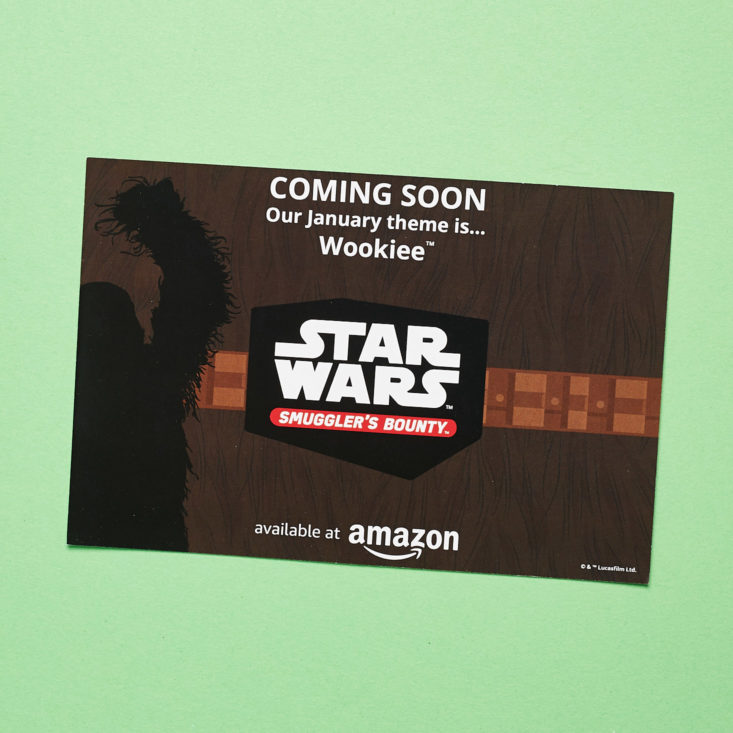 It looks like their months are off on their cards once again. I am guessing the May theme will be 'Wookie'.
The back of the card has a small amount of information about the items in your box.
Jedi Order Sticker
Use this sticker to proclaim your alliance to the world! If you can't stick it to the outside of your ship, your bumper or laptop will also do.
R2-D2 Notepad
I love cute and clever office supplies and these little sticky notes are adorable. For their size, they are highly detailed and I am digging that iconic R2-D2 shape.
Yoda Mystery Mini – Value $10.00 on POP Price Guide
This mini Yoda figurine looks positively zen. I love how this mini is a bobblehead and he is the perfect smaller size to display at work.
Dagobah Face-Off Movie Moments POP – Value $25.00 on POP Price Guide
This bigger figure is from one of the most iconic moments of The Empire Strikes Back: the Dagobah cave scene. Inside the cave, Luke experiences the battle between the dark and the light inside himself, battling a specter of Darth Vader, only to realize it was his own face inside the mask. This is one of those scenes that has a ton of foreshadowing for the rest of the series and is heavy in metaphor. The figure itself is highly detailed and has thoughtful elements like a cave lizard, a different shinier finish on the helmet and an organically painted base.
Verdict: This was a really fun box! Any Star Wars fan would love all of these items, from the little notepad to the really impressive POP movie moment figure. I think both the bigger and the mini pieces were well done, detailed, and beautifully painted. I also liked that though this is mainly a POP centric box, the little add-ins like the sticker and notepad make it feel more rounded and special.
To Wrap Up:
Can you still get this box if you sign up today? No – You'll start with the feature box on the landing page.
Value Breakdown: This box cost $29.99 which evens out to each of the 4 items having an average cost of $7.50.
Check out all of my Smuggler's Bounty reviews to get more information on this subscription. Check out all of our Geeky Subscription Boxes and the Subscription Box List. Rate, review, and follow this subscription on the Smuggler's Bounty profile page.
What did you think of the Star Wars 'Dagobah' box from Smuggler's Bounty?
Smuggler's Bounty
How do subscribers rate Smuggler's Bounty?
---
Want more Smuggler's Bounty? See our:
Never miss a post: get email alerts about Smuggler's Bounty!
Enable notifications (

) to get the latest Smuggler's Bounty spoilers, reviews, deals, and news delivered to your inbox.