Sooni Pouch
2 Ratings | 0 Reviews
Sooni Pouch is a Korean beauty monthly subscription box that features skincare, makeup, face masks, and more. They offer three different subscription levels:
Sooni Pouch Box is $35.99 and includes 8 full-size or deluxe sample size products with a promised value of over $100.
Sooni Mini Pouch is $19.99 and includes 3-4 full-size or deluxe sample size products with a promised value of over $60.
Sooni Mask Pouch is $9.99 and includes 6 masks each month.
This is a review of the Sooni Pouch, $35.99 a month, box.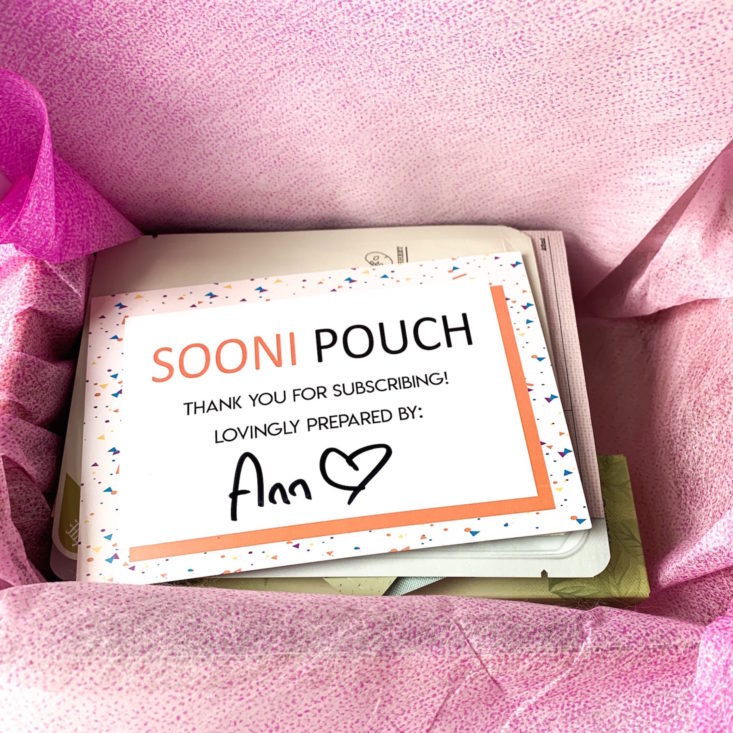 This box was sent to us at no cost for review. (Check out the review process post to learn more about how we review boxes.)
About This Box
The Subscription Box: Sooni Pouch
The Cost: $35.99 + free US shipping
The Products: 8 full-size or deluxe sample size K-Beauty products, plus other goodies
Ships to: the US for free, Worldwide for an additional cost
Sooni Pouch March 2019 Review
Here is the info sheet for the box.
On the other side of the info sheet is a note that my box was prepared by Ann.
We received a few foil samples as a bonus, which I appreciated. I love the Nature Republic Argan Oil line, so I am excited to try the shampoo!
Jant Blanc Green Tea Balancing Toner
This toner is made with both green tea extract and green tea water, and it has a texture that is slightly thicker than typical water. I thought the frosted glass packaging made this feel fancy, and I appreciated that this absorbed quickly into my skin and left it feeling well-balanced and hydrated.
Etude House Exfoliating Jellyfish Brush – Retail Value $6.30
Etude House has some seriously cute products- look at this little jellyfish! It has silicone bristles to get a deep clean and it has a sponge inside that will lather up and dispense cleanser. On the other side of the jellyfish, the little tentacles are actually for facial massage (which I am ALWAYS here for).
Yedam Yunbit Placenta Serum
Yedam Yunbit is a brand I can never find online, but I have enjoyed all of the products I have tried from the brand. Placenta may sound scary, but in skin care, it is derived from plants and is packed with amino acids and peptides and can help with skin oxygenation. I am a fan of layering serums, and this one layered well and added nourishment to my skin. Placenta is supposed to be good for healing irritation, so I am hopeful this will be calming to my red cheeks.
Dewytree The Clean Lab AC Foam
This cleanser is best for oily skin, and it left my skin feeling a tiny bit tight. This has white willow bark extract and allantoin, so along with effectively cleansing your skin you're getting some skin soothing benefits, too.
Etude House Monster Micellar Cleansing Water, 0.84 oz – Estimated Value $0.65 (Buy the 100 mL bottle for $2.60)
This micellar water is made with aloe, bamboo, and green tea to be nourishing while cleansing your skin. I enjoyed how gentle this was, too.
TonyMoly Perfect Lips Double Color Tint in #3 Coral Charming – Retail Value 12.05 (found here for $10.24)
This is a dual-ended lippie with one end being a lip pencil and the other being a velvet liquid lipstick. TonyMoly calls the lipstick a lip tint, but I definitely think the formula is too creamy and thick to be a lip tint.
Here are the lipstick and lip liner swatched.
Labute Revive the Skin Pink Rose Mask – Retail Value $2.90
I really love rose in skincare products, so sheet masks like these are always welcome. This had a natural rose scent that I found to be very pleasant, and the mask fit my face well. Rose is such a calming skin care ingredient, and my skin looked refreshed when I was done wearing this.
TONYMOLY Fresh To Go Pineapple Mask – Retail Value $4
This mask was an interesting experience. I wasn't excited to try it, because it has alcohol pretty high up on the ingredient list. But I love pineapple so I gave it a shot anyways. It was pretty saturated with serum, which made it the perfect mask to use with a jade roller. I pulled my jade roller out of the fridge, rolled my face with the mask on it (and it smells like pineapple juice!), and then almost immediately fell asleep because of how relaxing it was. When I woke up my skin was absolutely glowing. I would probably use it again for the results, but I am a bit bummed that TONYMOLY felt it necessary to include alcohol in the ingredients list.
Skin Planet Gold Lifting Mask
This mask is made with 24k gold and is designed to brighten dull complexions and hydrate your skin. I am pretty sure that the gold molecule is too big to actually penetrate your skin, but appreciate the fact that it makes me feel fancier. The serum on this was really milky, and it fit my face well. My favorite part was how cooling this was to wear- the cooling sensation is one of my favorite parts of doing a sheet mask!
Missha Pure Sure Pocket Honey Sleeping Pack – Retail Value $2.09 (€ 1.85)
I love the portability of these pocket sleeping packs- perfect for traveling, which is usually when your skin needs the extra hydration, too. Along with aloe this mask also has propolis extract and allantoin, so it's a very nourishing sleeping mask.
The Verdict: I really feel like over the past few months Sooni Pouch has stepped up their game - I thought this box was a success! I love that the foil samples were a bonus rather than listed as an item on the info sheet, and I am really happy to receive a full-size toner and serum! Sooni Pouch promises a value of over $100 in this box, and I can't determine if they met that - I don't know the values of the big-ticket items, and the values of the smaller items I could find added up to $27.99. That being said, I think I got a fair value for the $35.99 price tag, which includes free US shipping.
To Wrap Up:
Can you get this box if you sign up today? Yes, I believe March boxes are still shipping.
Value Breakdown: This box costs $35.99 + free US shipping, which means that each of the 10 items in the box has an average cost of $3.60.
Check out all of our Sooni Pouch reviews and the K-Beauty Subscription Box List for similar boxes!
Keep Track of Your Subscriptions: Add this box to your subscription list or wishlist!
What do you think of the Sooni Pouch? What is your favorite K-Beauty product discovery?