Stitch Fix Kids Boy Subscription Box Review – February 2019
Stitch Fix Kids is a new styling subscription service from Stitch Fix! After filling out a survey, a stylist will pick items based on your preferences. The fee for this service is $20, and that includes free shipping and free returns. If you keep any of the items they send you, you get to deduct the $20 fee from the total. (If you keep all items, you also get a 25% discount!)
Stitch Fix Kids offers sizes 2T-14.
My Subscription Addiction paid for this box. (Check out the review process post to learn more about how we review boxes.)
About Stitch Fix Kids
The Subscription Box: Stitch Fix Kids
The Cost: $20 styling fee (pay for whatever items you keep minus the $20 credit)
The Products: 8-10 pieces of clothing, shoes & accessories. Stitch Fix Kids offers sizes 2T-14.
Ships to: the US
Stitch Fix Kids February 2019 Review
In every Stitch Fix Kids box, they include a pre-paid shipping envelope for returns.
I think it is cute that the information sheet has a maze on it for your kid, plus stickers, and the inside flaps of the shipping box have some activities and ideas for how to play with the box, too!
Here's the item list of the clothing they selected for my son, and their individual prices. The items total $156 but with my $20 styling fee applied, and the keep-everything 25% off discount, the total adds up to be $136.
The reverse of that card shows photos of each item (which I love because it makes it easy to reference the pricing sheet).
Tailor Vintage Short Sleeve Button Up Shirt, size 4/5 – Cost to Keep: $18
This shirt is so cute! It's just a little long, though, but that could work perfect for tucking it in. This will be perfect for church and he will get a good amount of time to wear it.
Primary Christopher Twill Four Pocket Pant, size 5 – Cost to Keep: $20
If you've read my Stitch Fix Kids reviews before, you'll know I love the brand Primary. I'm so glad Stitch Fix sent me some little chinos for Gideon this month! Their clothes always seem to fit Gideon perfectly. These pants are just a smidge long on him at the moment but they work better with shoes, plus it's simple to cuff them, and he'll be able to wear them through a few seasons.
Tailor Vintage Jamal Short Sleeve Rugby Stripe Polo, size 4/5 – Cost to Keep: $16
This polo is perfect. I like everything about it, and the fit is spot on. I had asked our Stitch Fix stylist for some collared shirts because Gideon's grown out of almost all his church clothes, and I'm happy to see they delivered some good options for us.
Atlas Quinn Textured Crew Acrylic Sweater, size XS – Cost to Keep: $20
This sweater is another winner! I think it makes him look so grown up. It's a nice, classy piece that is still soft enough for him to be comfortable.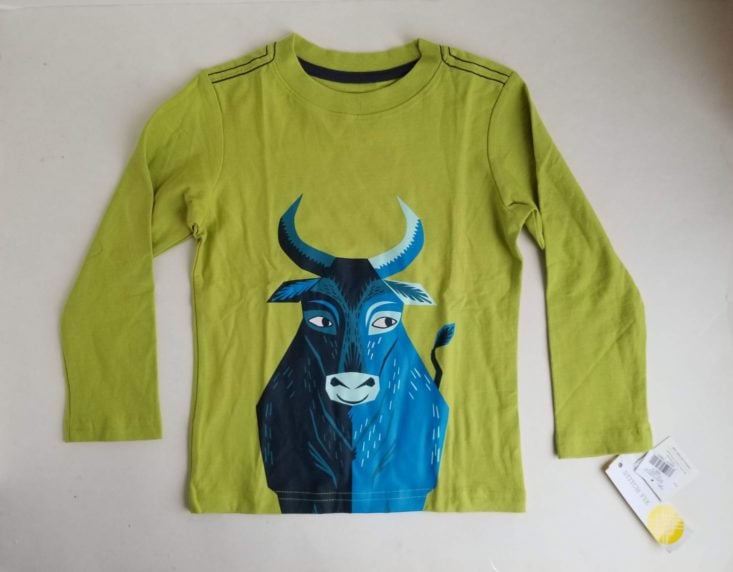 Tea Collection Long Sleeve Graphic Tee, size 4 – Cost to Keep: $18 (found on sale here for $15.95)
Tea Collection is another good brand that makes quality clothes out of 100% cotton. The bright colors of this graphic tee make me so happy! They caught Giedon's eye, too.
Cotton On Davi knit Fleece Jogger, size 5 – Cost to Keep: $20
Yay for comfy joggers. I think these are the next size up for him, so they're a little bunchy, but they'd still be fine to wear now. These soft and comfortable comfy pants are Gideon's favorites.
Rumi + Ryder the Classic Long Sleeve Graphic Tee, size XS – Cost to Keep: $18
This bug shirt was the winner for Gideon this month! After taking the photos, before I had decided what to keep and what to return, he kept talking about the bug shirt and asking to wear the bug shirt. I love the artwork for the graphic, too. We had to keep this!
Hatley Virgil Organic Cotton Sleepwear Set, size 4 – Cost to Keep: $28
These PJs are made of eco-friendly, 100% organic cotton, which I especially love for sleepwear for the boys. I liked these PJs, but to be totally honest, I just didn't want him wearing a shirt that says "master of disaster," considering how often I have to remind him to be calm and kind throughout the day! Haha
Tailor Vintage Jett Long Sleeve Reversible Button Up Shirt, size 4/5 – Cost to Keep: $26
This is a great shirt for winter because it has a double layered fabric to make it reversible and that makes it a warm thickness. It's also very soft! Gideon liked this shirt and I think it looks great on him. You can see it on him below.
Joe's Jeans Brixton Stretchy Cotton Straight & Narrow Fit, size 4/5 – Cost to Keep: $26
Yay for another pair of perfectly-fitting pants! They need to be cuffed a little but I am so okay having extra length on pants because this boy grows so fast. I love this little outfit – another good one for church or just a nicer occasion.
The Verdict: This was another great Stitch Fix for Gideon this month! He and I both liked so many of this month's pieces. Honestly, I would have been happy to keep the whole box had it not been for our budget and items we already owned. I also have to say that I am very much appreciating the quality of the items Stitch Fix sends in our kid boxes! The ones we've kept since starting this subscription have all washed and held up well, and I know these pieces will last and get passed down to my younger son. I think the prices are pretty reasonable for the quality. I also like that there are so many items sent – even if you just want to pick one item so you don't lose out on your styling fee, it's not hard to find at least one thing to love without spending much more than you already have with your fee.
To Wrap Up:
Can you still get this box if you sign up today? Stitch Fix curates its boxes based on each individual's preferences as well as what's available. What you get might not be the same as what we got, but you will probably get something that fits your child's style and size even better than the looks above! Sign up and see what they choose for you!
Value Breakdown: This box cost $20 (styling fee) with free shipping and returns. The total retail value of the items inside is $217. The invoice lists the cost of each item next to it, and if I keep all items, then I get a 25% discount. The $20 styling fee for the box is applied to the purchase no matter how many items you keep, and in this case, it would bring the total down to $136 if I kept everything. That's a discount of about 35%.
Check out all of our Stitch Fix reviews to see how this styling subscription works for women, men, and kids!
Keep Track of Your Subscriptions: Add this box to your subscription list or wishlist!
What do you think about Stitch Fix for kids? Have you tried them yet?
Stitch Fix Kids
How do subscribers rate Stitch Fix Kids?
---
Want more Stitch Fix Kids? See our:
Never miss a post: get email alerts about Stitch Fix Kids!
Enable notifications (

) to get the latest Stitch Fix Kids spoilers, reviews, deals, and news delivered to your inbox.