Kidbox Boys 2019 New Year's Box Review + $20 Off Coupon
Kidbox is a kid's clothing box that "combines cool brands, meaningful savings and a mission to clothe children in need." KidBox ships 5 boxes a year (spring, summer, back to school, fall and winter) but they will notify you before they ship in case you want to skip a box, change your child's sizing or even their style preferences.
Kidbox offers a few options: the Baby by Kidbox for sizes Newborn-24 months, Kidbox for sizes 2T-14, and a new Kidsentials, socks and underwear on-demand service.
This review is of the Boy's New Year's Box in 3T/4T.
This box was sent to us at no cost for review. (Check out the review process post to learn more about how we review boxes.)
About Kidbox
The Subscription Box: Kidbox
The Cost: no styling fee, pay only for the clothes you keep or pay $98 to keep the entire box (free shipping both ways)
LIMITED TIME DEAL: Use code MSA20 for $20 off your first box
The Products: 6-7 clothing items based on the size and style preferences you select
Ships to: U.S.
Good to know: If you keep the entire box for $98 you can also select a cause and Kidbox will make a donation to a kid in need such as a military family or foster child. What a great idea!
Kidbox 2019 New Year Box for Boys Review
Each box comes with a price sheet listing each item of clothing, the retail price, and the price Kidbox will charge to keep that item (which is less than retail). There's also a plastic mailer and pre-addressed sticker to easily return anything you're not keeping. Also included were some stickers and crayons for Gideon.
KidBox Deck of Cards – Estimated Value: $3
Kidbox includes a free bonus item in each box, and this month's free item is a deck of cards. The colors and illustrations are cute! Always handy to have an extra pack of cards for family games.
Kids Club Boys Knit Striped Top, 3T – Retail Price: $32, KidBox Price: $19
I like the style of this shirt. The fabric is very soft and the colors are great for the Winter season, too. Unfortunately, I forgot to update my sizing before this box was shipped and Gideon really needs 4T shirts. This is pretty snug. Whoops.
Lee Boys Stretch Denim Jeans, size 4 – Retail Price: $36, KidBox Price: $27
I thought a size 4 would be small on Gideon, but I am actually very pleased with how these fit him! Sizing can be tough to nail down for him on jeans/pants with buttons and no drawstrings. These are going to be great everyday jeans!
Andy + Evan Boys Striped Planet Tee, size 3T – Retail Price: $35, Kidbox Price:$27
We love all things science and space, and I love the print mixing. The back panel is completely stripes. I love the design of this shirt!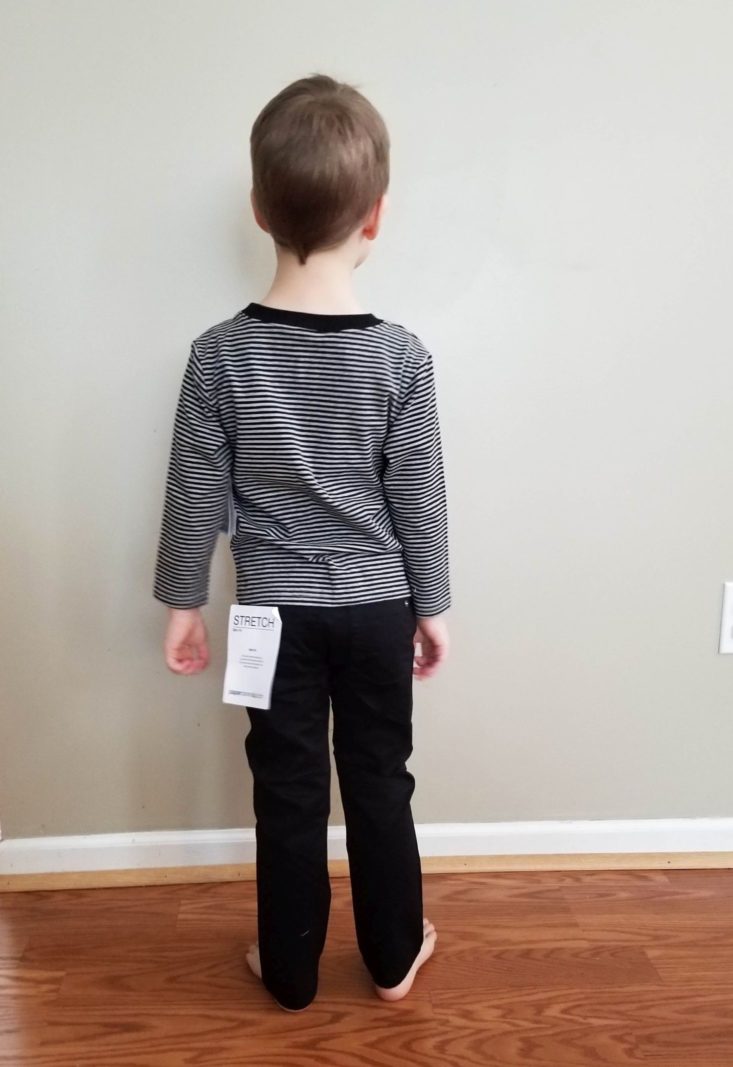 Paper Denim & Cloth Boys Stretch Chino, 4T – Retail Price: $40, KidBox Price: $24
The fit of these pants is absolutely fantastic everywhere except the waistband. I actually could barely even get the waistband buttoned! Normally, as tall as he is, if we find pants long enough for Gideon, they're too big in the waist.  These are very nice little chinos, aside from that issue.
AG Boys Long Sleeve Henley, 3T – Retail Price: $42, KidBox Price: $32
This little Henley is so cute! I love the denim-esque wash, and I love it with khakis for him.
7 For All Mankind Boys 3PC Fleece Jacket, Top, & Pant Set, 3T – Retail Price: $79.50, Kidbox Price: $59
These items all came on one hanger as a 3-piece set. The tops fit Gideon well enough, but the pants are too small since everything in the set is 3T. Because Gideon needs a size up in pants than he does for shirts, sets that come together all the same size are not likely to work for him unless they're sized up. I love the brand 7 For All Mankind. The items in this set are nicely made. The jacket is my favorite because it's a nice step up from just a hoodie for a second layer. I wish the pants fit because they're really cute and feature jogger-like elastic around the ankles.
Verdict: This was a nice Kidbox for us! Besides the fit issues, which were not really their fault, it is probably the best-styled box and most in line with our taste than they've ever sent previously. I love getting some good jeans for him, especially.
To Wrap Up:
Can you still get this box if you sign up today? Your box will be personally curated for you based on your child's age, style preferences, sizing, and Kidbox's current/featured stock!
LIMITED TIME DEAL: Use code MSA20 for $20 off your first box
Value Breakdown: The retail price of all my items add up to about $264 according to the info sheet, but with the discount from keeping a full box my total is $98. That's about $16 per item (counting the 3-piece outfit as one item)!
Check out all of our Kidbox reviews and the Kid's Clothing Subscription Box Directory!
Keep Track of Your Subscriptions: Add this box to your subscription list or wishlist!
What do you think of Kidbox? Have you tried it yet?
Kidbox
How do subscribers rate Kidbox?
---
Want more Kidbox? See our:
Never miss a post: get email alerts about Kidbox!
Enable notifications (

) to get the latest Kidbox spoilers, reviews, deals, and news delivered to your inbox.