Onnit Keto Box
0 Ratings | 0 Reviews
Onnit is a website that focuses on ketogenic-friendly food, supplements, fitness, and apparel. They also created the Onnit Keto Box, which sends recipes and the highest-quality low-carb snacks and supplements.
This box was sent to us at no cost for review. (Check out the review process post to learn more about how we review boxes.)
About Onnit Keto
The Subscription Box: Onnit Keto Box
The Cost: $55.95 a month + free shipping
The Products: High quality, low-carb snacks, and supplements to support your ketogenic lifestyle
Shipping: US
Good to Know: Boxes ship around the 10th of each month!
Onnit Keto Box November 2018 Review
In 2018 I set a goal to lose 50 lbs. and just before Thanksgiving, I hit my goal! I contribute a lot of my success to the keto diet. I've been on it since July under my doctor's supervision. Finding healthy keto snacks, especially those that you can toss in your purse or stash away in your desk, has been really hard. So, I jumped at the opportunity to review this box!
This box came with a detailed info card. The front of the card highlights the featured product for the month and the back provides detailed information on the other items included in the box. I also received coupons for various Onnit partners and a card for 10% off food and supplements of the Onnit website.
Onnit King Tea, 20-0.5oz packs – Retail Value $19.95 (found here on sale for $16.96)
Servings: 1 | Calories: 0 | Fat: 0g | Carbs: 0g | Protein: 0g
Contains 1.5g of Alluvia Purple Tea Leaves (Camellia Sinensis)
This caffeinated Kenya purple tea contains polyphenols that are packed with antioxidants and anti-inflammatory anthocyanins. The color of the tea is a deep brownish color with a hint of purple. I brewed the tea and didn't add any sweetener. I like the taste and find that it naturally has a hint of sweetness.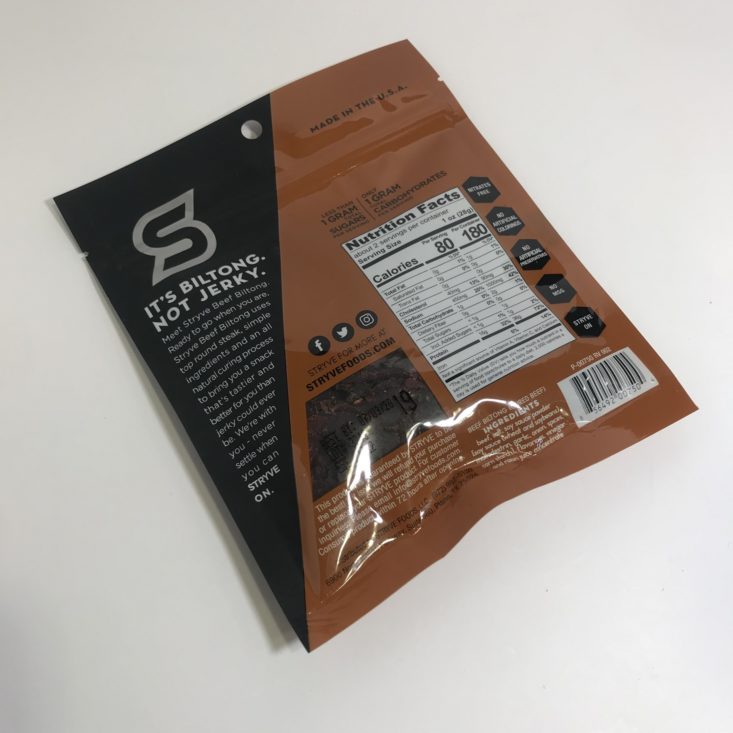 Stryve Sliced Beef Biltong - Teriyaki, 2.25oz – Retail Value $7.99
Servings: 2 | Calories: 80 | Fat: 0g | Carbs: 1g | Protein: 16g
Biltong may look like beef jerky but they are different in the ingredients used, taste and production. Biltong is typically better tasting with thicker and higher quality cuts of beef. This naturally preserved Biltong has no sugar, nitrates, MSG or additives. I do not like jerky, at all! But, as the package says, this is not jerky. It's actually really good and meaty like meat you'd find on a fancy charcuterie, just aged a little longer.
Fat Snax Chocolate Chip Cookies, 1.4oz – Estimated Retail Value $3.00 (buy a pack of 6 for $17.99)
Servings: 2 | Calories: 90 | Fat: 3.5g | Carbs: 7g | Protein: 2g
These keto-friendly chocolate chip cookies are low-carb and sugar-free. They are thin and soft-baked and taste just OK to me. They're not great but not bad either. The texture is fine and the chocolate tastes good but the cookie itself is not very sweet.
Performance Nut Butter, 3-1.6oz packs – Estimated Retail Value $8.40 (buy a pack of 10 here for $27.99).
Servings: 1 | Calories: 189 | Fat: 17g | Carbs: 6g | Protein: 3g
This nut butter contains simple ingredients: macadamia and cashew nuts, coconut and Himalayan sea salt. I don't particularly care for macadamia nuts or coconut but I love cashew and cashew butter. This performance butter is tasty but I was challenged with the texture. I expected to be a similar texture to peanut butter but it was close to a cake batter texture which I found off-putting.
Nush Pineapple Mango Cake, 2.1oz – Estimated Retail Value $2.99 (buy a pack of 6 here for $17.94)
Servings: 1 | Calories: 180 | Fat: 13g | Carbs: 19g | Protein: 5g
A slice of cake for only 180 calories? Pass me the cake knife! This cake comes in cute packaging and contains real chunks of pineapple and mango. Unfortunately, it has an overwhelming strong mango scent to me. The taste and texture were fine. I'd like to try another Nush flavor before I rule this snack out.
IQ Bars Cacao Almond Sea Salt, 2-1.60z bars – Estimated Retail Value $5.00 (buy a pack of 12 here for $29.99)
Servings: 1 | Calories: 180 | Fat: g | Carbs: 15g | Protein: 6g
There are a few unique things about this bar. First, it contains caffeine for a nice pick-me-up. The added sugars are from allulose, a rare sugar with barely any impact in blood glucose levels. This was my favorite snack in the box! t was yummy, had a great smell and texture and held me over when I was too busy to grab breakfast.
Synchro Ketomanna Chocolate Wonderful, 2-1.2oz packs – Estimate Retail Value $4.99 (buy a box of 10 here for $24.97)
Servings: 1 | Calories: 224 | Fat: 22g | Carbs: 8g | Protein: 3g
This snack contains MCT oils and is plant-based. When checking out the snack on the website, it suggested that it be eaten cold so I stuck them in the refrigerator for a few hours. This doesn't taste like a "healthy snack" at all! This chocolate treat is rich and decadent. My only complaint would be that it tastes best refrigerated so it's not really a good on-the-go option.
ChocZero Maple Syrup, 12oz – Retail Value $7.99
Servings: 17 | Calories: 32 | Fat: 0g | Carbs: 15g | Protein: 0g
Doing the keto diet, I'd worn off pancakes and syrup. This might the nudge I need to try to make one the many keto-friendly pancake recipes available online. It smells like syrup, has the thick texture of syrup and taste like syrup. I would not have guessed it was sugar-free! I think this would be a healthy and easy swap for any family.
The Verdict: I love the variety of items included in this month's box and there were more items in the box then I've seen in recent Onnit Keto boxes. I'm excited to have found a few keto-friendly snacks that I can keep on hand when hunger hits. The Stryve beef biltong, IQ bars, and Ketomanna were my favorites and I was most surprised by the taste of the ChocZero syrup. However, for a box that delivers snacks, supplements, and recipes, it was a bit disappointing to find no supplements or recipes included in this month's box. Also, the estimated retail value of the box is only slightly higher than the cost of the box and much less than previous boxes.
To Wrap Up:
Can you get this box if you sign up today? You may not receive this box. You have to order by the end of the month to get the next month's box. If you signed up today, you would likely receive the January box.
Value Breakdown: This box costs $55.95 including shipping and has an estimated retail value of $60.31. Each of the 8 items in the box, counting multiple items as one, has an average cost of $6.99.
Check out all of our Onnit Keto Box reviews more healthy snack boxes in the Food Subscription Box List!
Keep Track of Your Subscriptions: Add this box to your subscription list or wishlist!
What do you think of this Onnit Keto Box? Have you tried any of these products before?