Flair & Paper Stationery Subscription Review + 50% Off Coupon – October 2018
---
This post may contain referral/affiliate links. If you buy something, MSA may earn a commission. Read the full
disclosure
.
Flair & Paper is a stationery & gifts subscription box that is delivered monthly. You can choose a 1, 3, 6 or 12-month subscription upon signing up. Each box has a promised retail value of $40+.
Each month, you will receive a collection of carefully-curated funny (sometimes snarky) greeting cards and stationery items, which the designer describes as "brutally honest, yet insanely loveable!" I couldn't agree more!
This box was sent to us at no cost to review. (Check out the review process post to learn more about how we review boxes.)
About Flair & Paper Stationery Subscription Box
The Subscription Box: Flair & Paper
The Cost: $19.99 a month + free US shipping. Save with 3, 6, and 12-month subscriptions.
The Products: 4-5 greeting cards and 1-2 stationery items ($40+ value)
Ships to: US (free shipping) and internationally (shipping cost varies)
Flair & Paper "Simply Wonder-Fall" October 2018 Review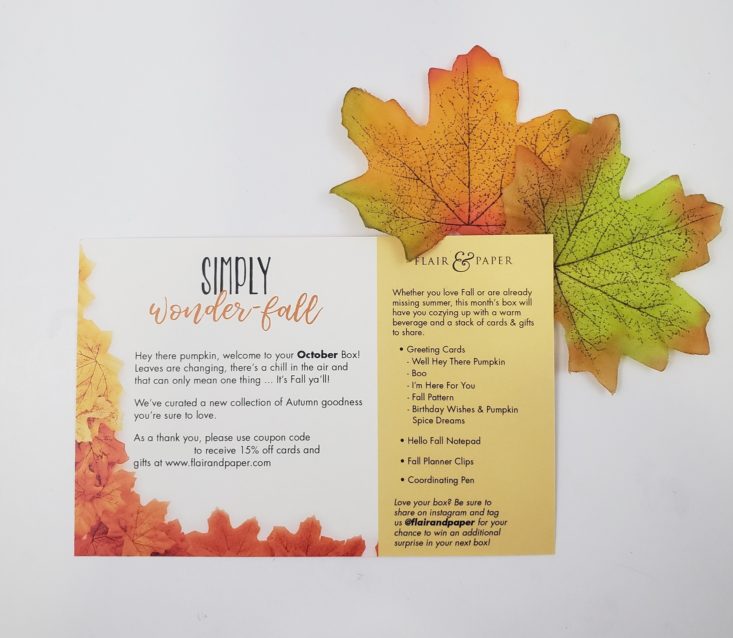 Each box comes beautifully wrapped with a welcoming card introducing the theme for the box, as well as a list of all the items inside. This month's theme is Simply Wonder-Fall.
The box featured 5 original greeting cards. I just love Flair & Paper's cards!
Well Hey There Pumpkin Card – Retail Value $4.00
The first card I received is this Well Hey There Pumpkin card, featuring fall foliage and a pumpkin! The card measures 5 ½ inches tall by 4 ½ inches wide.
This horizontal card is blank on the inside and is paired with an orangish-brown envelope.
Boo Halloween Card – Retail Value $4.00
Eeeek! Spider! While my favorite spider is a dead spider, I did enjoy this card. She has scary legs but a beautiful fall body and within her webs are trapped fall flowers.
The card measures at 5 ½ inches tall by 4 ½ inches wide and is blank on the inside. This card comes with a black, self-sealing envelope.
I'm Here for You Rain or Shine Card – Retail Value $4.00
This card is so cute with the colors and the design. I genuinely like it. I don't know who I would send it to, though. Maybe to a grieving friend? Either way, it is a nice card and a great addition to my ever-growing collection.
The card is a vertical card, measuring at 5 ½ inches by 4 ½ inches and is blank on the inside—perfect for a message or artwork. It is paired with an orangish-brown envelope.
Birthday Wishes & Pumpkin Spice Dreams Card – Retail Value $4.00
This card is perfect for that fall baby who loves pumpkin spice lattes! It has beautiful fall leaves on the borders and an image of a pumpkin spice drink in the corner.
The card is a horizontal card, measuring 5 ½ inches by 4 ½ inches and is paired with an orange self-sealing envelope. Don't forget to include a gift card to your recipient's favorite coffee joint!
Fall Pattern Card – Estimated Retail Value $4.00 (Based on all the cards in the Flair & Paper store)
The final card in this month's box is this vertical card with fall leaves and pumpkins. I love how the pattern is set over black, all the colors really stand out and are really very pretty.
The card measures 4 ½ inches by 5 ½ inches and is blank on the inside. It is paired with a white envelope that really makes those white and ivory pumpkins pop. Fun fact! White pumpkins are referred to as "ghost pumpkins". Fitting!!
Hello Fall Notepad – Estimated Value $8.00 (Based on the other notepads in Flair & Paper's store)
This notepad is perfect for fall! It has 50 pages of fall foliage on the bottom left corner and top right-hand corner. It is lined; perfect for a to-do list or a note. The notepad measures at 6 inches high by 4 inches wide.
Fall Planner Clips
These clips are so darn cute!
I received two: a pumpkin with a bow tie and a drink (I think a latte) with a bow. They are on paper clips and are easy to put on a planner for an easy quick-reference.
Poppin Pen – Buy a set of 12 for $12.00 here
This 1mm retractable ballpoint pen features an all-white barrel.
It writes so smoothly in black ink. I love pens, and this is the first time I have seen one in my Flair & Paper sub, so I was pretty excited.
Bonus: Gift Tags
These weren't on the product list, so I consider them bonus items! I received two gift tags, one in the Why Hello There Pumpkin design and one to match the fall spider.
Calendar
The last item in the box comes with all of my beloved Flair & Paper boxes: a calendar for the current month. I love these!
Verdict: I adore Flair & Paper!  The only time I have been let down was not receiving their September box ☹ . But this October fall box makes up for it! It is beautifully crafted with such a great color scheme. As soon as I opened my box, I said "preeeety." I also enjoyed that it wasn't just Halloween-themed, but that they included some Halloween-ish items, too.
To Wrap Up:
Can you still get this box if you sign up today? No, but if you sign up now you will receive the November box.
Coupon – Use code WELCOME to save 50% off your first box of a 3, 6, and 12-month subscription!
Value Breakdown: I received 9 items in this month's box (not including the October calendar page and gift tags). The items I did find in the store (cards and similar notepads) totaled $49.00, well over the subscription box total. The other items are not found in the store, but for $19.99, you will absolutely not be disappointed!
Check out more stationery and greeting card subscription boxes in the Paper Subscription Box List!
Keep Track of Your Subscriptions: Add this box to your subscription list or wishlist!
What do you think about this month's Flair & Paper box?