AromaBox Essential Oil Box Review + Coupon – September 2018
Herb Stop offers a monthly subscription box filled with a variety of its essential oils. All of their essential oils are 100% pure except for the blends (obviously) and the precious essential oils, which are stretched with jojoba oil.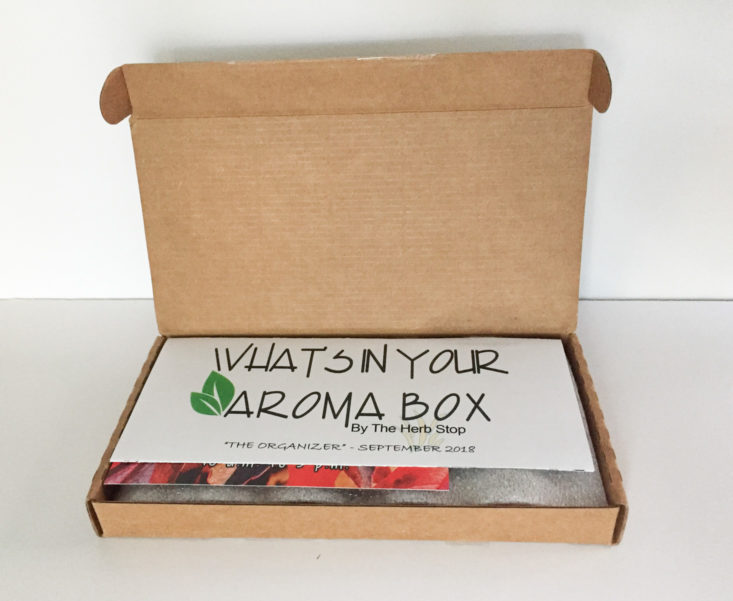 This box was sent to us for review purposes. (Check out our review process post to learn more about how we review boxes.)
About AromaBox
The Subscription Box: AromaBox Essential Oil Monthly Subscription Box
The Cost: $24.95 per month with free shipping
COUPON: Use code MSA15 to save 15% off your first box!
The Products: "Your box will arrive with 4 bottles (1/6 oz or 1/3 oz each) of essential oils, and/or essential oil blends, and/or roll-on essential oil blends. Along with your aromas, you will receive a description of each oil, 3 tips on using each oil, as well as any safety information."
Ships to: U.S. only
AromaBox September 2018 Review
This month's theme is "The Organizer". I like that this year's role-based themes have been loosely based on characteristics of the corresponding zodiac signs. Fun!
The information sheet from Herb Stop is really impressive. There's a lot of knowledge packed in here! Every oil they send is matched with three different usage tips. That's really helpful! Plus on the reverse side, there is a recipe for "Clean and Fresh Room Spray!"
I also wanted to point out that their information sheet contains important safety information under each oil. It's definitely great info to have on hand.
Eucalyptus, 1/6 oz – Retail Value $8 per 1/2 oz
Not only is it inexpensive, but eucalyptus essential oil is also magic! I think everyone knows that it's great for clearing up chest congestion, and most people also know that it is helpful for muscle soreness. Plus, it is great for lots of different skin issues, but the reason it's in this month's box is that it helps a lot with mental clarity and alertness!
Lemongrass, 1/6 oz – Retail Value $7.20 per 1/2 oz
I love the smell of lemongrass! Did you know it helps to stimulate hair growth? I had no idea. It is also good for lots of things ranging from cellulitis to joint pain. It is a great fit for The Organizer box because it has a wonderful revitalizing effect when you're tired.
Oregano, 1/6 oz – Retail Value $8.70
My oregano oil leaked a tiny bit in transit, but not much. It made the whole box smell great! I know I am mostly used to smelling it in Italian dishes, but it has a really powerful and almost intoxicating scent on its own. It is used as a systemic tonic because it's good for almost everything! It is especially good for digestive upsets and colds.
The Organizer Roll-On Essential Oil Blend – Retail Value $16.95  (not available online)
This month's blend has a sweet and almost woodsy scent. I can definitely smell the lavender. It was specially blended to have a calming effect, which is something I need often! It is a blend of lavender, bergamot, and vetivert in jojoba oil. I am using the standard value for all their essential oil roll-on blends.
The Verdict: I am consistently impressed with the Aroma Box by Herb Stop. I am getting such a massive education on natural health and wellness through this subscription! The oils are top quality and purity. The curation is also spot on and always perfectly suited to the month. The value is also always consistently high. I am a big fan!
To Wrap Up:
Can you still get this box if you sign up today? No, you will receive the October box. From Herb Stop:
Orders will begin mailing between the 10th-20th of every month. Orders will take approximately 7-10 days to arrive.
Coupon – Save 15% off your first box with code MSA15
Value Breakdown: This box cost me $24.99 including free shipping, which means that each of the 4 items in the box has an average cost of $6.25.
Check out all of our AromaBox reviews and the Women's Subscription Box Directory!
Keep Track of Your Subscriptions: Add this box to your subscription list or wishlist!
What do you think of the Aroma Box by Herb Stop?
Essential Oil Box by The Herb Stop
How do subscribers rate Essential Oil Box by The Herb Stop?
---
Want more Essential Oil Box by The Herb Stop? See our:
Never miss a post: get email alerts about Essential Oil Box by The Herb Stop!
Enable notifications (

) to get the latest Essential Oil Box by The Herb Stop spoilers, reviews, deals, and news delivered to your inbox.