KitNipBox Cat Subscription Review + Coupon – September 2018
KitNipBox is a monthly subscription box just for cats. Each month, expect a themed selection of toys and treats for your kitty! None of the food products in the box are made in China, though some of the toys may be. All KitNipBox toys are thoroughly assessed for quality and safety by the KitNipBox team.
My Subscription Addiction paid for this box. (Check out the review process post to learn more about how we review boxes.)
This review is of the Multi-Cat, $29.99 a month, box.
About KitNipBox
The Subscription Box: KitNipBox
The Cost: $19.99 a month for the "Happy Cat" box and $29.99 a month for the "Multi-Cat" box. 
COUPON: Use code SUBSCRIPTIONADDICTION15 to save 15% off your first box!
The Products: Toys, treats, and occasional health or hygiene items for cats.
Good to know: There is a "no treat" option for cats with allergies and food sensitivities!
Ships to: U.S. (free), Canada, and the U.K. (for countries not mentioned, contact KitNip Box for options)
KitNipBox September 2018 Review
KitNipBox has monthly themes. Around holidays, there are holiday themes, but you can never predict what it'll be at other times. This month it was a back to school theme:
The information card included a list of items in the box. They included values and I have used a lot of these below because KitNipBox toys can be hard to find for sale online.
Multipet Catnip Garden (0.5 oz) – Retail Value $2.99
Whenever I get a big bag of catnip like this, I go around and refresh all the cat scratchers in the house (maybe 8 or 9 of them?). That's what I did here, and the kitties seemed to appreciate it.
All for Paws Straight-A Cat – Listed Value $5
This is a small catnip plush. Mr. Kitty seemed to like it. Maybe because it is also orange and has bad eyesight?
All for Paws Pencil Kicker – Listed Value $5
This was interesting to several cats because, FEATHERS. Which seem securely attached, by the way. This has a fuzzy texture on the pencil part which was also appreciated.
'R Squad Crinkle Pennant – Listed Value $5
This has some crinkly paper inside and my cats are not so into the noisy toys, but Angus is getting his e-collar off (again) this weekend and he sometimes goes crazy for new toys when that happens, so we will see. This is a larger toy, but still relatively lightweight.
Paws 'N Purrs Pizza Pillow – Listed Value $5
This is very soft and has a texture that is good for catching a claw/wrestling/tossing around. Mr. Kitty wanted to rest his head on this one (which does also have catnip, by the way). But I think this is another one where Angus will have some fun once he gets out of his cone.
Purbites Freeze Dried Shrimp Treats – Retail Value $2.99 (found here for $2.29)
I do like this brand, and Mr. Kitty gets some duck liver from this brand every day, but the shrimp is not the most popular variety among my crew. Sneaky ate these, but she was the only one who did (Madison licked them but didn't go further).
Tiger Tail Mascot Wand – Listed Value $7
This was the clear winner in the box. Sneaky, Monkey, and Angus all thought it was great. It is a wand with a plush tail and you can see some pictures of them with it below. (I think Sneaky has the best picture.)
Angus didn't eat this but it was worth a sniff.
Glad to see he can play with the cone on. (We're going to try taking it off again this weekend.)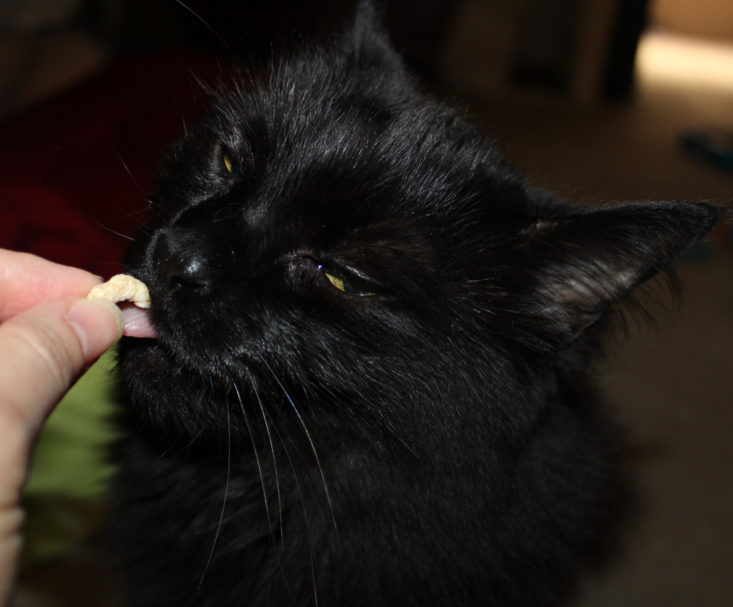 I promise you, Madison has a face! Black cats are just difficult to photograph.
Monkey didn't actually eat this.
Not sure if he was playing or his claw was stuck.
Blep.
She would hate to know she likes the same toy that Angus does.
Sorry, Mr. Kitty, glasses won't help you.
He can't have these treats, but he really wanted them.
Verdict: I calculated a value of about $32.98 for the September KitNip Box. Once again, I appreciated the variety of toy types (and textures) and I think the box contents show you can stick with a theme while still providing different kinds of items. I know I haven't provided links for most of the products, and that's because I can't usually find these brands for sale at retail prices online. I do occasionally see these brands in other cat subscription boxes, and I have found them at wholesale websites before (just not with retail prices). So while I don't think you would be able to find some (or all) of these items at stores, I feel like Kitnipbox is probably sourcing them from wholesale suppliers, which is a perfectly reasonable thing to do. I think the wand toy was the clear winner this month, and expect a bit more play activity once Angus (by far my youngest at age 2) is out of his e-collar.
To Wrap Up:
Can you still get this box if you sign up today? Your first KitNipBox will ship right after your payment processes, so you should still be able to get September's box if you sign up now.
Coupon – Save 15% off your first box with code SUBSCRIPTIONADDICTION15
Value Breakdown: At $29.99 a month for this box, you are paying approximately the following per item:
Catnip: $2.72

Cat with Glasses Toy: $4.55

Pencil Toy: $4.55

Pennant Toy: $4.55

Pizza Toy: $4.55

Treats: $2.72

Wand: $6.37
Check out all of our KitNip Box reviews and other great cat subscriptions in the Pet Subscription Box Directory!
Keep Track of Your Subscriptions: Add this box to your subscription list or wishlist!
What did you think of the August KitNipBox? Do you subscribe to any cat boxes?
KitNipBox
How do subscribers rate KitNipBox?
---
Want more KitNipBox? See our:
Never miss a post: get email alerts about KitNipBox!
Enable notifications (

) to get the latest KitNipBox spoilers, reviews, deals, and news delivered to your inbox.