Love With Food Tasting Box
107 Ratings | 41 Reviews
Love with Food is a monthly snack and food sampling subscription box. They send only natural and organic snacks and donate a meal to charity for each box sold. They offer a smaller tasting box with 8+ snacks per month, a deluxe box with 16-20 snacks per month, and a gluten-free box with 10-15 gluten-free snacks per month.
My Subscription Addiction paid for this box. (Check out the review process post to learn more about how we review boxes.)
This review is for the Tasting Box, which is $9.99 a month.
About Love with Food Tasting Snack Subscription Box
The Subscription Box: Love with Food
The Cost: $9.99 a month for the Tasting box. Free U.S. shipping. $3.99 International shipping.
ACTIVE DEAL:
Get your first Tasting box for $5.99 No coupon needed - just
use this link
.
The Products: 8+ snacks per month, that are either organic, gluten-free, GMO-free, all-natural or free of artificial additives
Ships to: The US (for free), US territories, and APO/FPO/DPO addresses. Ships internationally for $3.99.
Love with Food Tasting Box July 2018 Review
July's theme is "Play" and encourages to get out and play this summer. They also remind you to tag them on social media for a chance to win a special snack box using @lovewithfood and #lovewithfood. 
There is also a card mentioning the acquisition of Love With Food and welcoming us to the SnackNation family. Nothing will change, just an FYI. Check out more SnackNation reviews here!
Janis & Melanie Oatmeal Cranberry Cookie
This individually wrapped soft cookie is quite good! The cranberry brings a bit of sweetness to the oatmeal if though it has a bit of sweetness on its own. It's also made with no preservatives or trans fats which is nice to know! I gobbled this down pretty quickly and feel like it's a satisfying little snack.
You Love Fruit Simply Mango Fruit Snack, 0.5 oz. - Buy 12 1 oz. packs for $12.99
I'm very familiar and into fruit leathers and the like, but I haven't seen them presented in a way like this one. The mango comes in smooshed dots sandwiched between two strips of wax paper so that you peel one side away to reveal a fresh organic mango dot. It's like a fun and healthy fruit by the foot! Haha. I love mango and this tastes really yummy.
Wholesome Cinnamon Organic Bears, 0.7 oz. - Buy a 2 oz bag for $1.99
I'm a big fan of gummy bears but cinnamon flavored ones seem a little odd at first. They're not as "gummy" as your average ones and remind me of the cinnamon candies I'd sneak that my mom used for baking. Not for the delicate tongue, these have a bit of spice to them!
They've included a coupon code for 20% off as well.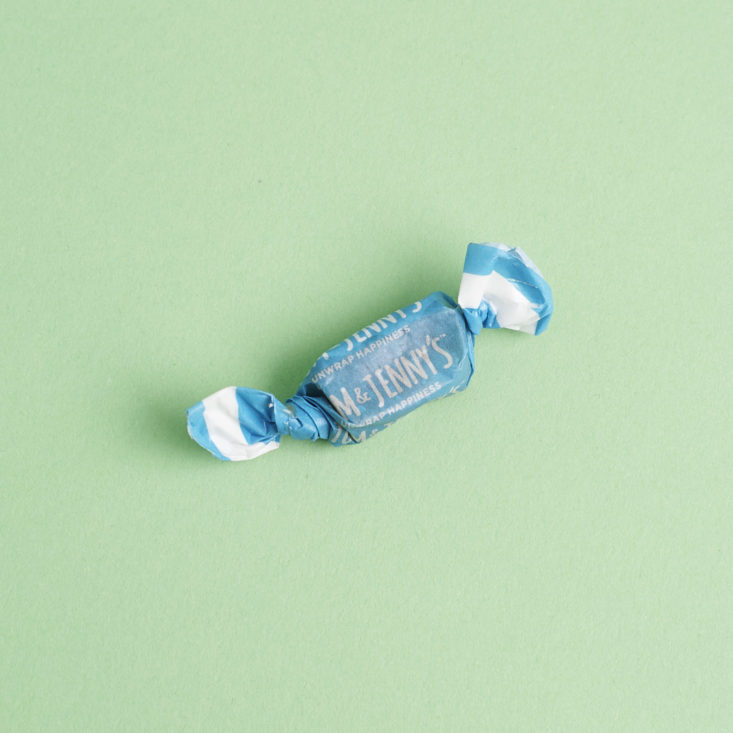 Tom & Jenny's Sugar-Free Ginger Soft Caramel - Buy a whole bag for $5.99
This single candy was rolling around the box and when I opened it realized it is REALLY soft and a bit melty. After making a little mess, I gave it a whirl. I had to look up what it was beforehand and am making an educated guess that it's a ginger flavored caramel, based on the colors if the bags online. It's definitely really caramel-y and the ginger is not strong at all. It just tastes like a slightly spicy caramel in the end.
Blue Diamond Almonds Mini Nut Thins in Cheddar Cheese - Buy a 6-pack for $3.95
Mmm- these are a tasty savory snack! I can taste the rice immediately but not the almond as much. The cheddar cheese flavor is really rich but not overpowering. I've gotten really into rice crackers after reviewing so many Japanese snack boxes but rarely do I get any flavored with cheese. This whole pack is just 90 calories so the portion control is a nice bonus. Really good!
Mini Pops Sea Salt Air Popped Sorghum, 0.7 oz. - Buy a 4 oz bag for $2.98
I thought this was just regular popcorn until I opened it. Then I thought "How cute! Tiny popcorn!". It's actually sorghum, which I have never heard of but the back explains it a bit. It's a cereal grain (5th most harvested in the world) and apparently, over 8 million acres of land in the US is dedicated to harvesting it. Wild! I also learned that it is lower in saturated fat than popcorn, and also has fewer calories, more protein, and is higher in iron, calcium, and fiber. Plus: tiny and cute. It has a more wheat-like flavor to me than popcorn but is still just as snackable, especially with the sea salt.
The Verdict: Love with Food Tasting sent me 7 trial size snacks, none of which I had ever had. The mango fruit leather and nut thins came out on top for me, but I did enjoy everything that was included (except maybe that caramel). For $10.00, it's a great way to get some healthier snacking options to try before buying full-size bags. 
To Wrap Up:
Can I still get this box if I sign up today? No, but sign up today to receive the August box.
Coupon – Get 40% off your first box! no coupon required, just use this link.
Value Breakdown: This box is $9.99 a month with free shipping. I received a total of 7 snacks which averages out to $1.43 per snack. 
Check out all of our Love with Food reviews and the Food Subscription Box Directory!
Keep Track of Your Subscriptions: Add this box to your subscription list or wishlist!
What was your favorite snack from the Love with Food Tasting Box?