Lillypost Mixed Book Box Review + Coupon – July 2018
Lillypost is a monthly children's book subscription! They offer three subscription options: The Picture Book Box that includes 3 books for ages 4-7, The Board Book Box that includes 3 books for ages 0-3, or the Mixed Book Box that includes 1 board book and 2 picture books for all ages. From Lillypost:
For every box that is purchased, Lillypost will be donating one book to a child in need through various literacy-based charities.
This review is of the Mixed Book box for $19.99 a month. This option includes both board books and picture books for families with children in both age ranges.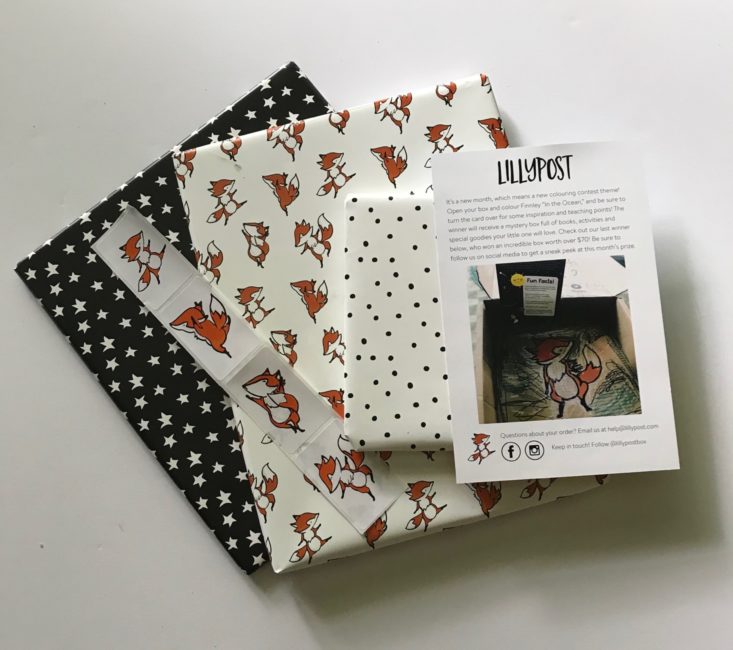 You can choose to have your books wrapped each month for an extra $5.00 per shipment. The paper is always nice, thick quality and often features their signature Lillypost fox. I think this makes receiving our books just a bit more special each month.
This box was sent to us at no cost for review purposes. (Check out the review process post to learn more about how we review boxes.)
About Lillypost
The Subscription Box: Lillypost
The Cost: $19.95 a month (less for longer subscription commitments) + $4.95 shipping
COUPON: Use code READING30 to save 30% off your first box!
The Products: 3 Books per month. Choose from 3 picture books, 3 board books or 3 mixed books (1 board book and 2 picture books).
Ships to: U.S. and Canada
Good to know: Lillypost's product offering and pricing have recently changed.
Lillypost July 2018 Review
Lillypost included this little note that introduces their new coloring contests. Kids can draw directly on the box and incorporate Finnley the Fox into the monthly theme, then share it on social media for a chance to win a prize. This month's theme is In the Ocean and I love that they included some fun facts too!
Baby Roar by Caterpillar Books – Retail Value $8.95 (found on sale here for $3.21)
This is a cute little board book with some nice illustrations and a wavy tab edge which will appeal to little fingers. Based on the cover of this book and the great colors, I thought that we would love it, but I was a little disappointed with the content.
It does have high contrast images to appeal to babies and a lot of the illustrated items are things my son loves like dinosaurs, lions, and crabs, but I could not figure out what the exact theme of this book was. When you open it the two pages seem to go together, but as a whole, I could not make a connection between dinosaurs and lions to t-shirt and pants. They all felt very random. A cute book, but not one that I would rush out and buy on my own!
Love, Triangle by Marcie Colleen – Retail Value $17.99 (found on sale here for $9.98)
This is a story about Circle and Square who have been best friends for a long time. Then, the new kid, Triangle, shows up and both of them spend all their time trying to impress him, which eventually starts to affect their friendship.
In the end, Triangle finds a way to repair the friendship by sending them letters (Love, Triangle) inviting them to his house. Too cute! My kids and I enjoyed reading this together with the colorful illustrations and fun concept of friendship between shapes.
Bertie Wings It! by Leslie Gorin – Retail Value $14.95 (found on sale here for $11.53)
This story was my favorite of the bunch this month! Such a cute story about a little bird, Bertie, who decides that it's about time that he learns to fly. 
Just as Bertie gets ready to go he is interrupted by various other birds who give him some input that turns out not to be so helpful since they are specific to the type of bird they are. In the end, he learns that he can fly just fine on his own without all of the extra help and tips. 
Verdict: This was not my favorite Lillypost box this month, but we have received some great ones in the past, so the bar has been set pretty high! The book that really stands out to me is the Bertie book- the vibrant illustrations and fun content have me wanting to read it again. My kids were happy with the other books that we received, so I'd still call this box a win!
The total retail value of the books came to $41.89 (less with sale prices), and the cost of the box was $24.90 ($19.95 + $4.95 shipping). That's a great value for the books we received this month!
To Wrap Up:
Can you still get this box if you sign up today? No, you will receive the August box.
Coupon – Use code MYSUBSCRIPTIONADDICTION to save 10% off any 3 or 6-month subscription!
Value Breakdown: At $24.90 for this box, here's what you are paying approximately per item:
Baby Roar: $5.32
Love, Triangle: $10.69
Bertie Wings It: $8.89
Check out all of our Lillypost reviews to learn more about this subscription!
Keep Track of Your Subscriptions: Add this box to your subscription list or wishlist!
What do you think of Lillypost? Are your kids as excited to open their books as mine?
Lillypost
How do subscribers rate Lillypost?
---
Want more Lillypost? See our:
Never miss a post: get email alerts about Lillypost!
Enable notifications (

) to get the latest Lillypost spoilers, reviews, deals, and news delivered to your inbox.