Yummy Bazaar World Sampler Box Review – May 2018
The Yummy Bazaar World Sampler Box is a monthly food subscription box that delivers you snacks, treats, and other food items from all over the world. Each month, you'll receive 6-8 authentic, sample-size or full-size items from a handful of different countries. You're free to skip a month with this subscription if you're not in the mood.
Your subscription also earns you points to use on the Yummy Bazaar site, where you can buy more of the products you really love!
Yummy Bazaar also offers a Full Experience Box (6-8 full-sized products from a different country each month) for $35.95.
This review is for the Yummy Bazaar World Sample Box, which is $9.95 per month (plus free shipping to the continental US).
We received this box for review purposes. (Check out the review process post to learn more about how we review boxes.)
About Yummy Bazaar World Sampler
The Subscription Box: The Yummy Bazaar World Sampler Box
The Cost: $9.95 per month
The Products: 6-8 sample-sized or full-sized snacks, treats, and other food items from several countries around the world
Ships to: U.S. only. Free shipping to the continental US!
Yummy Bazaar World Sampler May 2018 Review
Every World Sampler Box also comes with this "Hello, World!" info sheet that gives you the rundown on where the products have come from, their ingredients (if not listed in English on the package), and pricing info for the full-size versions. This month includes sweet treats and savory snacks from France and Turkey!
I like to read ingredient lists, so having everything listed in English is a must-have for me when it comes to international snacks.
Koska Sesame Crocan, 1.4oz – Retail Value $1.95
It's been awhile since I've reviewed a Yummy Bazaar box, but I immediately remembered this crunchy treat from a box I received over a year ago!
I love sesame and I usually eat snacks pretty quickly if I'm being honest, but this one is so crunchy and filling that it lasts quite a long time.
I'm actually surprised there aren't more snacks like this on the US market– no artificial colors or flavors and only three ingredients. I'm a fan, although it's not an everyday treat.
Ulker Deluxe Strawberry Wafers – Full size, Listed Value $1.45
These wafer cookies always remind me of childhood! It's kind of fun to see that they exist in other parts of the world, isn't it?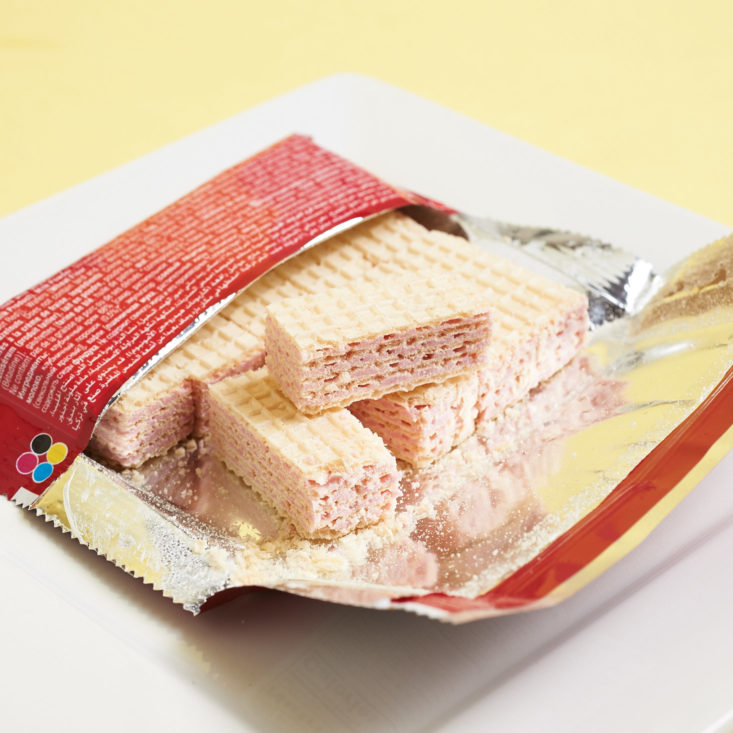 As expected, these were crunchy and light and excellent with some coffee. I kind of wish the flavor profile was something more unique (since strawberry wafer cookies are something I can pick up at virtually any grocery store), but this was a solid snack to share with my son.
Mangal Tavuk Harci –60g Full Size, Retail Value $3.95
The World Sampler always includes one "pantry" type item. That adds variety and a chance to get out of "snack" mode a bit and try something new!
This seasoning packet is perfect for grilling season. Simply marinate chicken in this mix for 1-2 hours with some olive oil, and you're ready to go!
The ingredient mix is pretty unusual so I'm curious about this. It starts off with salt, onion, and paprika… but also includes oregano, curry, and mint. Hm!
Krispi Spiced Crackers by Ulker, Full Size – Listed Value $1.99
I was convinced these were ruffled potato chips until I opened the bag… they are actually tiny little ridged crackers!
These have a very strong flavor profile that reminded me of eating a gyro. I couldn't figure out exactly which part of the seasoning made me feel that way, but I couldn't think of anything else!
Definitely made me look up if Lay's has done a gyro flavor and yep, of course, they have. I wonder how these compare!
Salted Caramel Lollipop by Bonbons Barnier, Sample Size (Single Lollipop)
I'm not a big lolli person, but I've also received this treat before and they're pretty good. Especially with a cup of coffee. 😉
The long oval shape is perfect, and the caramel flavor isn't overly sweet. (Which is always a big deal for me!)
This treat comes from France, just like our last snack:
Chocolate Crepe by Jacquet, Sample Size (Individual Serving) – Buy 6 for $3.70 here
This single-serve chocolate french crepe kind of rocked my world. I had no idea something like this existed!
As a fan of chocolate croissants, this delivered a lot of the same experience without the crumbly, buttery mess. I loved the fine layers of chocolate and crepe, which gave this snack a great texture.
While I felt a little guilty enjoying this as much as I did when fresh crepes are sooooo delicious, these are made with cage-free eggs, pure butter, and non-GMO ingredients… so it's still something I can feel good about, right? 🙂
Verdict: Yummy Bazaar World Sampler Box sent items from only two countries this month, but they were all pretty great to try and share. I love having a mix of sweet and savory snacks, plus the pantry item for variety! My favorite was the crepe for sure, but those gyro-flavored crackers were really interesting too– as with all international snack boxes, this is a lot about just trying and experiencing new things and new cultures.
To Wrap Up:
Can you still get this box if you sign up today? No, but subscribe today to receive the June box which ships between the 15-18th.
Value Breakdown: This box costs $9.95 (with free shipping) so you're paying roughly $1.66 per item. 
Check out all of our Yummy Bazaar Reviews and visit the Food Subscription Box Directory to find other international food boxes.
Keep track of Your Subscriptions: Add this box to your subscription box list or wishlist!
Do you have a favorite from this month's Yummy Bazaar World Sampler Box?
Yummy Bazaar World Sampler Box
How do subscribers rate Yummy Bazaar World Sampler Box?
---
Want more Yummy Bazaar World Sampler Box? See our:
Never miss a post: get email alerts about Yummy Bazaar World Sampler Box!
Enable notifications (

) to get the latest Yummy Bazaar World Sampler Box spoilers, reviews, deals, and news delivered to your inbox.