Chococurb Classic Box Review + Coupon – May 2018
Chococurb sends gourmet, artisan, and extraordinary chocolate every month and offers two subscription sizes: their $35 a month classic subscription and the $20 a month mini subscription.
When you sign up for either subscription, you'll answer a four-question profile that helps Chococurb curate a box based on your preferences. Gift subscriptions are curated based on milk chocolate, dark chocolate, or assorted preferences.
This box was sent to us at no cost for review. (check out the review process post to learn more about how we review boxes.)
This is a review of the Assorted Chococurb Classic box, which is $35.00 per month.
About the Chococurb Classic Chocolate Subscription
The Subscription Box: Chococurb Classic
The Cost: $35 a month + free shipping (during cooler months). Save with 3 and 6-month pre-paid subscriptions.
COUPON: Use code ADDICTION to save 10% off any subscription!
The Products: 5-7 different chocolates
Ships to: U.S. only
Good to know: Shipping fees apply during summer and warm months. Shipping charges by state can be found here! During warmer months, boxes are shipped in insulated containers with ice packs to keep the chocolate cool.
Chococurb Classic Subscription May 2018 Review
Chococurb's insert encourages subscribers to download their app; the easiest way to gift chocolates on the go. Scan the QR code to download.
Theo Organic Peanut Butter Cups, 1.3 oz – Retail Value $2.29
Milk Chocolate
I've never met anyone who doesn't love a peanut butter cup, but even a hater would love these ones from Theo. And, if not, then more for me! If you can get past their adorable heart shape and actually take a bite, you'll find flavors that have a distinct natural vibe to them. I know and love Theo's single-serve peanut butter packets, so I had an idea of what to expect from these cups, but for those who haven't tried Theo's PB outside of a cup, expect something not quite as sweet as your average Jif. Which I see as a good thing—more room for complex flavor and healthy fat! 
K'ul Chili and Mango Dark Chocolate Bar, 2.9 oz 
70% Dark Chocolate
I had the same reaction to my K'ul bar this month that I did last month, which was to approach with cautious curiosity. I love dark chocolate, but I don't usually like it when chunks of fruit or nuts are involved. I do, however, approve of a good dose of spice mixed in! With this bar, I felt it could have been spicier—it just had the slightest kick. The mango was fine, but not amazing in my book. I shared this with my family and my brother-in-law was super into it. This was the same brother-in-law who ordered a mushroom-and-pineapple-topped pizza later that evening. I think you just either have it or you don't as far as a preference for quirky flavor combos goes! Either way, K'ul's packaging is beautiful and that alone made receiving this bar feel like a special experience.
Ticket Salted Classic Dark Chocolate Bar, 2 oz  – Retail Value $5.00
55% Dark Chocolate
From my experience, Ticket seems to make pretty classic chocolate offerings. This bar is dark, but not so dark that it would alienate someone who isn't totally committed to the bitterness of cacao. It has the smallest amount of sea salt sprinkled on the back, which you can see in the photo. The sun-dried nature of the sea salt didn't contribute any unexpected flavor from what I could detect. I give this one two thumbs up.
Fran's Deep Milk Chocolate, 1.1 oz – Buy 12 for $46.00
38% Milk Chocolate
Now, this is a classy chocolate bar! First of all, I can't not think "golden ticket" when I encounter a chocolate bar wrapped in gold foil. I mean, that's one surefire way to make your customers feel special. And, the bar itself is a work of art with those tiered edges and the fancy cursive imprinted on the top. What made me break character and giggle endlessly was the way Fran's refers to this bar as "deep milk chocolate." What does that even mean? From my understanding, milk chocolate can range from as low as 10% cacao to about 45% cacao, which means this bar is sort of on the high end of that spectrum, but not the tippy-top. It tasted awesome, but about average as far as darkness in the world of milk chocolate. The term "deep chocolate" has officially entered the regular vernacular in my family, in a hilariously sarcastic way. Haha!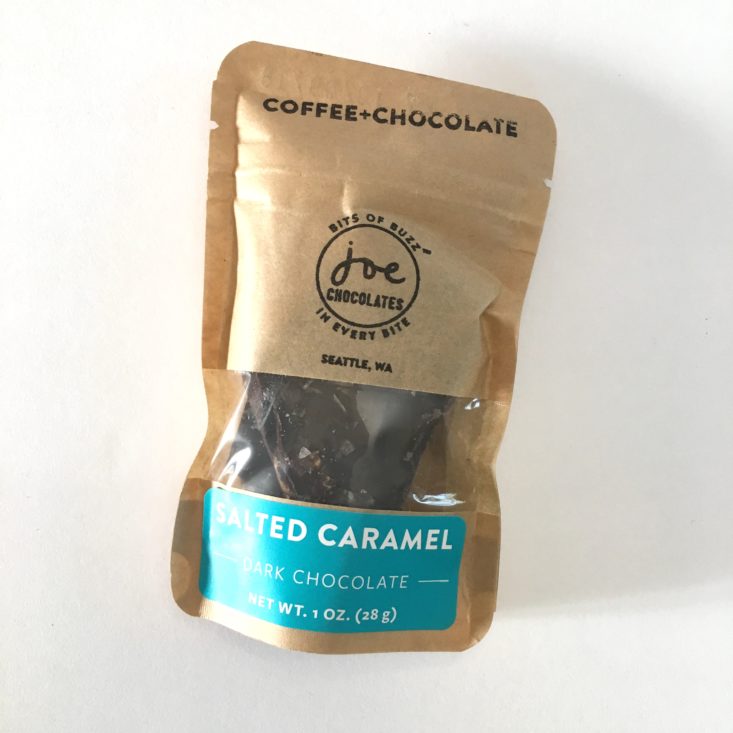 Joe Chocolates Salted Caramel Dark Chocolate, 1 oz  – Buy three 2.5-oz bags for $19.50
Dark Chocolate
This is the precious gem of my May Chococurb box in my book! I desperately wish I had received a larger package. It looks like all of Joe Chocolates' offerings include espresso beans in them, which is a real deal caffeine boost that isn't to be taken lightly. I'm trying to avoid caffeine right now, but I broke my rule to nibble on this amazingness. Between the espresso beans, crystals of sea salt, and chunks of caramel (which aren't super standout flavor-wise), this chocolate has a distinct crunch to it that is oh-so-satisfying. Need more now.
Pacari Andean Rose Organic Chocolate Bar, 1.76 oz — Retail Value $10.49
60% Dark Chocolate
While I enjoy the occasional floral-flavored tea, the rose taste to this dark chocolate bar struck me as a bit perfume-y. Which is such a shame because it's clearly a high-quality bar (with a price tag to match). I gave it a few tries but ultimately couldn't get past the very present rose taste. I'll be sharing this one with friends!
The Verdict: This month's Chococurb featured a really fun variety of flavors to try. From classic milk and darks to adventurous supporting essences, it was a box that allowed for both mindless indulgence and fresh experiences. Pretty typical of Chococurb, which I love! I was unable to find values for all the chocolates included, and some are only available for purchase in bulk. But, with a few prorated prices, I average the contents of this box adding up to about $32—a touch below the $35/month cost, but still worth it to me for the excitement of exploring new flavors with gorgeous packaging.
To Wrap Up:
Can you still get this box if you sign up today? No. Order by the 10th of July to get the July box!
Coupon – Get 10% off with code ADDICTION
Value Breakdown: This box is $35.00 a month + free shipping, which means each of the 6 items included costs an average of $5.83.
Check out all of our Chococurb reviews and all of our reviews of Chocolate Subscription Boxes and Candy Subscription Boxes!
Keep Track of Your Subscriptions: Add Chococurb to your subscription list or wishlist!
Have you tried Chococurb yet?