Super Chewer Box
2 Ratings | 1 Reviews
The Super Chewer is the answer to those dogs who love destroying toys and treats immediately! They aim to send out tougher toys and treats to get more bang for your buck each month - and most importantly, keep your dog extra happy and engaged.
This box was sent to us at no cost for review. (Check out the review process post to learn more about how we review boxes.)
About Super Chewer
The Subscription Box: Super Chewer
The Cost: $39 per month + free shipping. Save with longer subscriptions (As low as $29 per month)
The Products: "Super Chewer is made for tough dogs who like a challenge. Each box comes with two durable rubber or nylon toys, two bags of treats, and two chews."
Ships to: U.S. and Canada
Super Chewer Review
This is my first time getting my hands on a Super Chewer box, and unsurprisingly, it's very much like a regular BarkBox - a cute monthly theme along with 5-6 - one more item than a typical BarkBox.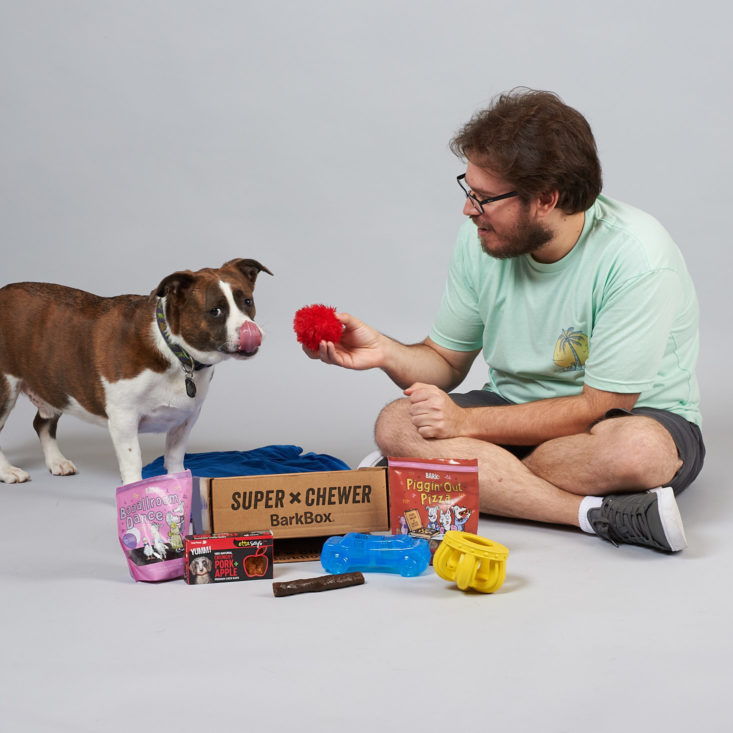 Since our dog Buckles is in no way a Super Chewer, we enlisted the help of my sister's dog Rex for this review! While he was a little worried about the cameras and lights - he was ready to test out the goods!
Each box comes with a theme card. This was the June 2018 theme and was themed around the Prom - you can check out Buckles' review of the regular version, too!
Ballroom Dance Treats
BarkBox produces a lot of the treats and toys you'll get in these boxes - so if they're not available in the BarkShop, then you probably won't find them anywhere else! These are wheat-free, corn-free, and soy-free and are made with duck and lamb.
Rex is SO gentle when taking treats - he also takes a treat and walks away to eat it - so cute. He liked both treats, but I think these might have been his favorite because they were just a bit bigger than the next treat.
Piggin' Out Pizza Treats
The second bag of treats are more for training, or if you're like me - those small little treats that I like the sneak to Buckles. These are pork and cheese - and shaped like mini pizza slices!
He's so gentle taking treats that he hardly took this out of my hand - I'm not used to it! These are a really good option if you're trying to train your pup to sit or stay.
Royally Ruff Prom Crown
This is really two toys in one. The crown is a heavy rubber - which should definitely last through a lot of chewing. Inside, you can pop out this fuzzy ball that has a spiky squeaky ball at its core. After stopping to see Rex today, I found out that this is now his favorite toy - he ripped the red casing off and is loving the ball inside.
Super Fetch Limo
The second toy is a rugged, but somewhat bendable, plastic blue limo. Again - this is strong enough to last for a while with super chewer dogs - and it has little cut-outs in the toy to hide some treats.
It's not too tough to grab the treats, though - Rex snagged one in about 10 seconds - so you might want to think about using something sticky, like peanut butter, to keep them occupied a bit longer.
While he plays with this from time to time, the previous toy was his clear favorite.
Etta Says! Crunchy Pork + Apple Chew Bar – Value $4.23 based on a box of 12
The last two items both come from Etta Says! First, we have a pack of 2 crunchy chew bars.
These things are HARD! They're made of pork and apple - but are really tough to break aprt, so you'll want to watch for sharp edges when you're pup is snacking on one.
You can tell that he's still preoccupied with his favorite toy in this picture!
Etta Says! 7" Deluxe Lamb Chew
Finally, like the standard BarkBox, this one finishes with a chew. These do contain some rawhide, too, so note that when feeding to your pup. Like the other chew, this was on the strong side for chews.
Want to take a closer look and get more time with Rex? Check out our video!

Verdict: Rex liked a bunch of the items this month - he really only didn't want the final chew - so that was a win for us! This definitely feels like it accomplishes what it sets out to do - provide stronger, tougher, toys and chews for dogs who love destroying - Rex is still enjoying his toys at home and has yet to destroy either of them!
To Wrap Up:
Can you still get this box if you sign up today? No, your first box would be July's.
FREE Bonus Box Offer! Get a free extra month when you sign up for a 6 or 12-month subscription! No coupon code needed, just sign up here!
Check out all of our Super Chewer reviews and lots of great boxes for dogs in the Pet Subscription Box Directory!  And see our past reviews of the small and large dog versions of BarkBox here!
Keep Track of Your Subscriptions: Add this box to your subscription list or wishlist!
What do you think of the Super Chewer dog subscription box?