Akibento
2 Ratings | 1 Reviews
Akibento is a monthly subscription box for anime & manga enthusiasts. Aki is short for Akihabara, a district in Tokyo famous for their anime and manga goods. Akibento sends "authentic and original figures, collectibles, manga, apparel, accessories and more" with a guaranteed exclusive t-shirt and $60+ in value each month.
My Subscription Addiction paid for this box. (Check out the review process post to learn more about how we review boxes.)
About Akibento Anime Subscription Box
The Subscription Box: Akibento
The Cost: $26.95 + $6 U.S. shipping
ACTIVE DEAL: $3 off
CODE: ANIME
The Products: 6-8 items including an exclusive t-shirt
Ships to: U.S., Canada, and other countries found in the top right corner here.
Akibento "Academy" Box May 2018 Review
This month's theme is "Academy".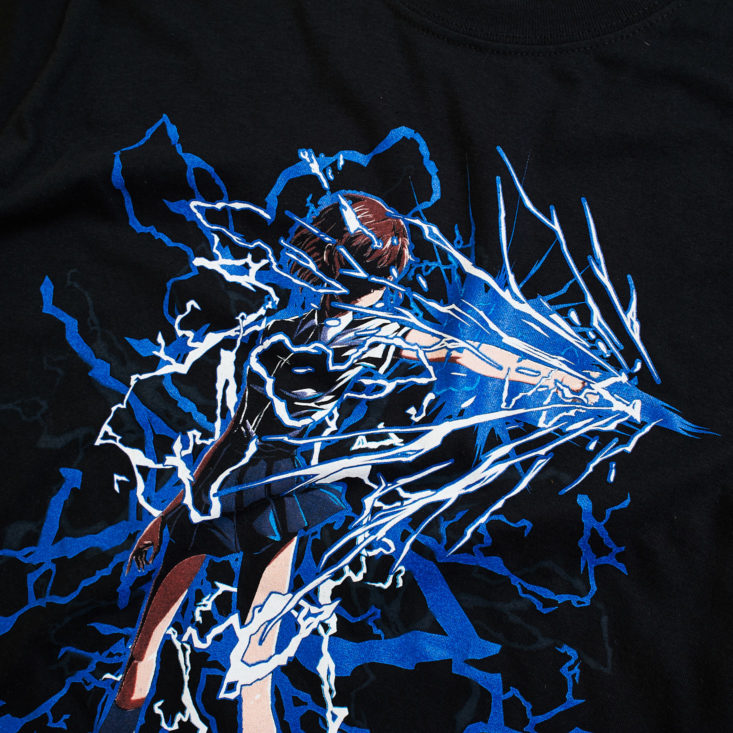 Exclusive Akibento T-Shirt - Estimated Value $25.00
I couldn't find this shirt on the Akibento online shop, but most of their tees range between $25.00-$30.00. The fabric is a comfy knit and I LOVE the Railgun-inspired design. (Especially with the electric blue against the black. So cool!)
Akibento Exclusive Phone Stand
This clear plastic phone stand is made up of two pieces that easily slide together. When you set your phone on the tiny shelf, it looks like it's powering up!
Deku Funko Pop - Retail Value $15.99
I like getting licensed merch in subscriptions, especially collectible Funko Pop figurines! Midoriya's freckles are so darn cute. I love the detail they give these collectible toys!
A Certain Scientific Railgun Phone Charm - Retail Value $4.21
Mikoto Misaka isn't just on the shirt! She also appears on this little metal phone charm. I'm so-so on phone charms, just because I don't have a phone that they work with. They're fun to loop onto a keychain or the zipper on a purse or backpack, though.
Assassination Classroom Stickers
These Korosensei stickers remind me of the smiley face stickers I used to put all over my middle school Trapper Keepers, haha! I think the orange one in the bottom right corner is my fave!
Bonus: Bijuu Mike Sticker
I think this sticker is supposed to be modeled Deku, but it's technically a tribute to the featured YouTuber for the month. I'm glad they noted that this is to be considered a bonus item—I'm not big into YouTube celebs, so it's not all that interesting to me to have a sticker based around someone I don't know.
The Verdict: My favorite thing about this box was all of the licensed merchandise. I do with more of the bigger value items (like the tee or the phone stand) were also licensed, but they're still cool items to get. (Akibento's tee designs are usually pretty neat.) Getting the items via the box costs an average of $6.59 per product, which is at least less than the online value I found for the Funko Pop figurine. One thing you may have noticed if you've read these reviews before—my monthly pin was missing! Usually, they include a pin that goes along with the theme of the box, but it looks like mine went missing from this box. To be honest, it's not a huge deal. The pins are fun, but they're more about hyping the subscription than anything, so sometimes they feel like bonus items rather than value-adding products.
To Wrap Up:
Can you still get this box if you sign up today? No. Sign up by the 19th of the month to get the upcoming box!
Value Breakdown: This box cost $32.95 ($26.95 a month + $6.00 shipping). I couldn't find retail values for every item, but the average cost based on the subscription box cost is $6.59.
Check out all of our Akibento reviews and the Geek + Nerd Subscription Box Directory!
Keep Track of Your Subscriptions: Add this box to your subscription list or wishlist!
What do you think of this month's Akibento box?