Target Arts & Crafts Kit Subscription for Kids Review – April 2018
---
This post may contain referral/affiliate links. If you buy something, MSA may earn a commission. Read the full
disclosure
.
Target has an Art & Craft Kit Subscription for Kids, bringing a different creative activity to your doorstep each month for $14.99.
You'll notice this is packaged very simply. It looks like any other online order from Target.
My Subscription Addiction paid for this box. (Check out the review process post to learn more about how we review boxes.)

About the Target Arts & Crafts Kit Subscription for Kids
The Subscription Box: Target Art & Craft Kit Subscription for Kids
The Cost: $14.99
Good to know: You do save 5% by subscribing, making the true cost $14.25. Make sure to select the subscribe option when you sign up. You can also save an extra 5% if you use your Target RedCard.
The Products: A different crafting activity each month. Ranging from coloring kits to DIY accessories, the variety will spark kids' imagination and keep them excited to see what they will create next! Instructions are provided when necessary. For ages 6-10.
Target Arts & Crafts Box: 
Crayola Marker Maker 

April 2018 Kit
Crayola Marker Maker + Wacky Tips – Retail Value $19.99
This month we received a Marker Maker kit which I didn't even know existed! You can make up to 16 custom colored markers complete with a few different "wacky" tips. This is designed for ages 8 and up.This seems like a fun kit that any kid would enjoy and is definitely age appropriate.
The instructions seem pretty simple and I love that it comes with its own storage box to keep everything organized. Every piece seems to have a purpose or multiple functions.
The instructions sheet is very basic but split into easy to read parts. The first sections give you a materials list of everything you should have in your kit and some tips for best results. Then it shows you how to set up your storage tray in preparation for creating your markers. It is all a very organized system.
The directions include step by step pictures as well as instructions for clean up.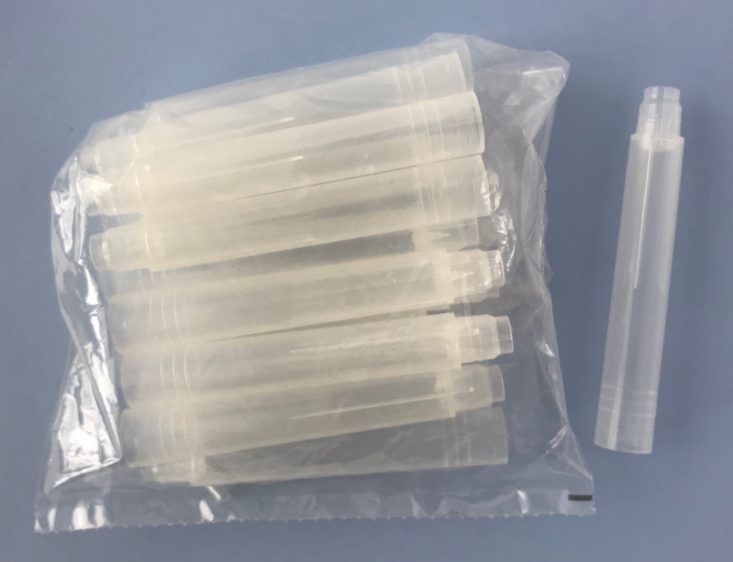 The first step is to get a marker tube and choose a wacky tip to put inside of it. As you can see, they provide a little variety in the included tips. I chose a basic round tip and a fun wavy tip for my first markers. Then, I put the marker upside down in the designated hole on the marker maker unit. 
They included three colored inks- red, yellow and blue to use for your marker creation and included this handy little color chart to show how to create the colors. Each marker needs some combination of colors to reach the 15 mark on the tubes.
I chose to attempt a teal color from the chart so first I put the tube down and twisted it in place on its own designated spot on the tray (great thinking! Easy cleanup even if you spill!), then I filled it up to the 6 line with blue and filled the remainder with yellow until I reached the 15 mark.
The next step was to take one of these white cotton absorber tubes and use the included tweezers to slowly lower it into the color tube. It took a few minutes to absorb the color. There was a little residue left over in the tube afterward, but it cleaned up easily with water, even though I waited to finish all of the steps before attempting cleaning.
Next, I put the absorber inside the upside down marker and added one of the caps to the end.
The included blue handle attaches to the top of the marker maker and you push it down until you hear the cap click into place. It doesn't take much muscle power at all, so a kid could easily do this on their own.
Next, you add a lid and let your marker rest in one of the holes on the side of the marker maker. Again, EVERY piece has a purpose! It's pretty amazing how well it's thought out and put into this self-contained unit.
I love how they included these labels to attach to your marker and provided a box that you can color in and personalize to store your markers in. It's just another opportunity for kids to get creative, which I think is great.
Once I was finished, I was able to load everything back into my marker maker for easy storage (Mom's favorite part, of course!). The only item I couldn't fit were the boxes for the markers, which was no big deal.
My markers worked and I was able to personalize them with the labels. My markers turned out a little darker than I expected, but I'm just impressed that it worked and it was so simple! I think any kid would have a lot of fun doing this and get a kick out of creating their own personal set of markers. Especially with the wacky tips that they included- it's just an extra bit of fun! Plus the best part is- there was no mess at all!
The Verdict: This month, I really enjoyed the Target Art & Craft Kit we received. I didn't even know there was such a thing as making your own markers and this was so easy to do! I love how they included everything you needed and it could all fit inside the included storage box. Plus I liked that they thought about the extra details like labels and marker boxes that you could decorate and store your new markers in. The only potential con is that although it says you can make 16 markers, I'm not sure how many different colors you would be able to make with the included ink. They have 18 different colors listed and while it didn't seem like I used a ton of the ink, it's hard to tell.
The retail value is $19.99 which is $5 more than what we paid for it. That's a great value for something that I consider to be pretty unique. Plus you can purchase a refill kit to get even more use out of this.
To Wrap Up:
If I subscribe today, can I still get this box? Previous comments have shown that not all subscribers receive the same items every month, so if you subscribe now, you may receive a different product.
Value Breakdown: For the $14.99 price of the box this month, we received the Crayola Marker Maker + Wacky Tips, worth $19.99 at retail price.
Check out all of our Target Arts & Craft Kit reviews and more educational and STEM subscriptions for kids! You can also find a list of all Target subscription boxes in our subscription box directory!
Keep Track of Your Subscriptions: Add this box to your subscription list or wishlist!
Do you subscribe to Target's Art & Craft Kit Subscription for Kids? If you received this project, what did you think about it?