Simple Loose Leaf
2 Ratings | 1 Reviews
Simple Loose Leaf is a monthly loose leaf tea subscription box. Choose from the Classic Tea Box (which contains some caffeinated teas and some herbal teas) or the Decaf Tea Box.
This box was sent to us at no cost for review.   (Check out the review process post to learn more about how we review boxes.) 
This is a review of the Classic Tea, $9 a month, box.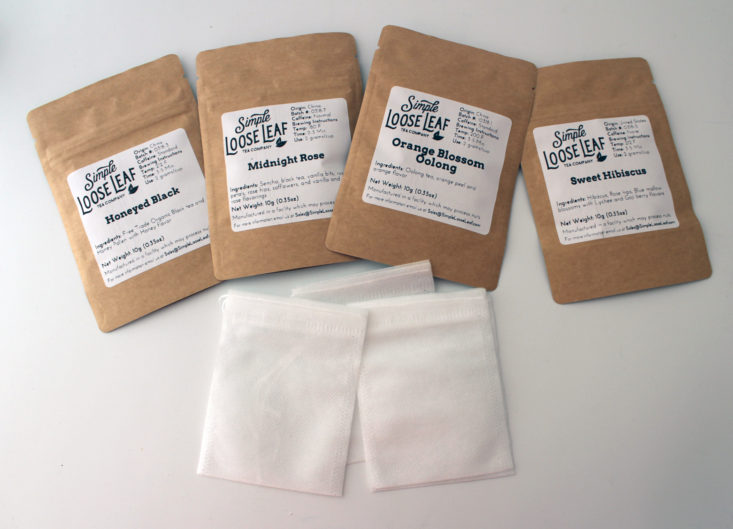 About Simple Loose Leaf
The Subscription Box:  Simple Loose Leaf
The Cost: $9/month + shipping. Save with longer subscriptions.
The Products: four different hand-packaged loose leaf teas; this is a review of the standard (caffeinated) box and includes a black tea, a green tea, an oolong, and an herbal tea (the types received per month may vary a little – you won't always get an oolong, for example)
Ships to: The United States for $2.99 and Canada for $9.49
Simple Loose Leaf April 2018 Review
There isn't a monthly theme, and there is already brewing information on each pouch of tea (as you will see below), but there was a simple brochure this month.  (As an aside, I am a fan of the new, smaller box – less cardboard waste.):
Here is the booklet that came with this shipment.
4 Reusable Linen Tea Filters
If you are new to drinking loose leaf tea, not to worry. Simple Loose Leaf has you covered with these reusable tea filter bags. I used these to brew this month's teas and they worked quite well. You'll get a new set of 4 bags every month, too.
Honeyed Black Tea (10g) – Buy 2 oz for $8.50
This has honey and bee pollen blended into it. This smells like honey but it's a real honey smell (not that artificial scent you get in some sheet masks and such), almost like flowers. It works really well with the black tea. I am not one to add sweetener to tea but I did enjoy it in this form.
Midnight Rose Tea (10g) – Buy 2 oz for $8
This is an Asian style green tea (i.e., sencha) but it also has rose petals and rose hips and a little black tea and some vanilla. You can definitely detect the floral notes and the black tea and vanilla moderate the sencha a bit. This would be a good starting point to get more into Asian style green teas, but it's also a good blend to drink in its own right.
Orange Blossom Oolong Tea (10g) – Buy 2 oz for $9
This one wins for best-smelling tea right out of the package. The citrus flavor is strong and sweet to match the aroma. Oolong is sort of midway between green and black tea in terms of oxidation and the leaves are often curled up like this. I'd recommend steeping this one for a short time, the first time, as some oolongs can be overpowering if left in the water too long, but the optimum flavor is totally a matter of individual taste.
Sweet Hibiscus Tea (10g) – Buy 2 oz for $7.25
This is the herbal tea for the month and it is pretty to look at! The main ingredients are hibiscus and rose hips and it is a little tart. I often use teas like this for iced tea (these ingredients are the starting point for many of the Celestial Seasonings Zingers) but if you are going to drink this hot, I'd suggest a sweetener of some kind to take the edge off a little.
Verdict: Simple Loose Leaf is only $11.99 ($9 a month plus $2.99 shipping to the US), so you can think of this as getting four teas for $3 each. There's enough in each bag to brew about 5 cups (if you measure, which I admittedly usually don't), which works out to about 60 cents per cup, with the bags thrown in as a nice extra. Everything had a lovely appearance and I enjoyed all of the teas this month. The blends were fragrant and also pretty to look at, as well. I also think there's some value with this subscription as a discovery service since you can purchase larger quantities of these in the Simple Loose Leaf shop if you find one you particularly enjoy.
To Wrap Up:
Can you still get this box if you sign up today? No, boxes ship on the first of the month so your first box would be May's.
Coupon - Use code SUBADDICT to get $2 off any Simple Loose Leaf order!
Value Breakdown: At $11.99 per month (including shipping), you are paying about $3 per tea.
Check out all of our Simple Loose Leaf Team Box reviews and the Drinks Subscription Box List for more tea subscription boxes!
Keep Track of Your Subscriptions: Add this box to your subscription list or wishlist!
What did you think of Simple Loose Leaf?  Do you get any tea subscriptions?