Peachy Box
5 Ratings | 0 Reviews
Peachy Box is a women's beauty and lifestyle box that highlights a different, trendy theme each month. Each box arrives with 6-8 beauty and lifestyle items "with new and emerging trends from all over the world."

This box was sent to us at no cost for review. (Check out the review process post to learn more about how we review boxes.)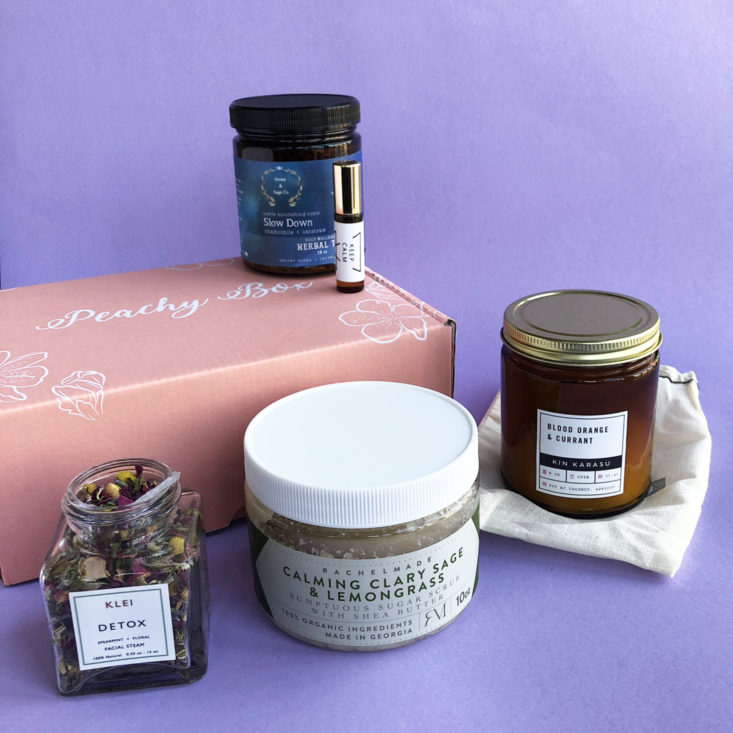 About Peachy Box
The Subscription Box: Peachy Box
The Cost: $34.99 a month + free US shipping
ACTIVE DEAL: Save 25% off your first box!
CODE: JUSTPEACHY
The Products: "We're all about that #selfcare and #selflove life. We want you to feel pampered, loved and adored with our monthly box of 5 to 8 hand-curated luxury items." Items are full size and often focused on small brands with high quality.
Ships to: The U.S., Canada and International, ranging from $5-15, depending on location
Peachy Box March 2018 Review
This month, everything is about relaxing. Let's see what there is!
Peachy Box includes an info card with descriptions and values of the contents and the theme for the month. This month's theme is "Note to Self: Relax". Lots of natural scents and everything you need for a mini spa day is included.
This month, Peachy Box included a free gift of a month's worth of yoga videos from LunarYoga.tv. I won't count his toward value because it is a free gift. I'm trying to take more time for stretching and relaxing so I'm really excited to receive this.
Kin Karasu Hand-Poured Candle, Blood Orange & Currant - 8oz. Listed Value $20 (Buy 11oz for $29)
I found this Etsy store but they only had 11oz candles listed. The packaging is great for this 8oz soy wax candle. It comes in a glass jar with a metal lid and is nestled in a canvas drawstring bag. The scent is juicy, fresh, and bright. I love the fact that these candles are hand-poured in Georgia.
Rachel Made Sumptuous Sugar Scrub, Calming - 10oz Retail Value $25.50
This generous jar of sugar scrub is a 2-in-1 product, an exfoliator, and a body butter. I still find that I have to add a lotion after my shower but it does a great job of scrubbing away flakey, dry skin. The ingredients are simple and include organic Sucrose, Sunflower Oil, Shea Butter, Clary Sage, and Lemongrass, so the chance of irritation is low. It has a very sharp, lemongrass scent that's a little more herby than I typically like but it seems to fade away quickly. Again, the company is regional and based out of Atlanta, GA.
Honey & Sage Co. Herbal Tea Blend, Slow Down - 1.8oz Retail Value $12, Listed Value $10.50
Honey & Sage is a company based out of Gainesville, TX that concentrates on enhancing the lives of women by "Refilling Your Cup". I have been learning to love different teas and figuring out which are best for specific benefits. This tea is meant to help wind down in the evenings by soothing anxiety. It's a caffeine-free mix of chamomile, oatstraw, and lemon balm and has quite a grassy scent and taste. You can even see little flower-looking bits in the mix. It might take me awhile to warm up to this type of tea, but I can definitely use help unwinding.
Klei Beauty Facial Steam, Detox - .5oz Retail Value $22, Listed Value $20
Facial steams are fairly new to me but I like them as a part of an at-home spa day. The water in my bathroom gets very hot, so I just fill my sink and sprinkle a bit in. Then I place a towel over my head and stand above the sink for a few minutes while the steam and aroma sink into my skin. The spearmint and rosemary scents really stand out and invigorate my senses and the dried blend is so pretty. As far as benefits to the skin, the steam helps to open the pores which allow other treatments to sink in and be more effective. This natural company is based out of Brooklyn, NY.
The Willow Field Aromatherapy Rollerball, Keep Calm - 5ml Retail Value $14
Oh my, I'm so impressed by the range of aromatherapy offered by this company which is based out of Long Beach, CA. There is a product to help with everything! This Keep Calm rollerball helps with easing an anxious mind and refocusing on the work you need to get done. With simple organic and sustainable ingredients like Fractionated Coconut Oil, Grape Seed Oil, Lemongrass, Cedarwood, Bergamot + Patchouli Essential Oils, I get no irritation and a long-lasting, subtle fragrance. I love to roll it onto the insides of my elbows and dabbing it behind my ears while I'm at work. Extra benefit: my desk neighbor likes the smell too!
Verdict: Peachy Box's "Note to Self: Relax" is such an on-point box. This time of year is always stressful for me and I appreciate receiving products to help me calm down. I've noticed a concentration on quality, natural products from US-based small businesses over the last few months and I love it. This is such a great gift subscription because it is beautifully packaged and thoughtfully curated with full-size products. I calculated a retail value of $93.50 (not including the free yoga gift) which is good for a cost of $34.99 with free shipping. I noticed that tea and a candle has been included for the past two months, so I wonder if that is just a coincidence or if those items will be normal inclusions now. We will see next month!
To Wrap Up:
Can you still get this box if you sign up today? No, you will receive the April box. Order before the 16th of each month to get that month's box.
Coupon – Use code JUSTPEACHY to save 25% off your first box!
Value Breakdown: At $34.99 for this box, here's what you are paying approximately per item:
Candle - $7.48

Sugar Scrub - $9.54

Tea - $4.49

Facial Steam - $8.23

Rollerball - $5.24
Check out all of our Peachy Box reviews and the Beauty Subscription Box Directory!
Keep Track of Your Subscriptions: Add this box to your subscription list or wishlist!
What do you think of this theme from Peachy Box?