Piquant Post
2 Ratings | 1 Reviews
Piquant Post is a monthly subscription box that offers a variety of freshly ground, small batch spice blends with their very own chef developed recipes that feature a new region each month.
This is a review of the $11.99 monthly plan. 
This box was sent to us at no cost for review. (Check out the review process post to learn more about how we review boxes.)

About Piquant Post
The Subscription Box: Piquant Post
The Cost: $11.99 a month, $65.94 for 6 month pre-pay, or $119.88 for 12 month pre-pay.
ACTIVE DEAL: First Order 10% off. No coupon needed - just use this link.
The Products: 4 spice blends from a single region or country, 4 chef-developed recipes showcasing each of the spice blends, plus online access to recipes and ingredient substitutes. 
Ships to: Worldwide with free U.S. shipping
Piquant Post February 2018 Review
Each box comes with four spice blends and coordinating recipe cards. Let's get into this month's spices!
Salt & Pepper Spice
Our first spice blend is an elevated salt and pepper! This spice had a big bold spiciness that lingers on the tongue. It is made with sea salt, peppercorn, and Sichuan pepper. I can't wait to cook again with this spice because it really does bring the heat.
Salt & 2 Pepper Shrimp Recipe
This recipe was so quick and easy to make, I knew it would make the perfect weeknight meal. The fresh veggies include garlic, jalapeno, and chopped scallion. Really all you need is one pan to cook this delicious dinner, and I'm sure you could replace the shrimp with chicken or beer if you aren't a seafood lover like myself.
Let's get cooking!
Here I have my shrimp cooking after lightly coating them in cornstarch. There wasn't any sort of egg that you used as a base so the cornstarch didn't stick to my shrimp as well as I would have liked. I also added my jalapeno and garlic to the pan before adding my shrimp.
That's it if you can believe it! You just have to let everything simmer together until all ingredients are fragrant and the shrimp is cooked. I decided to add rice to this dish as well to build it out a bit into a full meal, but this shrimp would be delicious on its own with a side of fresh vegetables. The salt and pepper spice blend was the star of this meal, it was spicy and tangy with bites of lemon as well. A winner!
Silk Road Spice Spice
This spice blend is meant to be a fusion of Arab and Chinese food. The smell was very nutty, it reminded me of the perfect winter spice with its warming qualities. This blend contains cumin, sesame seed, coriander, cayenne, garlic powder, and Sichuan pepper. So you really get a nice blend of spice with a little heat to it.
Spicy Tofu Steaks Recipe
This dish is another fusion of Arab and Chinese food which is why it is the perfect meal to pair with our Silk Road Spice. The card notes that this is a meal you would find today in cities in Northwest China along the 'silk road,' an ancient trading route. This recipe has four simple steps, and if you are familiar with how to prepare tofu properly, the meal would make another quick weeknight dinner. I am not the biggest fan of tofu these days, but I loved the smell of this spice blend so I am going to have to give this recipe a try!
Spicy Tangerine Spice
This spice is seasoned with, you guessed it, tangerine peels! I don't think I have ever seen a citrus used in a spice blend but the aroma that this gave off was so fresh and unique. The Piquant Post blog notes that you can soak this spice in a citrus juice such as orange juice to soften the spices and really bring out the citrus flavors. I haven't used this blend yet, but I can't wait to experiment with it on various dishes!
Tangerine Beef Recipe
Tangerines are a symbol of luck and are often given as gifts during the Chinese New Year. This tangerine beef recipe comes at a wonderful time and is the perfect recipe for our citrus inspired spice blend! I am not the best at cooking beef, but this recipe looks super easy to follow. I think I am going to save this for a weekend dinner that I can enjoy with my husband, hopefully, this unique recipe and spice blend will be a crowd pleaser!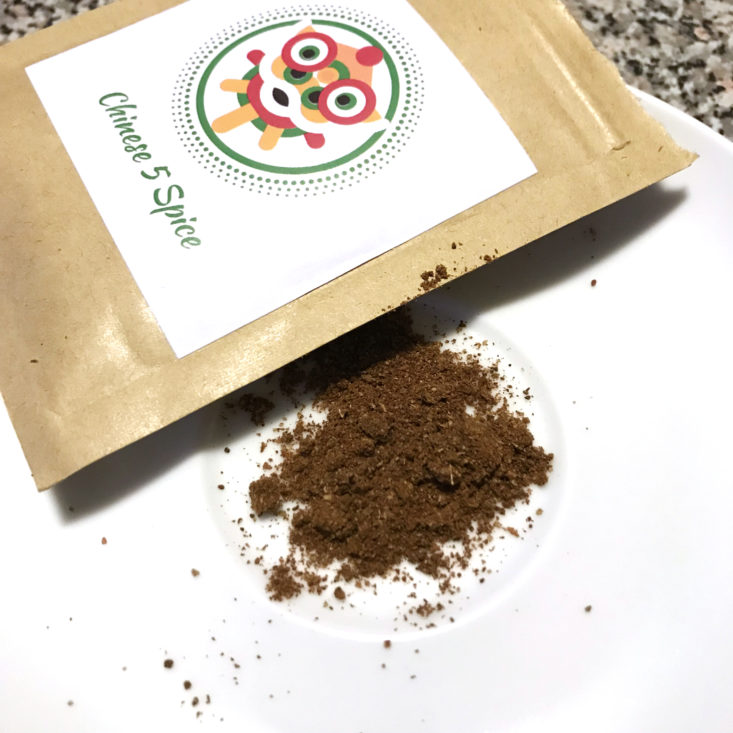 Chinese 5 Spice
Our final spice blend for the month comes packed full of star anise, Sichuan peppercorns, fennel, cinnamon, and cloves. The aroma that came from this blend really reminded me of the fall with its pumpkin pie like scent mixed with the bold spiciness from the peppercorns. It is important to note that a little goes a long way with this blend and you can even use it as a topper on your coffee or tea!
5 Spice Chicken Thighs Recipe
According to the Piquant Post Blog, the 5 spice blend is essential to Chinese cooking and is believed to have been made to wake 5 key tastebuds in your mouth. Since this spice blend is so bold, the recipe calls for a meatier piece of chicken, the thigh, to really hold its own next to this blend.
While I opted to try this recipe on my own baked chicken, I was very excited to see how the spice blend would bring out some new flavors on a traditional weeknight dish.
I simply sprinkled some of this spice blend on some chicken tenders that I then baked in the oven for 20 minutes. Even though I read that a little of this spice goes a long way, I still think I was too heavy-handed. This spice is super powerful! The unique blend had a little kick to it, but what I really tasted was a strong black licorice flavor. Honestly, that taste is not my favorite so while I enjoyed utilizing this unique blend, it was not my favorite from this month.
Verdict: This month's Piquant Post was very unique, bringing an array of spice blends that were new to me and packed a big punch! While none of the recipe's this month really stood out to me, I was excited to give them a try and taste my hand at cooking dinners that are out of my comfort zone. The shrimp dish was super easy and so flavorful and will continue to be something I cook for my family in a pinch for something delicious. I didn't love how my chicken turned out, but I think I used the wrong cut of chicken and used too much of the spice blend. While this month wasn't my favorite, I always love reading about each spice blend and the coordinating recipe, discovering a bit more about meals and spices that I normally would never seek out on my own to cook. 
To Wrap Up:
Can you still get this box if you sign up today? No, order by 4/15 to receive the April box!
Coupon - Use code MSA15OFF to save 15% off your first box!
Value Breakdown: This box costs $11.99 with free U.S. shipping, and I received a total of 4 spices. That means that the average value for each of those items is around $3 (not counting the recipe cards).
Check out all of our Piquant Post reviews and the Food Subscription Box Directory for more spice and meal boxes!
Keep Track of Your Subscriptions: Add this box to your subscription list or wishlist!
Have you received Piquant Post? What did you think of the February spices?