Gwynnie Bee Box Review + Free Month Coupon – January 2018
---
This post may contain referral/affiliate links. If you buy something, MSA may earn a commission. Read the full
disclosure
.
Gwynnie Bee is a clothing rental subscription service for women sizes 10-32. I have been having a lot of fun with this subscription!
Check out our Plus Size Clothing Subscription reviews to see all the different subscription box options!
Gwynnie Bee kindly invited me to try their service for review purposes. (Check out the review process post to learn more about how we review boxes).
About Gwynnie Bee
The Subscription Box: Gwynnie Bee
The Cost: The cost depends on how many items you would like to have out at a time.
1 = $49/month
2 = $69/month
3 = $95/month
5 = $139/month
7 = $179/month
10 = $199/month
The Products: Women's clothing rental, sizes 10-32
Ships to: US via USPS Priority Mail
Gwynnie Bee January 2018 Review
This review is of the 3 items at a time subscription from 12/21 through 1/20.
KAKTUS – Long Sleeve Dress with Stitch Detail in Floral Print
This velvet dress was super fun to wear! So boho! It was a little big on me, but it was very easy and comfortable as a result. I love the embroidery, too.
BACIANO – Cable Cardigan In Off White
This wool blend cardigan was super warm and surprisingly soft! It may look kind of simple, but I think the neutral color pairs very well with the unusual texture. This was basically my uniform for the month of January. I got loads of use out of it!
FRAICHE BY J – Long Sleeve V-Neck Dress In Rosa Wine Print
I think this was my favorite piece this month! This chiffon maxi dress made me feel so pretty and stylish! It is fully lined everywhere except the back and the sleeves, which are a little sheer. I also felt like the colors and print were really romantic and lovely. I loved wearing this!
NIC+ZOE – Cowl Knit Top in Wine
This cotton blend top is one of those pieces that at first glance seem kind of boring, but it is really anything but! I liked the way the cowl hung, and it was actually a pretty warm top. The interesting thing, though, is the little black "squiggles" printed on the top are actually very sheer! So it has a very cool silhouette effect.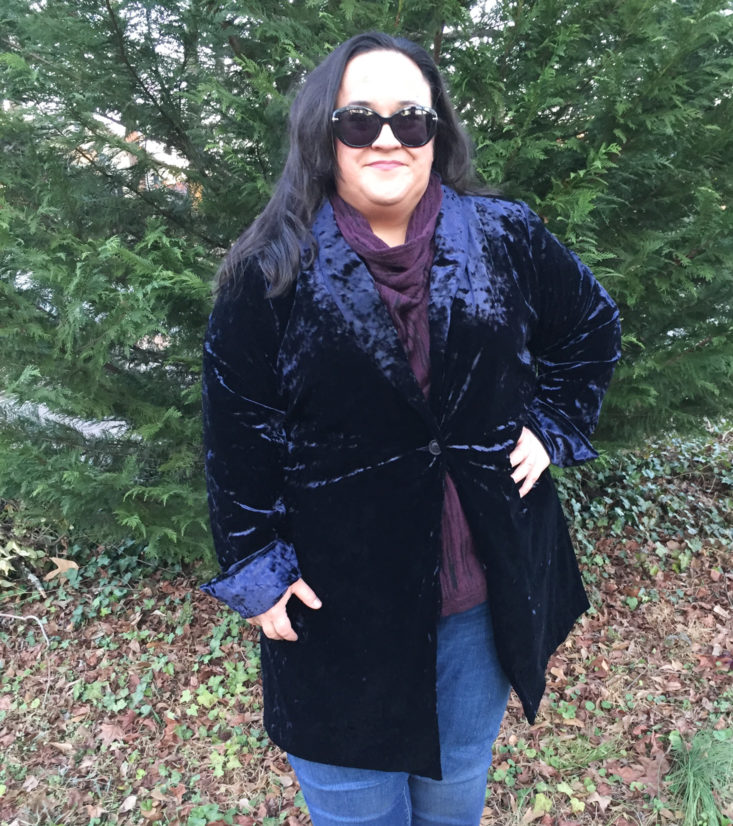 B CURVY BY BOBEAU – Jame Velvet Jacket
What a fun jacket! I don't know if I've ever worn a velvet jacket before now! It was fun to wear, but I wasn't really wild about the cut, especially on me since I am kind of short (5'3″). I think it would look amazing on a taller woman.
GILLI – Velvet Shift Dress With Tie Sleeve Detail
Sometimes I "closet" items on the Gwynnie Bee website, and I don't realize I have already closeted the exact same thing in a different color or print. That happened this month with this dress. I actually wore this same dress in a different print on Christmas Eve a little over a month ago! Which is totally okay because I love this dress! I think the cut is super figure-flattering on me. I also love the detail on the sleeves. Plus wow, so much velvet this month! So fun!
The Verdict: I love Gwynnie Bee! This month was another great one! I feel like I have had really really good luck the past few months, so here's hoping it lasts! This month I was lucky enough to try three beautiful dresses! Awesome! I like trying new things all the time, and Gwynnie Bee gives me loads of new options! It's so fun!
To Wrap Up:
Can you still get this box if you sign up today? The majority of the pieces I received are available for rent or purchase at Gwynnie Bee!
Coupon – No coupon required! Just use this link to sign up and get your first month FREE!
Check out all our Gwynnie Bee reviews and the Women's Clothing Subscription Box Directory!
Keep Track of Your Subscriptions: Add this box to your subscription list or wishlist!
What do you think of Gwynnie Bee?