Loot Crate Subscription Box Review + Coupon – Discover – January 2018
---
This post may contain referral/affiliate links. If you buy something, MSA may earn a commission. Read the full
disclosure
.
Loot Crate is a monthly subscription box for geeks and gamers. Each month they include themed collectibles and shirts – they've moved towards a mostly exclusive model – so you can't get most of these items/variants anywhere else!
January's theme was Discover.
My Subscription Addiction pays for this box. (Check out the review process post to learn more about how we review boxes).
About Loot Crate
The Subscription Box: Loot Crate
The Cost: Price Increase: $15.99 plus $9 shipping a month
The Products:
Over 4 FAN-tastic items delivered every month
$45+ Retail value of collectible goods and gear
Authentic, licensed and/or exclusive products
Ships to: 27 countries including US, Canada, Australia, and the UK!
January 2018 Loot Crate Review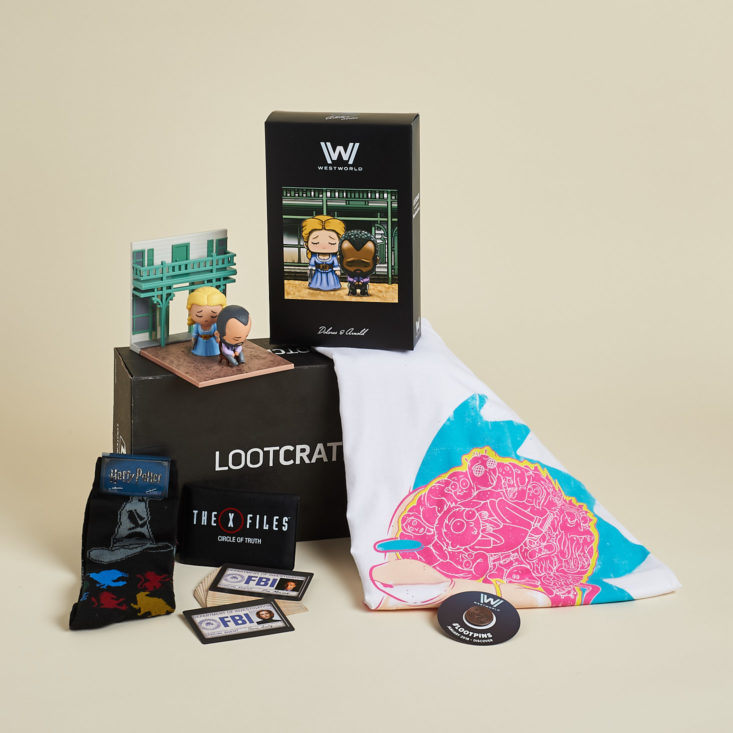 The January 2018 Loot Crate featured items from 4 franchises – The X-Files, Rick and Morty, Westworld, and Harry Potter.
2 things to note about the presentation – it looks like they've definitely done away with the extra little box inversions and the monthly booklet. If those cuts get me the box on time, then I can live with it! If you miss the booklet – you can find a digital version here.
Instead of the booklet, you'll get a basic information card. I guess I'm just a little surprised at how basic, un-branded, and no-fun the card is. It doesn't feel very Loot Crate to me.
Westworld Pin – Value $5?
Each month still arrives with a themed pin – and this month's pin also features Westworld.
Your subscription also gets you some digital loot to be on the lookout for:
You'll get 3 free comics, some free Westworld bonus digital content, and 20% off of season one at Vudu.
OK – on to the loot!
Rick and Morty Shirt – Value $15?
Um. Yes, please! I'm so pumped for this month's exclusive design! We all know there's a lot going on in Rick's brain, this gives you a tiny glimpse inside.
Westworld SuperEmoScenes Diorama – Value $20?
This is yet another entry into the Loot Crate Artist Series and again features a 3D version of the art of SuperEmoFriends' artist J Salvador.
These dioramas arrive in pieces but are simple to snap together.
It's about 4.5 inches tall when constructed – and will partner nicely with your Stranger Things scenes!
The case always has a little bit of extra information about the artist, if you're looking to find more artwork. I'm hoping to see more stuff from different artists this year.
Harry Potter Socks – Value $10-12?
The Harry Potter item is a pair of house sigil socks.
These fit pretty nicely, not too tight, and have been fine for me in the cold.
They feature the sorting hat – with all of the house represented.
X-Files Card Game – Value $10?
The final item in the box features The X-Files.
"Circle Of Truth" is a little X-Files based card game.
It comes with instruction to get you up and running. I do like that it arrives in a government badge-type holster.
Verdict: I was incredibly let down by the December shipment – this delivery is much better in terms of value and items. I am loving the shirt – it's probably my favorite Rick and Morty design that I own. I was happy to add the diorama to my collection – and, well, socks are kinda my thing – so I was happy with that. More importantly, this one arrived as expected – while they're still having shipping issues with other lines, hopefully, this is the start of something more solid for the core crate – still, if you aren't alright with possible delays, I'd steer clear until they have a better track record.
To Wrap Up:
Can you still get this box if you sign up today? No, You'll see the current them on the landing page – theme cutoffs are the 19th of each month at midnight EST.
COUPON – Save 10% off any length subscription, or $3 off month-to-month with coupon code ADDICTION or SAVE3
Check out all of my Loot Crate reviews to get more information on this subscription. Check out all of our Geeky Subscription Boxes in the Subscription Box List. Rate, review, and follow this subscription on the Loot Crate profile page.
What did you think of the January 2018 Loot Crate?