Terra's Kitchen Subscription Box Review + Coupon – October 2017
This post may contain referral/affiliate links. Read the full
disclosure
.
Terra's Kitchen is a meal kit delivery subscription service with recipes created around the Mediterranean diet and lifestyle. According to Terra's Kitchen, the heart-healthy, inflammation-reducing Mediterranean diet includes "colorful fruits and vegetables, nuts, heart-healthy fats (like olive oil and avocados) and minimizes red meat, sugar, and saturated fat."
Unlike other meal kits, which offer smaller weekly menus, Terra's Kitchen offers a menu of 50+ dishes (that changes a little less frequently) with choices for vegetarian, paleo, gluten-free, and even low-calorie diets (they even have an entire nutritionist-directed "Real Diet" program for those of you looking for healthy weight loss guidance). Set your preferences, and Terra's Kitchen will match you with weekly meals to fit. Or, you can dive into the menu and pick what recipes work for you making the experience totally customizable! You may also add à la carte items like smoothies, salads, and fruit.
When you sign up, you'll also choose how many meals you'd like to receive per week. Options are:
3 Dinners for 2 People (Meals start at $9.99 per serving with a minimum weekly order of $62.99)
4 Dinners for 2 People (Meals start at $9.99 per serving with a minimum weekly order of $62.99)
2 Dinners for 4 People (Meals start at $9.99 per serving with a minimum weekly order of $62.99)
This is a review of the 3 Dinners for 2 People vegetarian option ($82.94).
My Subscription Addiction paid for this box. (Check out the review process post to learn more about how we review boxes.)
One big difference between Terra's Kitchen and other meal kit delivery subscriptions is that it ships your ingredients in a heavy duty, reusable package.
Swing open the doors of the cooler, and you'll find all of your pre-portioned ingredients neatly packaged and arranged on its teal shelves. Ingredients are antibiotic and hormone-free and mostly GMO-free and organic.
Once you've transferred all of the chilled, fresh ingredients to your fridge, you'll follow the instructions on the box and leave it out front of your house to be picked up (and used again)! It's definitely an out-of-the-ordinary approach, but I have to say, I love it! Recycling meal subscription box after box (and its insulation, and ice packs, and other materials) still feels like I'm creating a lot of waste, so I love knowing that this one cooler will be able to be used over and over again.
The ingredients for your recipes are packaged in small, super-light plastic containers—I took the containers out of my vessel and managed to fit all of them in the crisper drawer of my fridge. Terra's Kitchen does most of the chopping, slicing, and dicing for you, which not only helps the recipes go faster but makes for smaller packages of ingredients that are easier to store.
The Subscription Box: Terra's Kitchen
The Cost: $9.99+ per serving, plus free shipping
COUPON: Use code TKNOW35 to save $35 off your first order!
The Products: Quality, pre-portioned (and often, pre-chopped!) ingredients plus easy-to-follow recipes for health-conscious, Mediterranean-diet-inspired dishes.
Ships to: Ships to most of the U.S.
Check out all of our Terra's Kitchen reviews and the Meal Delivery Subscription Box Directory for more food and meal kits!
Keep Track of Your Subscriptions: Add this box to your subscription list or wishlist!
Price per Serving: $15.49
Calories per Serving: 499
Time to Table, According to Terra's Kitchen: 30 Minutes
Actual Time to Table: 30 Minutes
Tuna Nicoise Salad is one of my favorite things, so I was thrilled to see that Terra's Kitchen offered this recipe on their menu selection page.
Ingredients were fresh, simple, and beautifully packaged (per usual).
I began working on this salad by quartering my potatoes and hard-boiled eggs. Black olives were halved. It's cool that Terra's Kitchen prepares most items for you — to the extent that I actually didn't have to boil my own eggs.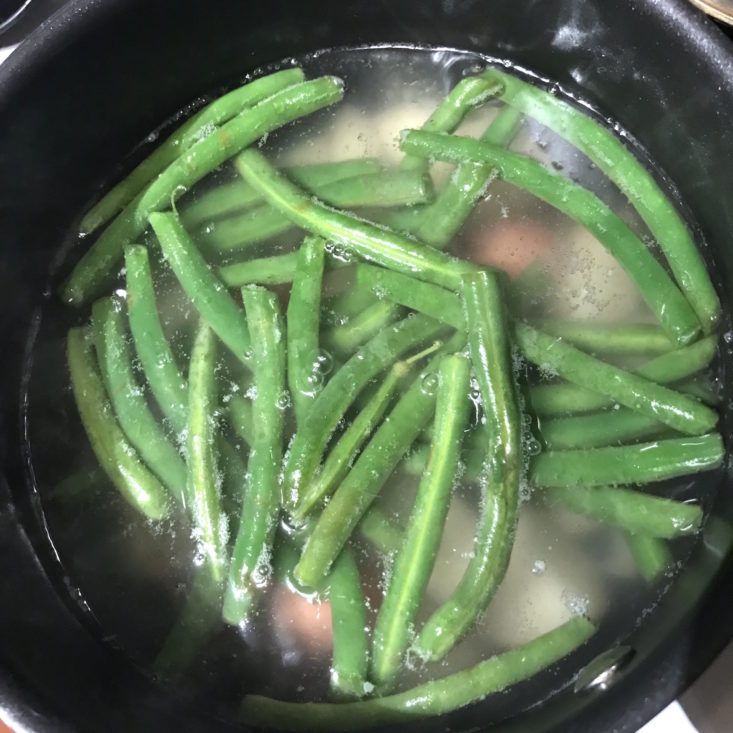 I boiled the potatoes and then added the green beans towards the end in order to just tenderize them.
Then I blanched both the potatoes and beans in ice water to stop the cooking process and ensure that the beans kept their pretty green hue. Super easy so far.
Next up: dressing. Terra's Kitchen provided the right mix of thyme (though you're advised to not use it all), vinegar, shallot, and mustard, and I supplied the olive oil and salt & pepper.
This is also when the recipes advise you to begin searing your tuna on a grill. I was tempted to go this route, but I decided to bake my tuna at the last minute. See, I'm being especially careful about not eating undercooked fish at the moment, so it results in having to switch things up a bit in some recipes. The tuna was fully cooked through after having it on a baking sheet in a 400 degree oven for 15 minutes or so. Some would consider this to be a crime, and I don't disagree — I would have much preferred to eat some deliciously rare-in-the-middle tuna steaks. Can't win 'em all.
Even with well-done tuna, this salad was amazing. I loved the mixture of briny, salty olives, hearty potatoes, fresh spinach, tuna, crispy green beans, and a nicely acidic dressing. These are the kinds of meals I love to eat, and Terra's Kitchen made it way easy! Honestly, the hardest thing about making this dish was cooking the tuna, and everything else involved only lightly preparing and arranging additional ingredients.
Korean BBQ Cauliflower + Chickpeas
Price per Serving: $12.99
Calories per Serving: 6321
Time to Table, According to Terra's Kitchen: 30 Minutes
Actual Time to Table: 30 Minutes
I love that Terra's Kitchen's vegetarian recipes are so simple lately! After looking over the steps here, this recipe appeared to be fairly straightforward.
I don't think I've ever received a meal from this box that was so pared down at a glance. Chickpeas, cauliflower, and a box of spices, herbs, and condiments!
After covering a baking sheet with foil, I broke apart large pieces of cauliflower and poured out the container of chickpeas. Everything was soaked in olive oil and sprinkled with a healthy dose of salt and pepper.
That little container was chock full of stuff! It was basically everything you'd need to create an Asian-inspired sauce.
I chopped up the peanuts pretty finely and mixed them with the sriracha, soy sauce, sesame oil, ginger, garlic, brown sugar, vinegar, and half of the scallions. I also added my own canola oil.
This yummy mixture was drizzled on top of the veggies after they roasted in the oven for awhile. I finished off the dish by broiling the sauce-coated veggies to crisp them up. Before serving, I tossed through the veggies to make sure that they were evenly coated. From there, I garnished with the remaining scallions.
This was a huge hit! The sauce was super tasty, and the chickpeas became slightly crispy with time in the oven. Again, flavors were balanced, and the nutty crispiness of the peanuts was super satisfying when paired with the veggies and soy-based sauce.
Price per Serving: $12.99
Calories per Serving: 438
Time to Table, According to Terra's Kitchen: 30 Minutes
Actual Time to Table: 30 Minutes
Please excuse my photos for this dish! I misplaced the recipe card for this one after realizing that I didn't  yet photograph it.
This was the one dish that I was most excited about, and that's probably because, you guessed it: cheese. I'm also a huge quinoa fan, but I've never used it to stuff peppers!
The chipotle salsa sent with this one is definitely a Terra's Kitchen staple from what I've learned over the last several boxes. It's included in many of the vegetarian dishes. Even though I do enjoy chipotle flavor, I might be getting a little burned out on the same salsa being used over and over.
I started out with cooking the quinoa. Getting to be a pro!
Then, I charred the poblano peppers. This was fun! I just used metal tongs to rotate each pepper over an open flame on my stovetop until the skins were blistered.
Not entirely sure what the best method is to remove the skins from poblano peppers after charring them (Terra's Kitchen didn't provide detailed direction), so I did what came to me naturally: allowed them to a cool a bit and then rubbed them with the help of a paper towel. I didn't get ALL of the skin, but it did the trick. I also slit each pepper to prepare them for stuffing.
Here is where I mixed the salsa, garlic, cilantro, black beans, and salt and pepper.
I stirred in the quinoa once it was properly cooked and fluffed. This is the stuffing mixture for each pepper. After first crumbling some goat cheese into each, I layered over the mixture and topped with more cheese. Then I broiled each pepper and topped with extra cilantro to serve.
How pretty, right? These were delicious and definitely my favorite of the month. My husband was quick to agree. They're surprisingly filling, and the goat cheese really adds a creamy depth to the dish! Again, singing those cheese praises!
Verdict: I'm continuing to enjoy my experience with Terra's Kitchen, and, for the first time in a while, this month had no misses or recipe issues. Everything was easy to execute and ingredients were simple. So easy!
As far as value goes, I've found that other meal subscription boxes tend to have a set per shipment cost. It's so great that Terra's Kitchen allows you to fully customize your order, but the $62.99/box is a minimum. With this 3 meal all-veggie plan, this box cost came to $82.94. You do definitely end up paying for the convenience of pre-prepped fresh ingredients. Just know that this one is pricier than meal subscription services like Hello Fresh (that offer a set price).
What do you think of Terra's Kitchen?
All views in this review are the opinion of the author. My Subscription Addiction will never accept payment in exchange for a review, but will accept a box at no cost to provide honest opinions on the box. This post may contain affiliate/referral links. Read the complete My Subscription Addiction
disclosure
.