Enjoy Leggings
5 Ratings | 5 Reviews
Enjoy Leggings is a brand new subscription service that sends one pair of high-quality leggings in your size every month. Additionally, a portion of the proceeds supports various charities that help promote a positive body image for girls and women. Cool!
This package was sent to us for review purposes. (Check out our review process post to learn more about how we review boxes.)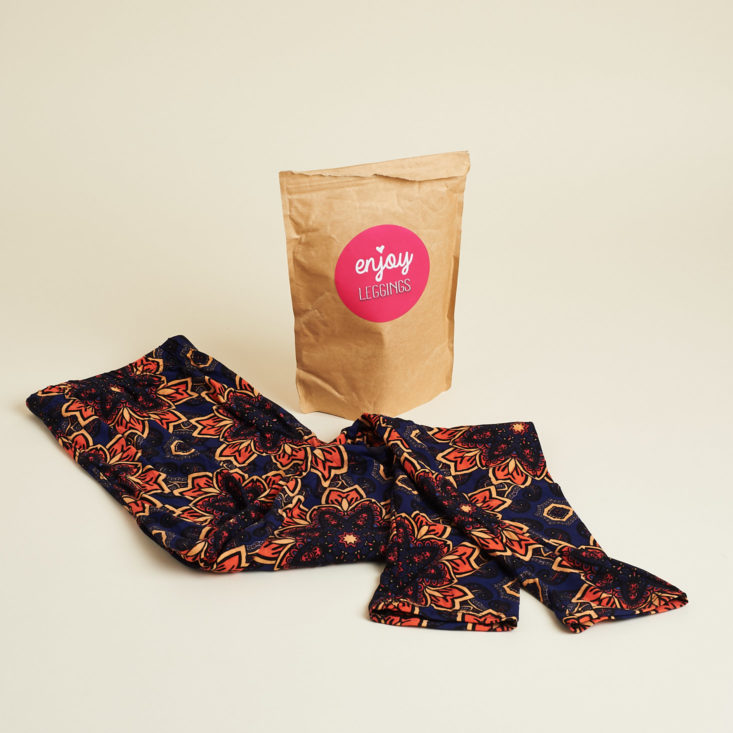 The Subscription Box: Enjoy Leggings
The Cost: $16.95 per month with discounts available for longer subscription commitments
ACTIVE DEAL: Save 25% off your first month!
CODE: ADDICTION
The Product: One pair of high-quality leggings in your size
Ships to: US for free, $10 internationally
Good to Know: Enjoy Leggings currently offers sizes Small (2-4), Medium (6-8), Large (10-12), and Plus (14-18).
Check out all of our Enjoy Leggings reviews and the Women's Clothing Subscription Box Directory!
Keep Track of Your Subscriptions: Add this box to your subscription list or wishlist!
My favorite thing about this month's pair of leggings is the bold color palette. The golds, oranges, and rich blues feel just right for fall, as do the kaleidoscopic flower and leaf patterns.
As usual, these knit poly-spandex blend leggings are awesomely soft—like, snuggle up on the couch with a good book soft. There's a lot of them, too. I'm only 5' 3", so I'm on the short side. The extra length always tends to gather up around my knees, but I bet they'd fit someone a good few inches taller than me just fine.
Verdict: Enjoy Leggings tends to be a little outside my aesthetic with their bold, kind of boho patterns (I'm more of a modern, minimalist gal), but the fact that they feel so indulgently comfortable makes me happy to hang onto them month after month. The price is reasonable at $16.95 per monthly pair, since really basic leggings at the store tend to be at least $10 each. Fingers crossed they go for some more crisp, understated patterns in the future (maybe some stripes or even dots... things that make less of a statement).
What do you think of this month's Enjoy Leggings?