Saffron
0 Ratings | 1 Reviews
Saffron is a monthly subscription box of handmade soaps and more. Each month, you'll receive two soaps, or another body care item, like body butter, a lip scrub, or bath bombs.
My Subscription Addiction paid for this box. Check out the review process post to learn more about how we review boxes.
The Subscription Box: Saffron
The Cost: Month to Month ($14.99/month + $2.99 flat rate shipping), 3 Month Prepay ($39.99 + shipping), or 6 Month Prepay ($76.99 + shipping), 12 Month Prepay ($143.90 + shipping)
ACTIVE DEAL: Save 10% off your first box! (month-to-month subscriptions)
CODE: CJMARKET
The Products: Artisan-made soaps and body care items
Ships to: Worldwide
Check out all of our Saffron reviews and the Artisan Subscription Box Directory!
Keep Track of Your Subscriptions: Add this box to your subscription list or wishlist!
There are two soaps in this month's box.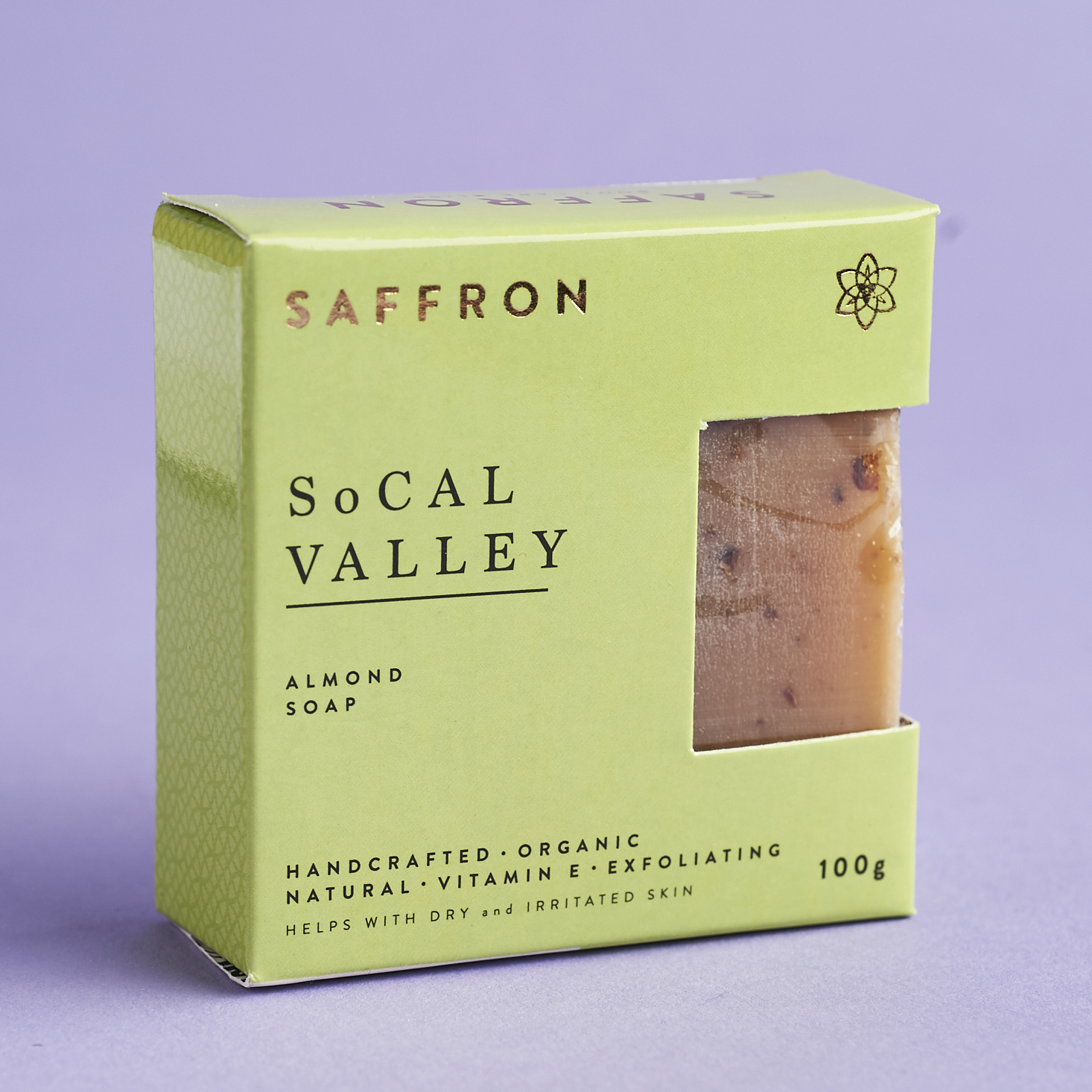 SoCal Valley Almond Soap - Value $9.99
This soap has little bits of almond throughout it, which the box explains are naturally exfoliating. The soap isn't too coarse, though, so I'm not sure how much exfoliation I'm getting from it.
I really appreciate that these soaps are paraben, sulfate, and cruelty-free!
The scent of this soap is my favorite part. It's a light, sweet, almond aroma that's not in-your-face like other soap scents can be.
The texture is smooth and supple, thanks to its natural oils.
Island Breeze Loofah Soap - Value $9.99?
The color of this soap is true to its island vibe. It looks like a crystal clear blue sea!
I couldn't find this exact soap online, but all of the soaps on their site are priced at $9.99, so this is probably the same.
The loofah is buried into the soap just a bit, so it'll take several washes to expose it. Once it starts to peek out, it exfoliates as you scrub. The soap smells like sea salt and something fresh, like melon.
Verdict: The Saffron subscription box is only $14.99, but you get $20.00 worth of soaps with natural ingredients. I like knowing I'm using cleaner products in my home, and the scents this month were refreshing and different. Still, spending $14.99 on just two soaps a month is a bit of a stretch for me. But if you're passionate about collecting new soaps, or exploring new, natural scents, then this could be a good box for you!
What do you think of Saffron Soaps?