Honest Diapers Bundle
11 Ratings | 3 Reviews
Note from Liz: I'm so happy to introduce our newest reviewer to the MSA team! Welcome, Lacey!
The Honest Company offers five different "bundle" subscriptions: Essentials (household items), Diapers & Wipes, Health & Wellness (vitamins), Organic Infant Formula + DHA  and Beauty. This is a review of their Free Discovery Kit of Diapers & Wipes.
My Subscription Addiction pays for this subscription. (Check out the review process post to learn more about how we review boxes).
The Subscription Box: The Honest Company Diapers & Wipes Bundle
The Cost: $79.95 + tax per full-sized bundle. This mini Discovery Kit is free + $5.95 in shipping.
The Products: Each full-size Diapers & Wipes bundle includes 6 packs of Honest Co's plant based diapers (quantity varies depending on diaper size) and 4 packs of wipes. Both products are free of petrochemicals, chlorine, harsh chemicals and common allergens. You can also add up to 2 additional items to your bundle with the "Add-Ons" feature. Each add-on is 25% off the cost listed online for individual purchase in the Honest Company online store.
Ships to: US, Canada, and APO/FPO addresses. Shipping on purchases and bundles over $50 is free for US deliveries only. See their FAQ for further details and restrictions.
Good to know: You can adjust your shipping calendar dates for your Honest Bundle at any time in your account. You can set your preferences for which designs you want to receive each month, and also swap one or more packs of the standard diapers for overnight diapers (although Honest notes that both designs and overnight diapers are subject to availability).
Check out all of our Honest Company reviews and our list of Subscription Boxes for Babies!
Keep Track of Your Subscriptions: Add this box to your subscription list or wishlist!
We received some Honest Diapers as a gift when our son was born, but we haven't used them since. When I saw they were shipping Discovery Kits for free + $5.95 in shipping, I decided to give them a try and see how they stack up to the Target brand diapers we've been using since.
Included in the Discovery Kit:
At first I was disappointed that the diapers looked like they were all the anchor design, which is not my personal favorite...
...but it was actually a variety pack! I love the cute designs that Honest puts out every season. This pack looks like it's mostly older designs, or standard designs they always carry. The little skulls are my favorite but there's something here for everyone!
My son currently wears a size 4 in Target brand diapers, but Honest's website said their size 4 is for 22 - 37 pounds, and size 5 is for 27+. I seem to remember Honest diapers being a little on the small size, and since my son was 26 pounds at his last weigh in, I went ahead and ordered the 5. I'm glad I did since you can see in this comparison they are very close in size! Target brand on the left, Honest brand on the right. You can see the absorbent part of the diaper on the Honest diaper goes up higher and looks like it has more coverage. The gussets and tabs were pretty comparable.
It's a little hard to tell in this shot, but the honest diapers are a bit thicker and cushier feeling than the Target brand, too. They fit my son well and we've had zero issues with leakage or rashes so far!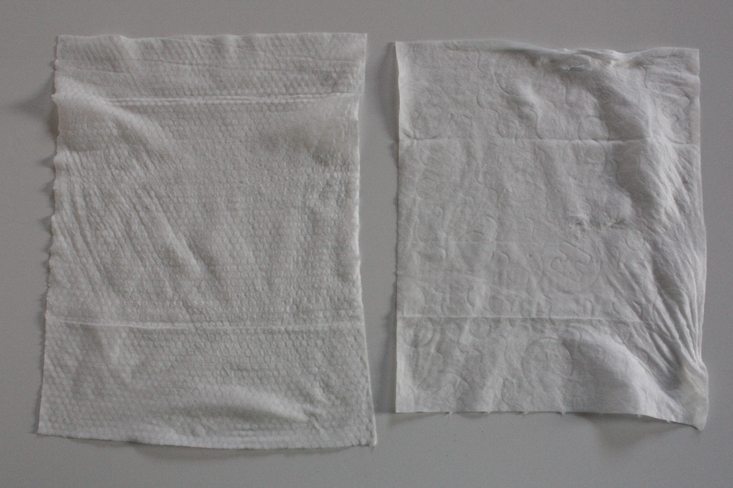 As much as I like Honest's diapers, the real star here might just be the wipes. Here's a very boring image showing an Honest wipe on the left, and a Huggies wipe on the right. We used a lot of Honest wipes when my son was a newborn and making what felt like hundreds of dirty diapers a day. They are advertised as unscented, but I find they have a very light refreshing scent to them that doesn't linger. They're a good size, thicker than other wipes I've tried, and the texture helps make them more effective with tough diaper changes. The only challenge is that the texture sometimes makes them stick together, so it's sometimes hard to get just one wipe out of the container (especially one handed, which is usually how diaper changes go in our house).
Verdict: For $5.95 in shipping, the Discovery Kit contained about $5 of products when priced at regular retail. However, this is a very affordable way to try out a new brand! When our son was first born, it seems like it took us forever to find a diaper that fit well and wipes that didn't cause a rash -- having sample kits like this one would have helped so much. I'm looking forward to continuing my Honest subscription, and testing out those overnight diapers and some add-on products!
What do you think about Honest's Diaper & Wipes Discovery Trial? Do you have any favorite add-on products that I should try next month?