Flaviar
11 Ratings | 0 Reviews
Flaviar introduces subscribers to premium liquors from around the world.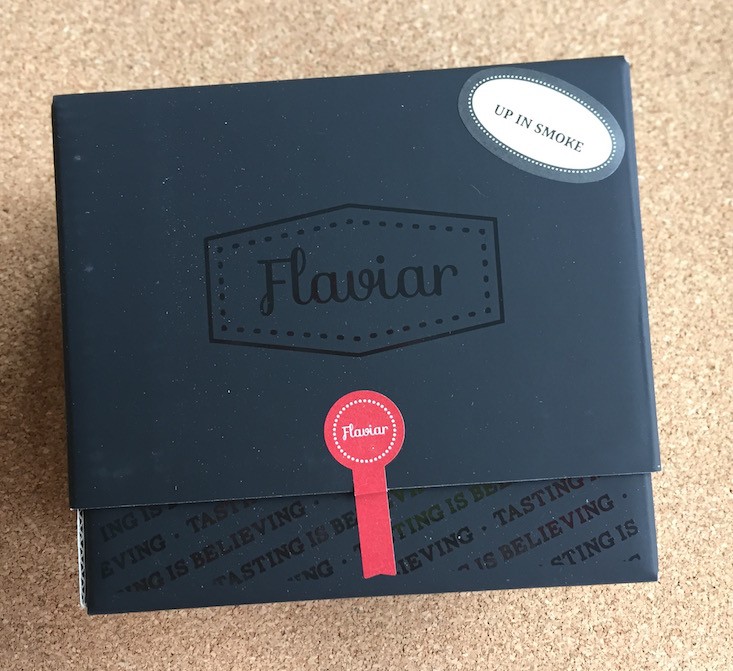 They curate and send sample packs that allow subscribers to sample various spirits before committing to the purchase of a full-sized bottle.
This box was sent to us at no cost for review. (Check out the review process post to learn more about how we review boxes.)
The Subscription Box: Flaviar
The Cost: $60 per quarter
The Products: Quarterly curated tasting packs that contain 3 x 1.5 oz. vials of premium spirits from around the world.
Ships to: EU and US (All states EXCEPT: Alabama, Arkansas, Delaware, Iowa, Kentucky, Montana, Oklahoma, Pennsylvania, South Dakota, Texas, and Utah)
A Note about Shipping: Tasting packs ship from Slovenia. Shipping is free for the tasting packs, but they typically take 10-21 business days to reach US destinations.
Check out all of our Flaviar box reviews and the Drinks Subscription Box Directory!
This tasting pack included tasting instructions and notes on each spirit included in the box.
Flaviar recently changed their subscription model, and this is my first time reviewing one of the new 3-vial spirit packs. (Previously, I was sent tasting packs with 5-vials of spirits.)
They've modified their old packaging by covering up two of the vial holes with cardboard circles. On one hand, I think this is pretty clever. On the other, though, I think it draws attention to the fact that the packs used to be fuller. I think I would have preferred new packaging.
The theme for this tasting pack is "Up In Smoke." Previously this month, I reviewed the 5-vial version of this tasting pack. You can find that review here.
Chase English Oak Smoked Vodka
The Chase Distillery was founded by Williams Chase, an English potato farmer with a passion for creating premium potato vodka, gin, cider, wine, and flavored liqueur. To give the vodka its smoky flavor, they place water inside a smoke house for five days and then use it to make vodka. This provides a light, natural smokiness that makes this vodka a great addition to cocktails like Bloody Marys and Dirty Martinis.
This top-quality Mexican spirit is made from 100% Espadin "blue" agave and slow roasted over wood and lava stones. It's oak-aged and is herby, smoky, peppery, zesty, and sweet.
Considering the theme of this tasting pack, it's no surprise to see a Scotch whisky included! Ardmore Legacy is a lightly plated Scotch with notes of apple, toffee, citrus, and coffee. I love peaty whisky (the smokier the better!), and I think this has a great balance of smoke and flavor.
Verdict: Flaviar always does a wonderful job curating their tasting packs. Sadly, though, I'm disappointed with the recent changes to their subscription. Previously, Flaviar cost $39.99 per month for a tasting pack with 5 different spirits. Now, Flaviar costs $60 per quarter for a tasting pack with only three vials of spirits. The new membership plan also includes online content, shipping discounts on bottles purchased through the Flaviar site, and access to exclusive bottlings, but, for me, I don't think this is enough to justify the hefty increase in price. As it now stands, the price breaks down to $20 per spirit vial, which is hard to justify. There may be some die hard liquor fans who still find value in this subscription, but I fear Flaviar has priced their box out of the market.
Do you like trying spirits from around the world? Have you tried Flaviar?