Ever since I discovered clothing rentals, I haven't looked back. I love being able to try different styles without commitment. And best of all, there are never any dry cleaning bills. I get so many compliments on my outfits and my friends know that my answer to where I got something is always that it's a rental.
But which clothing subscription will serve your needs best? I've tried Armoire, Rent the Runway and Nuuly, and here's what I think:
If you want unlimited high-end styles for every occasion… Armoire
Armoire offers a wide variety of high-quality pieces that are suitable for any occasion. From athleisure to black-tie, Armoire has it all! Armoire has designer clothes that fit a range of body types with sizes 0-3X and they're always adding new styles to suit everybody. And best of all, Armoire offers an unlimited plan so you can swap your clothes for new looks as often as you'd like! 
Neither Rent the Runway nor Nuuly offer an unlimited option. With Rent the Runway, I've also found that most of their clothes are catered towards fancier events, where cocktail or formal attire is needed. Since Nuuly is part of the URBN portfolio, the Nuuly site leans heavily on brands like Anthropologie and Free People, so the clothing style tends to be younger than I'd prefer.
If you prefer a personalized shopping experience… Armoire
Rent the Runway's inventory has me scrolling for hours to find something that fits my style. Similarly, Nuuly allows you to browse their full inventory and I find going through all of the brands and clothes a chore. Nuuly's style questionnaire is supposed to help you fine-tune your search, but it's not very curated.
Armoire is a much more personalized experience. After completing a quick, 5-min style quiz, Armoire uses an algorithm and personal stylist expertise to show you clothing that matches your choices, rather than overwhelming you with options that you're not interested in.
If you're interested in renting the most expensive items… Rent The Runway
No doubt, Rent the Runway, Nuuly, and Armoire all offer high-quality, fashionable items with retail values far higher than your membership fee. But if you're looking for the most items with a retail value over $1,000 then Rent the Runway is where you should go. However, their lowest price plan only provides access to their "basic closet" or styles with a retail value of up to $350.
If you're looking for the best budget-friendly option…Nuuly
Rent the Runway offers a 5-item plan for $94/month, 10 items for $144/month, or 15 items for $193/month. Nuuly offers one plan, which is 6 items for $88/month. Meanwhile, Armoire lets you choose 4 items for $79/month, 7 items for $119/month, or an unlimited plan for $249/month, but you'll receive a great discount on your first month (up to $110 off!).
Armoire offers the cheapest option but if you're looking for the most affordable one on a per-item basis, and want to keep it under $100 per month, Nuuly is your best bet!
If you're after flexible returns… Armoire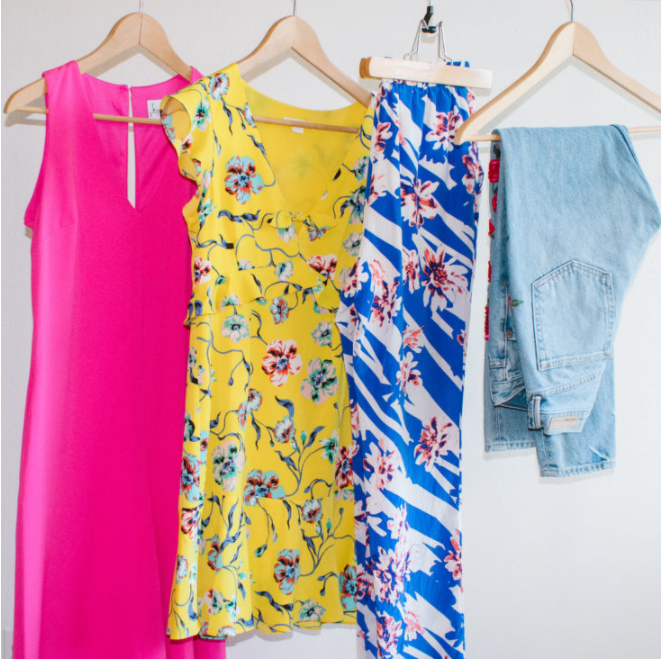 Hands down, the fact that Armoire lets you KEEP your current case until your new one arrives makes Armoire the clear winner for me. You really get a lot for your money by being able to keep the clothing, so that you are never without something to wear–it's such a game changer!
Nuuly requires you to return your items and pay early if you want to get your next delivery. Similarly, Rent the Runway requests that you send your items back as soon as you initiate a return, so there can be days when you have no clothing rentals at home.
The ultimate winner… Armoire
As someone who is anti-eternal scroll and in need of a more functional and interchangeable wardrobe, Armoire is the obvious choice for my styling needs.