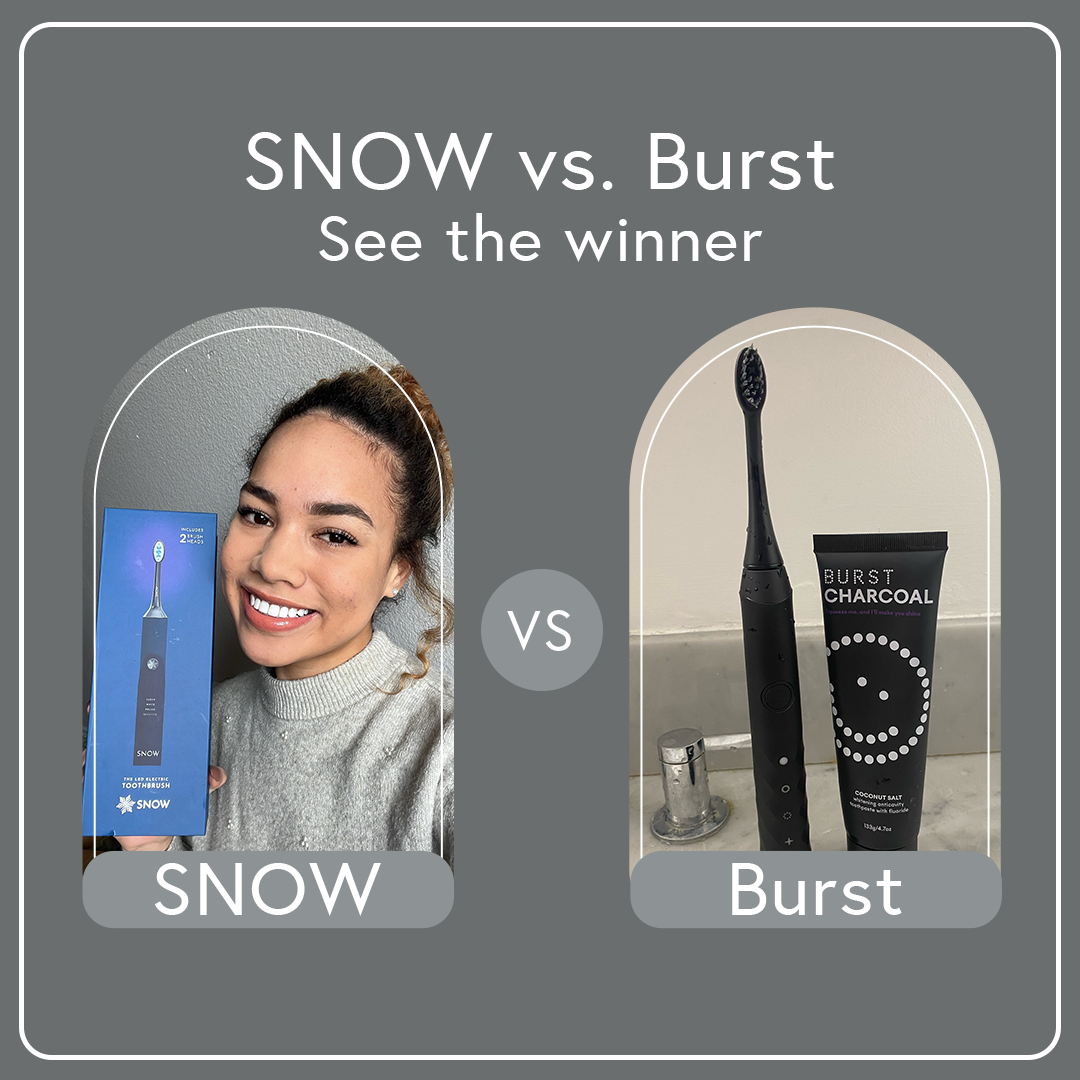 I like to think that I've always had a pretty standard teeth-cleaning routine–you know, brush, flossing, mouthwash every now and then. However, years of grabbing a glass of wine with friends and drinking my morning coffee have seriously done some damage to these pearly whites!
Because I'm not really interested in using whitening strips or getting a professional whitening treatment every year, my doctor recommended using an electric toothbrush. After doing some research, the two toothbrushes that really stuck out to me were from SNOW and BURST. Here's which one I'm choosing for my whitest smile yet:
Whitening Power: SNOW
It's pretty clear at this point that my number one concern is whitening power, because I drink a lot of coffee to get me through the day and love to kick back with a glass of wine at the end. Because SNOW has two brushing modes that target whitening specifically, it was the obvious choice for me. On top of that, SNOW's toothbrush has an LED light that will give your smile that much-needed boost. It works even better with SNOW's whitening toothpaste – imagine it is the same process that you go to the dentist for, and that takes over 40 minutes! I'm over the moon with how much whiter my teeth look after brushing with SNOW for a few weeks – it's the kind of white I'd normally expect to see after using something more powerful, like whitening strips.
Sadly, BURST failed to make my teeth look and feel their best when it came to whitening. Although I felt like my teeth were definitely getting the spa treatment, it didn't come with that extra boost I got from SNOW.
Brushing Modes: SNOW
If I was going to make the jump from a manual toothbrush to an electric one, I needed one that I knew would provide me with the best clean yet. So, I studied BURST and SNOW's brushing modes.
On one hand, SNOW has over four different brushing modes: clean, white, polish and sensitive. I love that I could choose the setting based on what I felt like my teeth needed that day. The toothbrush also has an LED light to take the whitening process to a whole new level!
As for BURST, it only had three brushing modes: whitening, sensitive, and massage. This toothbrush would be better to target those who might suffer from bleeding gums and need something more gentle. Sadly, it left me missing my SNOW toothbrush and SNOW's whitening component.
Price: BURST
The overall price of the toothbrush is important to me. BURST's toothbrush with the stand and charger costs $90 (plus, you'll get free whitening strips with your first purchase). On the other hand, SNOW will run you about $149. But it's not totally cut-and-dry. BURST requires you to subscribe in order to get their toothbrush, so you'll be getting charged every 12 weeks. SNOW also has subscriptions, but they are optional. And if you do subscribe to SNOW, you get their toothbrush for only $129. Plus, you're getting 2 brush heads with SNOW vs. just 1 with BURST.
So if you're balling on a budget, BURST might be your choice, but then again in the long run, SNOW can become more affordable since it doesn't include a forced subscription.
Product Range: SNOW
If I'm going to be sticking with a brand, I want to make sure they have enough products in their arsenal to cater to all of my teeth whitening needs. Luckily, SNOW has pretty much every whitening product you could imagine, from kits to strips, booster gels, toothpastes, kids' products, lip treatments, and even a water flosser! Want to snag a Limited Edition SNOW matching set? They've got that, too.
On the other hand, BURST had more routine products that I'd expect, but their inventory didn't go the extra mile like SNOW did. BURST has brushes and toothpastes, water flossers, whitening trays and strips, kids' products, and even oral probiotics, but I definitely feel like SNOW's offerings are more comprehensive.
The Verdict: SNOW wins!
When it comes to my smile, my ultimate goal is whitening without needing to spend an hour at the doctor's office just to get it professionally done. I needed a toothbrush that could provide me with all that in just 5 minutes a day! After reviewing both SNOW and BURST, the former was the clear winner for me. Not only does it have four different brushing modes with two promoting whitening, but it has an LED light to boost that cleanliness without any fuss. It's 100% well worth the price!