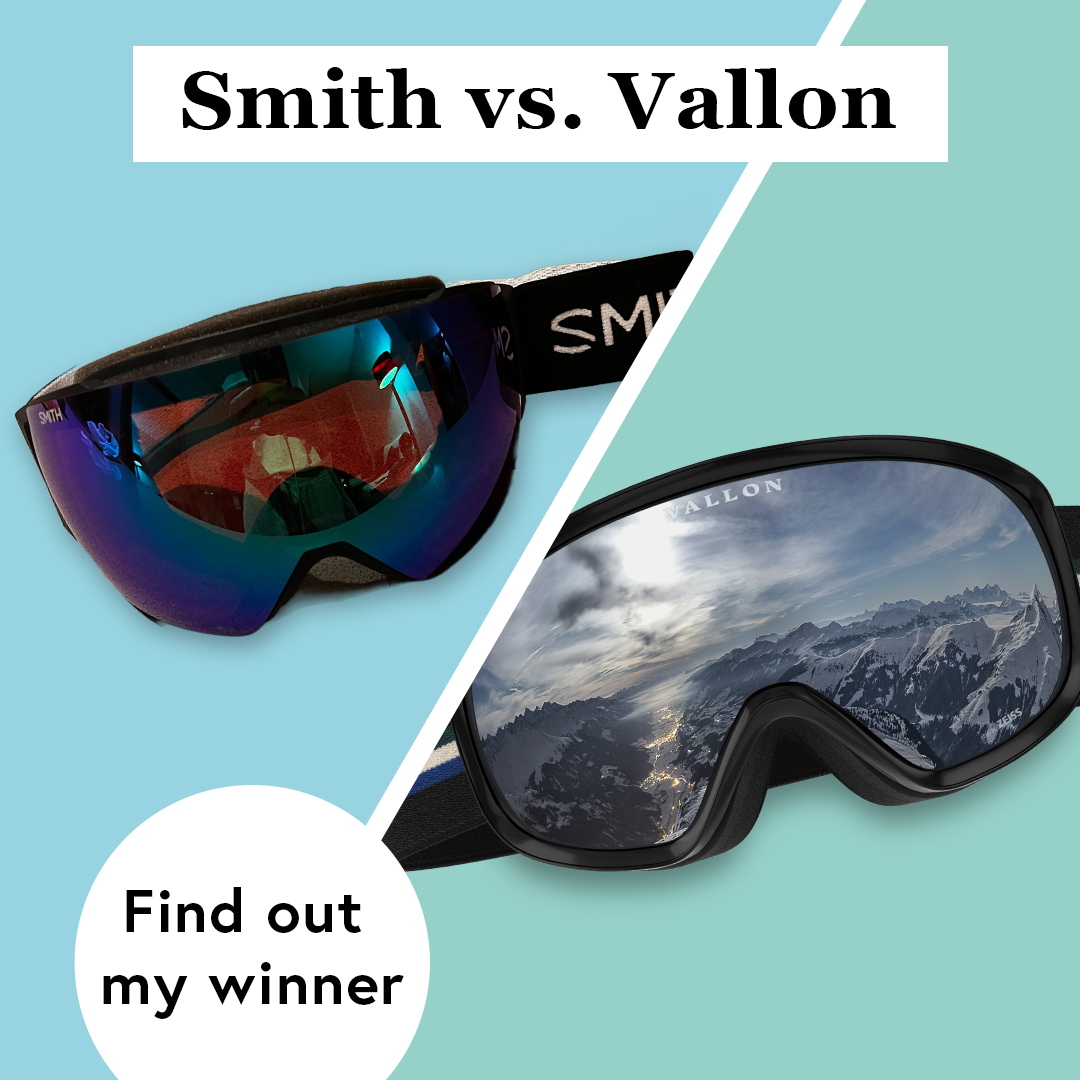 I like to say that I learned to ski before I could walk. In a past life, I actually started a ski-inspired fitness studio. I'm always looking for the best gear to upgrade my ski days, both in functionality and in fashion. Truth be told, I always stuck with the standard Smith or Scott ski goggles and didn't think much about it.
That's until I heard of Vallon, the ski goggle company taking the US by storm. I can easily say after using Vallon that I had not been putting enough thought into my goggle choice when skiing, and it's safe to say i have a new favorite ski goggle! Here's how to decide which is right for you:
If you want the most functional goggles… Vallon
I personally think that Vallon goggles are the most functional. The anti-scratch lenses really didn't scratch despite a few tumbles, while my Smith "anti-scratch" goggles actually scratched quite easily. The spherical lens fit my face better than my Smith goggles, so my vision was clearer for the perfect line down the bumps. Speaking of skiing bumps, I definitely get sweaty while skiing, and would notice my Smith goggles used to fog up. However, I definitely didn't have the same problem with my Vallon goggles, so I don't have to worry about cleaning them between (or during) runs.
Vallon goggles come with the option to buy interchangeable lenses based on conditions (one for flat light and one for extremely sunny days), but I found the standard lens still worked well for me in all conditions!
If you want a very cool retro look… Vallon
I grew up skiing in Sun Valley, Idaho, one of the first ski towns in the US, so it's fair to say that I love a retro look. My dad still wears ski jackets from the 80s and constantly gets complimented, so I'm definitely one for this old school style. I fell in love with the look of the Vallon goggles at first glance. The Freebirds really have the old school ski town vibe, and now I'm always getting complimented on my goggles on the mountain (I just have to step up the rest of the outfit now).
While Smith goggles aren't ugly, they're just extremely fine in my opinion, and they're nothing to really write home about style-wise.
If you want a larger selection of goggles to select from… Smith
Vallon has only two models of ski goggles right now: the Freebirds and the Stairways, while Smith has easily 20+ varieties. I love that Smith has a pair of goggles for pretty much anything–depending on your price point, skiing conditions, desired lens color, and age, you'll be sure to find the perfect goggles for you. Smith's diverse line means you'll be able to find lower-priced goggles and kids' goggles, perfect for beginner skiers.
On the other hand, I like that Vallon keeps it simple and you get the key functionality you need in both versions of the goggles.
If you wear glasses... Smith
If you're a glasses-wearer, you're in luck: Smith has many goggles in their arsenal with Over the Glasses (OTG) functionality. Smith's OTG goggles also come in a variety of colors and styles, so you're not left wanting more.
If you want the best bang for your buck… Vallon
Vallon's Freebirds goggles are $149 and the Stairways are $135. While Smith does have goggles that are cheaper than this (they have goggles as cheap as $50), if you want the ones that would be of comparable quality, you're probably going to be spending at least $180. Vallon's extra lenses are $36 each, and the Smith goggles that come with extra lenses are priced closer to $200+, so I'll still be getting Vallon goggles and buying the extra lens if I need it.
The ultimate winner… Vallon
I didn't even realize until after using my new Vallon goggles how many pain points I had with my Smith goggles, from the fit on my face to the scratching lenses to the fog. Between being the most functional, the best looking, and the best price, I'll definitely be sticking with Vallon from now on!