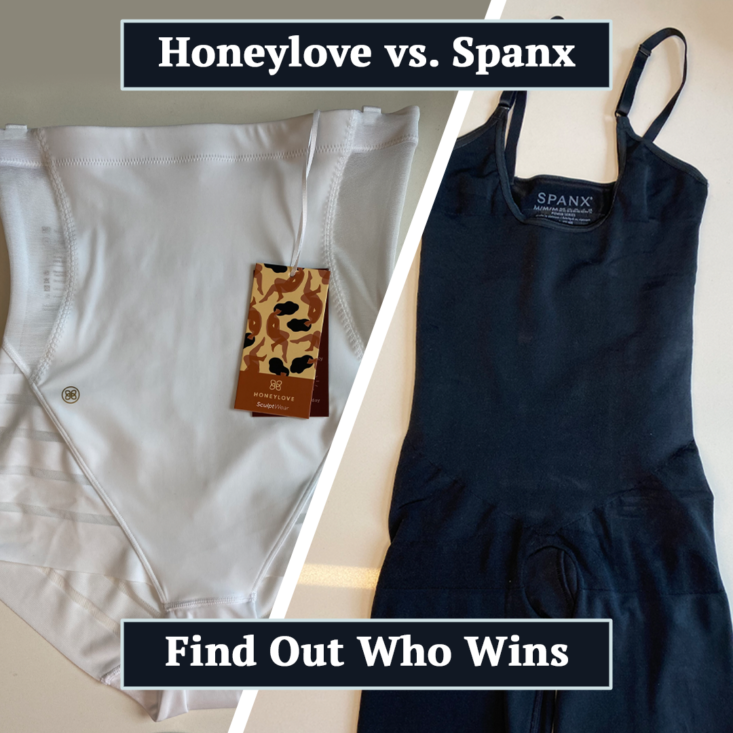 I used to shop for clothes at designer sample sales, and while they were a great way to get luxury items for less, the samples were mostly designed for tall, very skinny models. Sometimes I'd leave with items that fit perfectly, but other times, I'd get home to discover the dresses were too tight, or the fabric was thin and unforgiving.
Like at a Zac Posen sample sale, despite finding the perfect dress for a work event, after slipping it on at home, I discovered it was too sheer and showed every lump and bump. So, I hopped on the subway to the department store to see if I could find shapewear to smooth my look, and was thrilled with the sleek, slimming results – and I got a lot of compliments too!
Hey, we could all use a boost of confidence and body positivity these days. So, in the interest of finding the best shapewear, I took Honeylove and Spanx out for a night on the town in my tightest dresses, and the results may surprise you.
If you Want More Structure and Stability...Honeylove
For me, it's all about the sculpting, firming, and smoothing capabilities and the fabric and structure of Honeylove products are better. The material feels stronger, smooths better, is bouncier and breathable, and the targeted compression bands sculpt without squeezing. Plus, the flexible boning gives it a bit more shape and ensures it won't slip or roll down when you're moving.
Since Spanx has been around for so long, I expected them to be the winner. But both of the products I tried were thin, flimsy, and unstructured. On a positive note, they were easier to put on and take off and the products were a bit comfier.
If you Want Long Lasting Power and Performance...Honeylove
Few things are more frustrating than constantly tugging and pulling your shapewear to get it to stay up (or down) and that's an issue I had with Spanx. Whether I was dancing, walking, or sitting, it would roll down and gather in the most unsightly places! Luckily, Honeylove's founder, who sang for various EDM bands, set out to design shapewear that stayed up and in place while she was on stage. Using targeted compression panels, patented boostbands and flexible boning for maximum sculpting, Honeylove's products outperformed Spanx in the long run.
If you Don't Want Visible Shapewear Lines...Honeylove
While I used to live in frilly, ruffly frocks (think Bridgerton), I've recently started wearing more form-fitting dresses that can be a bit flimsy, sheer, and show every lump and bump. After seeing my backside in a mirror wearing one of these dresses in the daylight, I realized I needed to invest in shapewear to streamline the look, perfect my silhouette and smooth out the fitted dress. Honeylove's products, especially the Queen Brief, effortlessly support, sculpt, and lift to make me feel much more confident in a body-hugging dress.
The hem on the Spanx Higher Power Panties is stitched and shows right through the fabric so instead of delivering a flawless look and feel, the shapewear lines are even more obvious!

If you Want More Colors and Styles...Spanx
Since Spanx has been in business since 2000, it should come as no surprise they have the most style options, including clothing, in a dizzying array of colors and fabrics. Whether you're looking for a catsuit, a pair of jeans, a camisole, or thongs, they have them all.
And while Honeylove is currently focused on shapewear, they'll definitely expand in the near future to offer more products in even more colors and styles too.
If you Want Sexier Shapewear...Honeylove
No one wants to take off their clothes to reveal a slim-fitting potato sack. How sexy is that? Honeylove's sculptwear offerings are the most stylish and sexy, look a lot like lingerie and some even say it's like wearing a functional piece of art.
The Spanx products I received are pretty basic and there's nothing really sexy about them at all.
The Winner is...Honeylove
Although this will ultimately depend on your own personal needs, your budget, and the look you're trying to achieve, I chose Honeylove as the winner because there were fewer shapewear lines, the construction is better, the style is sexier, and the products stay up. I also like their style quiz to help you find your best fit possible.