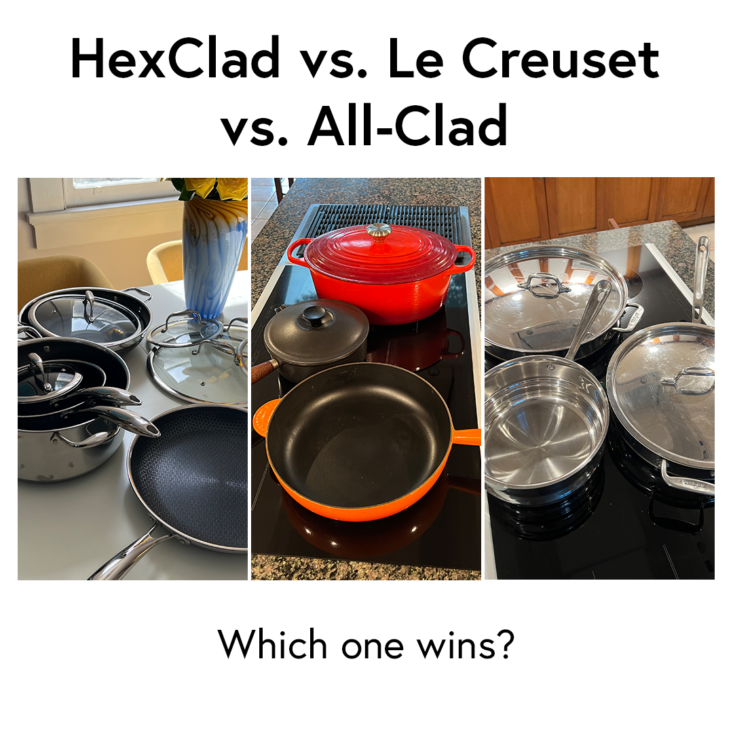 Not everyone can be Gordon Ramsay. I have no chance of becoming a Michelin Star restauranteur or celebrity chef, but I know my way around the kitchen. As a former professional baker, I understand the importance of quality cookware, and I'm a big believer that even the humblest of home cooks can elevate their game with the right equipment. An essential for any good kitchen is a great set of pans.
Three of the best-known brands are HexClad, Le Creuset, and All-Clad. Which is best, though? Let's put them to the test in a culinary battle royale to see which will reign supreme. So, put your apron on, sharpen those knives, get your mis en place prepped, and let's see if HexClad, Le Creuset, or All-Clad can withstand the heat of battle!
First Course: Construction and Design — HexClad wins!
Back in the 1970s, All-Clad invented the technique of cladding exterior layers of steel together with a core layer of aluminum, enhancing durability while conducting heat fast and evenly. HexClad's construction is similar. Pans are made using three-ply stainless steel with an aluminum core and a high-grade Japanese non-stick coating surface. The distinct hexagonal design ensures it is perfectly non-stick, while its riveted stay-cool handles make cooking easy and safe.
Le Creuset is no slouch, either. The brand has been around for a long, long time and has a good reputation. But I've found the non-stick surface isn't quite so non-stick, and it doesn't come with stay-cool handles as standard.
While there's no denying that All-Clad and Le Creuset both create high quality cookware, non-stick is a non-negotiable for me, so HexClad wins this round.
Second Course: Ease of Care — HexClad wins!
Le Creuset pans aren't famous for being easy to clean, though they are dishwasher safe. Enamel-clad, I've also experienced chipping, especially around the rim.
With All-Clad, I find food sticks to the surface, which means my after-dinner cleanup is a huge pain.
Thanks to its unique non-stick coating, HexClad pans, which are dishwasher safe, are a breeze to keep clean. Even when I burn something — which happens to us all, right? — it slides right off. And the steel construction and Japanese non-stick coating mean the pans are super durable.
Third Course: Price — it's a draw.
Let's be honest. None of these brands are cheap — but I wouldn't expect top quality pans to be inexpensive. I view my pots and pans as an investment, and I think my cooking is better and more enjoyable when I'm using great cookware. I want a set that will be with me for years to come, and I like that all three brands offer a lifetime guarantee.
Fourth Course: Colorful Cookware — Le Creuset wins!
We all want our kitchen to look as good as our cooking smells, right? Style-wise, HexClad has cool modern style, All-Clad has a classic stainless look, and Le Creuset sticks with traditional. But the one thing that really sets Le Creuset apart is that their cookware comes in a wide variety of colors. If you're looking to brighten up your kitchen with colorful cookware, Le Creuset might be the right choice for you.
Fifth Course: How it cooks — HexClad wins!  
Heat conduction is all important when it comes to pans. How fast and evenly they heat up makes all the difference when I'm cooking. While all three brands retain heat well and are oven safe up to 500 degrees, HexClad's unique design edges out the competition.
Thanks to its specially designed construction, HexClad heats up fast. And with uniform heat distribution, I have a totally reliable surface to cook on. The pans are great for quickly searing meat, and it's easy to perfectly brown the outside of a steak while retaining those delicious juices. Making something more delicate like scrambled eggs (the true test of any non-stick pan)? HexClad performs just as well, cooking the eggs perfectly. They slide right off my pan every time.
Verdict: It's a big win for HexClad!
Yes, in today's battle of the pans, the "Michelin Star'' goes to HexClad! While owning a set won't turn me into a celebrity chef, it kinda makes me feel like one. The professional-grade, durable equipment cooks beautifully, looks stylish, is easy to clean, and will last me a lifetime.