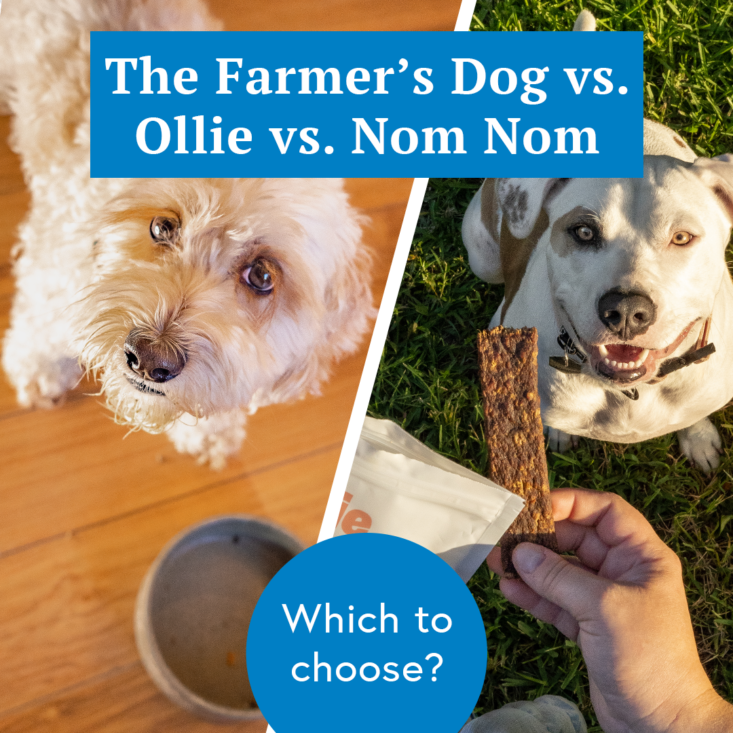 Let's face it: there are many new and emerging dog food brands to choose from. Like most pet parents, I want to provide my furry best friend with the tastiest and most nutritious food I can afford. But, honestly? The whole search can be confusing! In my quest to discover the best of the best in dog foods, I ended up narrowing it down to three brands: The Farmer's Dog, Ollie, and Nom Nom. After digging into the brands' science and some more practical experiments (pup-approved taste tests, anyone?) I have finally found the brand that solves the ultimate pet food conundrum by making my pet healthier with tastier meals that offer great value.
The Highest Quality Nutrition: The Farmer's Dog
All three of these brands have a variety of recipes that are created under the guidance of veterinarians. Having vets and veterinary nutritionists formulate the recipes means your best friend is getting the right balance of carbs, proteins, and nutrients, so the food is safe and healthy to feed long-term.
I would feel great feeding my dog any of these brands which all meet AAFCO standards for complete and balanced food. And both The Farmer's Dog and Ollie's dog food are made of human-grade ingredients prepared in USDA-certified kitchens. I know we have all heard about the different fillers and junk that can be found in lesser-quality dog food brands—human-grade food ensures you know exactly what's in the bowl, and that you're not getting the scary stuff that comes with highly processed, dry pellets.
But The Farmer's Dog takes the lead for me with their focus on high-quality protein and fresh, diverse vegetables in their turkey, chicken, beef, and pork recipes (who knew that broccoli and Brussels sprouts have a place in dog food??). All their recipes are highly digestible and come pre-portioned, which means happier pups, less offensive poops, a shinier coat, and a longer lifespan.
The Best Tasting: The Farmer's Dog
This is absolutely more of a subjective pick, mostly because each dog is going to have different tastes and smells that they prefer over others. But it was pretty clear that my pup preferred the food from The Farmer's Dog. The tail-wagging and enthusiastic dancing around the kitchen sparked a lot of joy for both of us each meal time.
Simply put, if you were to fill up three bowls of these different brands and place them in front of my dog, he is going to pick The Farmer's Dog every single time.
The Most Convenient: Nom Nom
The ease of storing fresh dog food can depend on a lot of factors: freezer space, containers, pre-measured portions, and more. And since most pet owners will be dipping into this stuff at least twice a day, ease of storage starts to feel pretty important rather quickly. The Farmer's Dog and Ollie orders come with containers to store the food in your fridge, but Nom Nom wins this category as it's the only one with convenient single packs, all portioned to Mochi's daily needs. No guessing or scooping is required, making it the most convenient.
The Most Affordable: The Farmer's Dog
Much like human food, high-quality fresh dog food is going to cost more than the dry and highly processed kibble you might find at your local grocery store. While this can feel like a sticker shock for someone transitioning away from bagged brands, the health benefits outweigh this cost over time. As my pup has aged, I have noticed a little bit of a slow down during playtime and a little stiffness on occasion. While this is absolutely normal for an aging dog, I still want to do everything in my power to keep my dog enthusiastically playful, and comfortable in motion for as long as I can. Isn't a longer life with a healthier and happier pup worth a few extra bucks to most pet owners? I would bet yes.
As far as these specific brands go, there is a range in pricing. The Farmer's Dog starts at about $2 a day, which is comparable to Nom Nom ($3) though less expensive than Ollie (which starts around $4/day). These estimates are for smaller pups.
The Overall Winner: The Farmer's Dog
Each of these brands would be a wonderful choice for your best friend. For mine though? The Farmer's Dog easily took the top prize. It hit the right balance of ingredients, cost, and customization. I loved how glossy my pup's coat was after just a week on the new food and how much more energetic and engaged he was at play. Meal time has forever become a mini-dance party as soon as she sees me open the fridge!