Between playing college hockey and working out 5 times a week on top of that, I spend a lot of time in workout clothes. Aside from the gym and practice, I would say 25% off what I wear is sweatpants and an athletic hoodie, especially when I'm WFH or just lounging. I don't want to have to put too much thought into my clothes, so it's a big deal that what's in my drawer is working for me. Nike has been in my life since my high school sports years, and I found out about Fabletics after it came highly recommended by some of my friends. Between Fabletics and Nike, find out which one I'm planning on gifting and hoping to receive this year.
If you want workout clothes that last… Fabletics
I get new workout clothes here and there, but I typically hold on to them for a while. Fabletics workout clothes are really well-made, especially for their affordable price. My favorite Fabletics items are their shorts and shirts, but I just got a pair of joggers for winter. Vermont winters get very cold (below 0 degrees!), so these are crucial. I also like that they're lightweight and sweat-wicking—something that's breathable but won't absorb my sweat and get heavy or cold. If you're looking for a gift that will get a lot of wear, then Fabletics is my pick.
If you want tons of style options for your workout clothes… Fabletics
I like to keep my workout gear easy yet stylish, which is why Fabletics is a great choice. I like that their logos are minimalist, but the fabric also gives you a nice stretch with an athletic look. An issue I've had with Nike gear is armpit discoloration, which nobody wants! As a result, I've been drawn to darker colors for my workout clothes, and Fabletics has really sleek stuff. But for my teammates who are into wearing colors and patterns, they have some tasteful colors and designs that are fun without looking ridiculous. With so many options to choose from, you'll be able to find something for everyone on your gift lift.
If you like repping a familiar logo… Nike
Some people love a logo, and I get that–I feel so good repping my University of Vermont hockey stuff. When I've worn Nike clothes in the past, I find that the logo usually wears off after a while. Fabletics clothes have a subtle logo, and in some cases, it's embroidered in. So with Fabletics, you know your clothes are going to stay in good shape, including the logo.
If you want more bang for your buck… Fabletics
The way the Fabletics membership works is you are charged a monthly membership price of $59.95. You can redeem your membership credit for any item or outfit up to $100, which makes the subscription price an incredible deal. You can skip any month that you want, or you can save up your monthly credit to use later. Credits only expire after 12 months, which gives you plenty of time to use them. So, if you don't like the items that month or you're like me and only like to shop when you need to re-up your workout clothes or buy gifts for others, this is a great system. I find that this subscription helps me budget and prevents me from making large, unnecessary purchases like I might in a store.
You can also score some insane introductory offers when you sign up for a VIP membership–we're talking 2 for $24 shorts, 3 for $12 underwear, $19 pants, and 2 for $15 shirts. You definitely can't forget about the 70% off everything deal, too.
My Winner is… Fabletics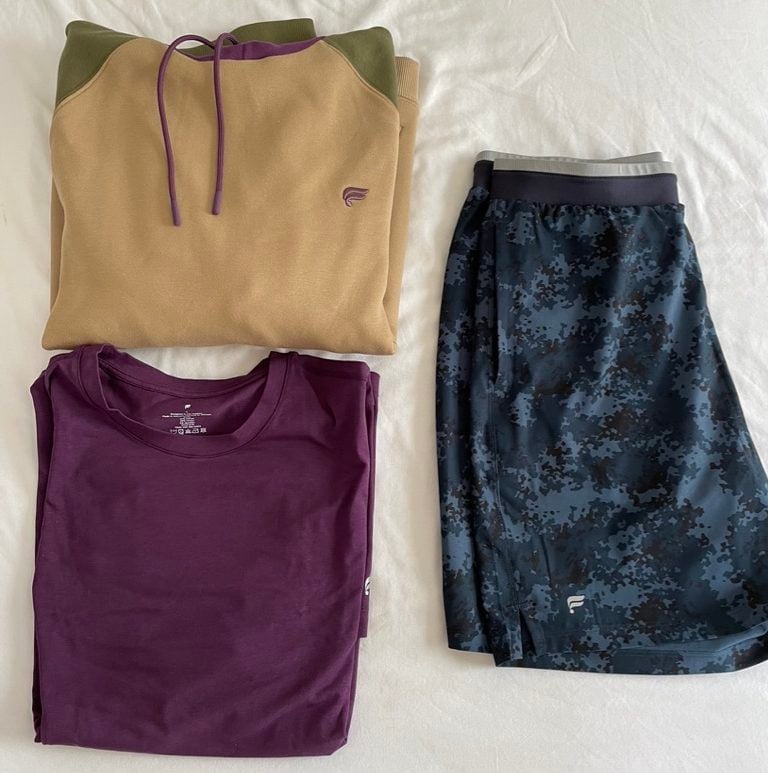 Fabletics is a great choice for athletic clothes and would make an excellent gift for the active people in your life. I love working out in these clothes because their stretch fabric is quality and holds up. I like that the logos are minimalist and secure. I also appreciate that I can find the neutral colors I like, but I can mix them up with some interesting colors or patterns if I want. I'm taking advantage of my membership and buying gifts on Fabletics.