Not to toot my own horn, but I've definitely earned the title of Queen of Athleisure among my friends. 👑
What can I say? I enjoy working out, but if I'm being honest, I enjoy having an excuse to put on a cute matching set even more. I've tried and tested (probably too many) different athleisure brands to scope which has the most comfortable and stylish activewear. Among them, the brands that I get asked about the most are Fabletics, Alo, and lululemon.
Let me guide you on which one might be your perfect fit:
If you're looking for unparalleled value... Fabletics
Fabletics wins this category hands-down, offering complete workout sets at an unbeatable price point.
Athleisure can be expensive and I can't always justify the $100+ price tag for one pair of pretty standard leggings. The cheapest Lululemon leggings are just under $100, and the sports bras hover around the $50-70 range. Alo's clothes come in at a similarly high price point (around $98-$128 for leggings) per piece. For one full outfit, this can add up quickly.
Instead of charging high price points per piece, Fabletics offers a unique subscription model with exclusive member benefits. Their VIP membership plan is $59.95 a month, an investment that's easily recouped through Member Credits that can be redeemed for any 2-piece outfit or item up to $100 (online or in-store!). It's also super flexible - skip a month or cancel anytime.
Fabletics usually offers 20-50% off deals each week to members, but they're currently running their best deal of the year! From now until December 11th, you can snag 80% off anything on their site by becoming a VIP member. If you have been thinking about trying Fabletics, now is the perfect time!
If you want a wide range of styles to choose from… Fabletics
Fabletics and lululemon both have some pretty amazing patterns to choose from.
However, I'd definitely consider lululemon's range to be more limited, while Fabletics' offerings include both classy and sophisticated neutrals and fun prints and patterns for ALL of their activewear. From holiday prints to vibrant crushed velour jackets to my favorite foil metallic leggings, you can find a style that's perfect for literally any mood or occasion.
Alo also has a large selection, but I feel like the only thing that ever changes from season to season is colors, and all the colors are solid, so it doesn't feel as new and exciting to shop.
If you're looking for quality materials and coverage…it's a tie
These brands are popular for a reason - all three offer products with the essentials of activewear: quality, non-see-through fabric that pass the squat test, sweat-wicking materials, and compression that sculpts you in the right places. I've also found all them to have buttery smooth options that give women a unique kind of confidence, perfect for both lounging and working up a sweat. In summary, Fabletics, Alo, and lululemon leggings and sports bras all feel high-quality and luxe to wear.
If you're after better men's selections…Fabletics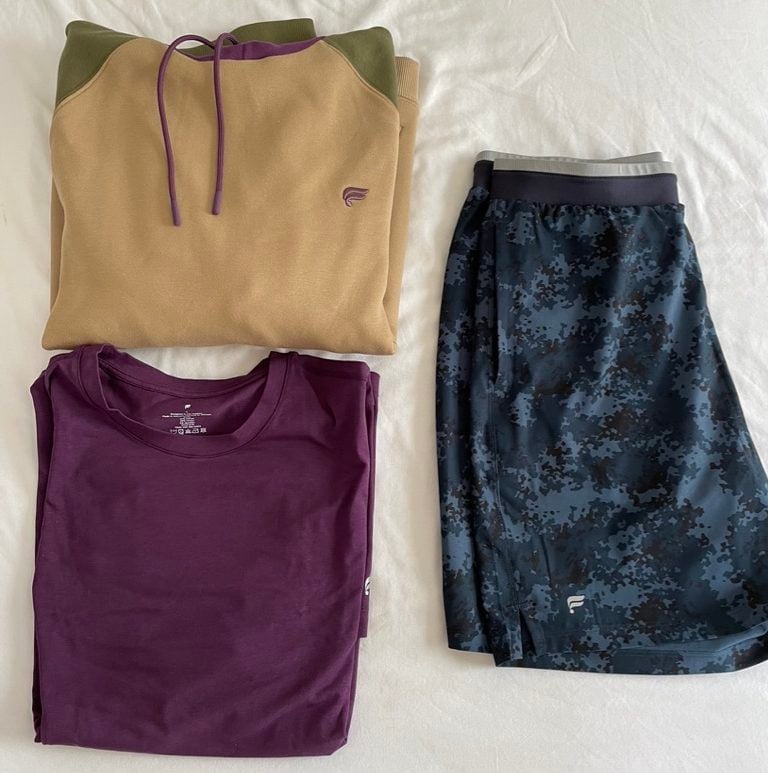 Not only do I notice more options in color and styles from the Fabletics men's line versus lululemon and Alo, the price range seems significantly cheaper compared to both lululemon and Alo.
Lululemon's and Alo's men's lines are over $100 for almost every item, while Fabletics' men's price range averages around $50.
The best hack I've discovered? Men's items are available through the women's membership, making shopping for the whole household super easy. Have a boyfriend or husband who'd like a new hoodie? Fabletics covers that.
The ultimate winner I'd recommend to anyone… Fabletics
For me, I'll be recommending Fabletics to my friends. It's a great option whether you're looking to lounge or hit the gym, or whether you're looking for fun colors/patterns or a more basic look. You can find anything you want at Fabletics for a great price.
What are you waiting for? Start your membership and get 80% off everything!