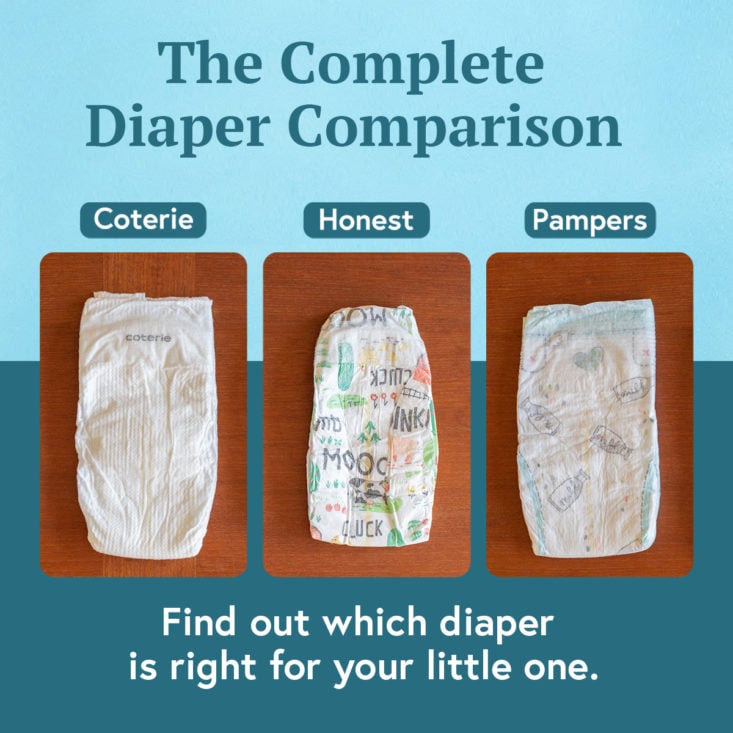 Coterie vs. Honest Brand vs. Pampers Pure
Comparing Three Sustainable Diapers
If anyone has been with me here for over a year, you'll know that I flew deep into the natural-deodorant-iverse to find the right one for me. I'm at it again, this time with diapers. If my six-month-old daughter is going to have something touching her precious bottom 24/7, it's got to be quality. When we're hanging out at home the little lady rocks organic cotton cloth diapers, so when we're out and about (and overnight) I want her in the next best thing. Come along on my journey of figuring out which of three brands of diapers—Pampers Pure, Honest Brand, or Coterie—will make the cut.
Which one is softest? Which one is leak-proof? Which one is easiest on the Earth? All of these things matter to me, so let's see the dealio.
The Functionality
Nobody has time for a diaper leak. With my first daughter, we rarely faced that issue. My second daughter has been filling up diapers overnight and then the first time she pees in the morning, we get covered in wetness. On one hand, that's just part of babyhood; on the other, it'd be nice if it weren't. So I'm just going to go full-on first-hand experience with this one and tell you how it went down for us after several weeks of using each brand of diaper.
Do Coterie diapers leak? We have never had a diaper leak with Coterie. Not during the day, not at night, and not first thing in the morning.
Do Honest diapers leak? We've definitely dealt with some leaks from this brand. If you're a frequent diaper changer, you should be OK, but we've had many morning leaks. If you're going to use Honest diapers, it's best to get overnight diapers for nighttime.
Do Pampers Pure diapers leak? We haven't had a leak with Pampers Pure diapers. I'm not sure if this is because of their absorbency or because they seem to be the roomiest of all three diapers.
Which diaper is the most leak-proof? From my personal experience, it's a tie between Coterie and Pampers Pure.
The Make
Perhaps more important than what's in your baby's diapers is what's not in them. The classic diaper is chock full of adhesives, lotions, inks, fragrances, absorbency chemicals, and more that's seriously so sketchy to put on a baby. So, let's take a look at what each of these three brands are doing to keep baby bums dry without harmful ingredients. While we're examining each diaper's materials, I'll toss in my two cents about how each feels to the touch.
Coterie
Most notably to me, Coterie diapers are free of chlorine bleach, fragrances (which often contain alcohol), dyes, latex (which I personally have an allergy to), and they haven't been tested on animals. But the list very much goes on and it's very compelling.
Coterie uses third-party labs to test the diapers and back up their claim that they're "clean." I'm into that.
Honest
The Honest Brand's entire foundation and angle is how clean their diapers are. I'm one who wants to believe companies when they make these claims. They even have a "NO List™ — a list of over 2,500 chemicals/materials we choose not to use." But where is that list? I can't find it! They make references it to it, saying that phthalates, parabens, and animal cruelty are "no"s for them. But I'd love to see the whole list.
Honest also references that they research and test the ingredients in their diapers (and beauty products), but again we just have to trust them there.
These diapers feel the most un-notable of all three I'm comparing today. They feel like diapers. They're nice! I've used them many times on my baby. But the feeling of them doesn't blow me away.
Pampers Pure
I was pleasantly surprised to learn that Pampers Pure diapers are made from premium cotton. I love that they give a full list of ingredients on their website so you can really dig into what's in them. They're chlorine-free and their odor absorber is mineral-based.
Pampers Pure diapers are accredited as skin-safe by the Skin Health Alliance. Again, I love that this info is readily available.
I would say the feel of this diaper is in-between the mega-softness of Coterie and the regular-ness of Honest. I appreciate that the inside of them is white instead of blue (like regular Pampers diapers).
Which diaper is the softest and cleanest? Okay, you can see that all three diapers have merits. But Coterie is the winner of the softness award here, and their list of harsh chemicals that they leave out is long and impressive and readily available on their site.
The Feel
The way a diaper feels is kind of a big deal. Like I said above, this thing is going to be up against your sweet little thing's bum all day and all night. What human being wouldn't want that to be comfy? My findings here are clear:
How do Coterie diapers feel? Are these diapers secretly somehow cloth? They aren't, but they feel like they are, and they are so nice to the touch. They're actually made partially from "wood pulp from sustainably managed forests." I find that both hilarious and very appealing. Their softness also means they open wide while you're putting it on your baby…nobody likes a diaper that wants to curl up while you're wrangling it onto your octopus baby.
How to Honest Brand diapers feel? These diapers feel the most un-notable of all three I'm comparing today. They feel like diapers. They're nice! I've used them many times on my baby. But the feeling of them doesn't blow me away.
How do Pampers Pure diapers feel? I would say the feel of this diaper is in-between the mega-softness of Coterie and the regular-ness of Honest. I appreciate that the inside of them is white instead of blue (like regular Pampers diapers). I feel good putting them on my girl.
Who has the softest diaper? Coterie, no question. I would wear this diaper myself. Maybe.
The Sustainability Aspect
Every disposable diaper is obviously going to create waste. And as a mum who has experience with cloth diapering, I can say that diapering (and babies) in general simply create a footprint. But if we can go about our regular rhythm finding ways to reduce that footprint even a little, we should. Here's what each brand is doing to be more sustainable:
Coterie
Coterie is founded on sustainability. First of all, their DTC model means a shorter production line, which is better for the planet. But looking at the diaper itself, it's made from 25% plant-based materials from sustainably managed forests, and some components of their diapers biodegrade. Plus, they're candid about how it's not possible for disposable diapers to completely biodegrade, and I appreciate it when brands are real with me.
Also, Coterie is 70% more absorbent than other diapers brands, which means fewer are needed to be used per day.
Honest
Honest says, "We harvest wood from sustainably managed pine + spruce trees in Scandinavia to make the core of our diapers." They don't go into much more detail than that, but that's a great start.
Pampers Pure
Pampers is a Procter and Gamble company, which has ambitions of reducing its carbon emissions to net-zero by 2030. As for the diapers themselves, they're made from responsibly produced cotton and with 100% certified renewable electricity.
Which diaper is the most eco-friendly? All three diaper brands are performing slightly different efforts toward sustainability, but all are awesome and impressive. That said, less overall waste is a big deal to me. So, Coterie gets the gold star here.
The Look
They say that the days are long but the years are short, and that's so true. If you're someone who has thoughts and emotions about what your baby wears, there's no shame in that. Before you know it, your tiny bean will be a toddler with big opinions about what they wear. Let's compare the different looks of these three brands of diapers.
What colors and prints does Coterie offer? All white, baby. Plus a small black "Coterie" logo at the waistband (which gets hidden by my little one's belly) and a faint yellow wetness indicator that turns blue when wet.
What colors and prints do Honest Brand offer? Honest offers any sort of diaper print experience you might want. They have about 10 basic prints that are almost always available, and they release special edition prints seasonally. Some are cutesy, some are quirky, some are loud and bright, some are sweet and delicate. They also offer plain white diapers if that's more your speed.
What colors and prints does Pampers Pure offer? Pampers Pure diapers do have faint prints on them, and you don't know what you're going to get until you open the box. Each box contains two subtle prints. From my experience, they rotate patterns occasionally, but they're always gender-neutral and lightly printed.
Who has the best colors and prints? Choose your own winner! If you like all-white, you can choose between Coterie and Honest. If you like to have fun with diaper style, Honest is a good one for that. If you don't have much of a preference, Pampers Pure diapers are cute.
The Cost & Availability
Let's be real, diapering is an investment that can't be avoided if you have a baby. Let's take a look at each diaper brand's cost upfront.
How much do Coterie diapers cost?

$94.50 for a one-time purchase of 108-192 diapers (depending on the size). That'll cost you up to $0.87 per diaper.
$85 per month when you subscribe, which brings you down to $0.79 per diaper.
Coterie diapers can only be purchased on Coterie's website.
How much do Honest Brand diapers cost?
$62.40 per month when you subscribe, for 126-224 diapers (depending on the size). That breaks down to up to $0.49 per diaper.
$65.70 for the same volume of diapers purchased once. That's up to $0.52 per diaper.
Subscriptions are only available through the Honest website, but you can also pick up packs at Target or on Amazon.
How much do Pampers Pure diapers cost?
About $60.34 for a month's worth of diapers. You'd have to buy multiple boxes to add up to a month's worth. The unit cost ranges from $0.36-$0.64. depending on the size.
No subscription option.
Only available at big box retailers.
Which diaper has the lowest cost? The short answer: Pampers Pure. The more nuanced answer is, it depends on what size diaper your baby wears. Tiny newborn diapers are a better value than larger sizes.
Which diaper wins?
I'm going to tell it straight: every time I have been served ads for Coterie over my 3.5 years of diapering, I've thought to myself, "am I chic enough for this diaper brand?" But the more I dug into the company, I learned they are not too-cool in any way. They're just focused on doing the basics right. I'm here for that. Plus, the experience of putting these diapers on my baby is extremely positive. Soft, clean, simple, no leaks, no worries. I wish I had discovered this brand when my first daughter was in diapers!