You know that feeling when you climb into bed after a long day and your entire body just exhales? That right there is my happy place. I want my bed to be calming and reassuring; like falling into a giant white fluffy cloud that wraps around you. Ok, I know clouds aren't actually fluffy and soft (unless you're a Care Bear), but you get the idea!
I have recently been on the hunt for a new comforter that would keep me cool at night, but still have that soft, snuggly feel. Pretty much an impossible combo. After hours of online research,  I decided to give two of the highest-rated comforters a try: the Buffy Cloud Comforter and the Brooklinen All-Seasons Down Comforter. Both seemed to have glowing reviews, but the comforters themselves had a few notable differences.
If you want the softest and coolest fabric... Buffy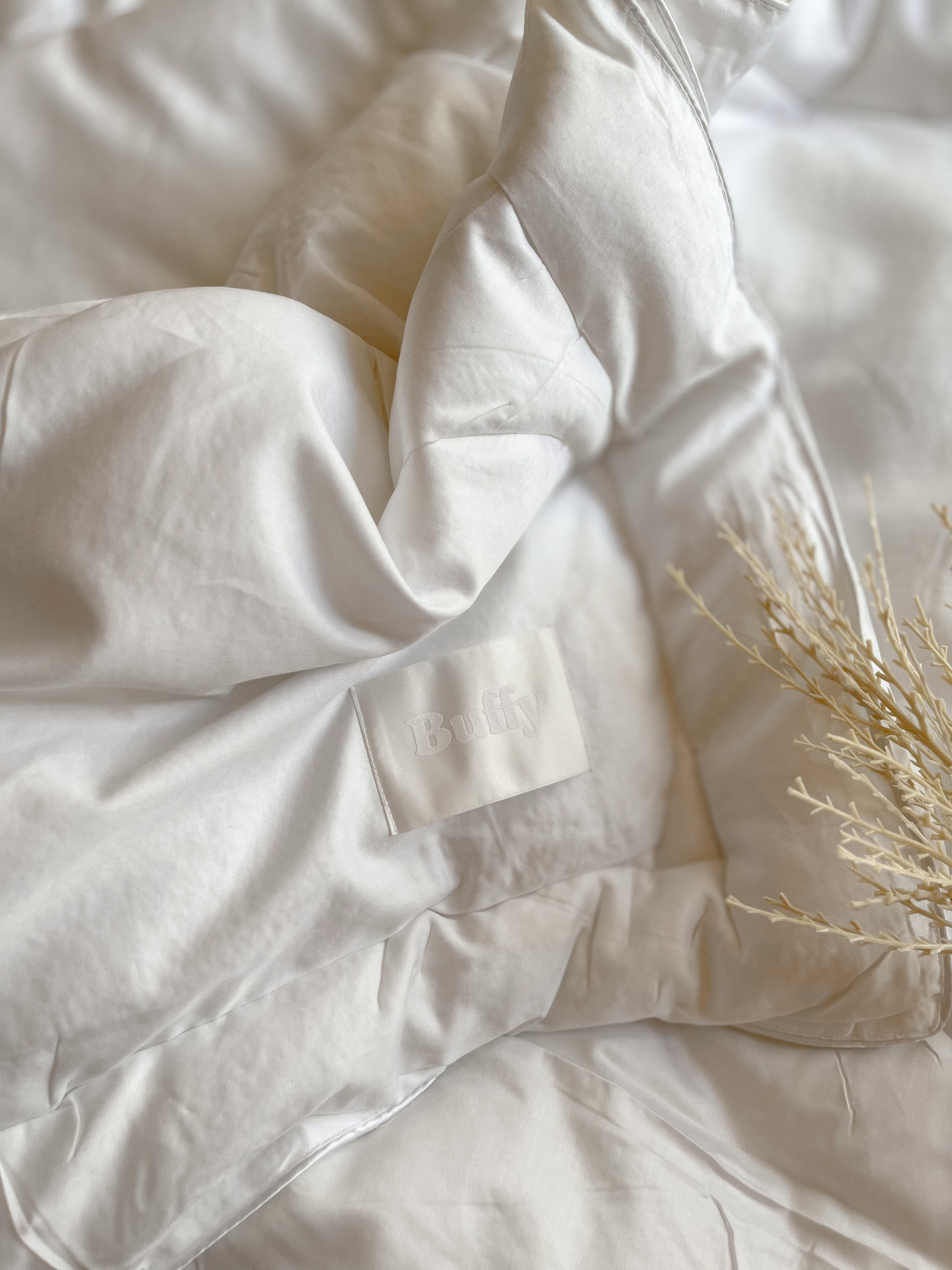 These two comforters have entirely different outer materials. The Brooklinen Down Comforter is made from a 100% cotton shell, while the Buffy Cloud Comforter is made from a TENCEL™ lyocell shell. What is lyocell? Oh, I'm so glad you asked! To be completely honest I actually wasn't sure myself, but I found out that it's a sustainable, moisture-wicking fabric made from eucalyptus trees. I was skeptical that it could be as soft as the cotton that the Brooklinen comforter uses, but I was literally blown away by the silky texture of it. And it was cool to the touch! I kept running my hand across it because it felt so nice.
The Brooklinen comforter's cotton shell was nice as well, but overall it left a little something to be desired—especially side by side with Buffy's. It had the more traditional cotton feel that many of us are used to, but I think I was still just incredibly impressed with the coolness of the fabric in the Buffy comforter. I do tend to sleep hot during the summer, so I'm glad to have found a comforter that's breathable enough for summer and cozy enough for winter.
If you want the best filling... Buffy
The Brooklinen down comforter has a few different fill options, but I personally wanted to try the down option as it is their most popular (plus I love the fluffiness of down). It's filled with ethically-sourced goose down feathers and definitely has quite a bit of fluff to it. It also comes in different warmth levels. I decided to try the Brooklinen All Seasons since the Buffy Cloud comforter is also for year-round use. However, after trying it, I wasn't convinced that it was the right one. I woke up warm on a few different occasions and had a hard time cooling off afterward. Overall it wasn't bad, but in my opinion, it didn't live up to my expectations.
The Buffy Cloud comforter on the other hand is filled with a recycled PET fill and I was surprised that it was just as fluffy (if not fluffier!) than the Brooklinen comforter. The synthetic fill is actually lighter than the down feathers and in combination with the eucalyptus shell, it definitely earned its name as a "cloud" comforter. It also kept me cool yet cozy the entire night, and I didn't wake up once overheated. Plus, the synthetic fill is actually made from recycled plastic bottles, so I can sleep well knowing my purchase is helping the environment. This was a serious win in my book!
If you want a better return policy... Brooklinen
Brooklinen gives you a full 365 days to return your purchase and will even pay for return shipping, which is pretty unheard of. In comparison, Buffy has a really cool 7-day trial where they will only place a hold on your credit card while you try it out, and then after the trial period is over, you have 100 days to return it. Still not too shabby—one sleep was enough to convince me.
If you care about price... Buffy
A king-size Brooklinen down comforter is going to run you $479, while the Buffy Cloud comforter is only $209. Brooklinen does have a down alternative that gets you closer, but it will still set you back $309. So an easy win for Buffy. Even better, Buffy is currently having their biggest sale of the year! Get 40% Off Sitewide - but hurry, it only lasts until they run out.
Overall Winner: Buffy
Overall, I think these are both great options. However, for me, the Buffy Cloud comforter really nailed what I was looking for. I wanted to find that sweet spot between soft and fluffy, but cool to the touch and breathable enough for year-round comfort. In the end, I definitely found that with the Buffy Cloud Comforter and will not be sending this one back after my 7-day trial is over. The only problem now though is how hard it is to get out of bed in the morning!
Want an article like this for your brand? Get in touch with us HERE.