Hi all! I'm Kelly, and I signed up to review Noom because honestly, I am apparently one of those people living under a rock, and had never even heard about the weight loss app. I'm pretty busy running around with my two kids and getting in my own workout routine, so I guess it's just never been one of those things that I've researched, or has been magically triggered by the all-knowing Facebook ads. I was intrigued though (enough to participate in this review), after I read a brief description about it. I've been wanting to eat healthier, but it never really seems like I am able to, because... well, life. I was hoping that Noom would really take my health journey to the next level.
What I Hope To Achieve With Noom
Ok, so I'm going to be completely honest here. I'm one of those people that has a super fast metabolism, and I pretty much tick off my entire family for being able to eat a bag of chips and not gain weight. Don't stop reading! I have a really good reason for still wanting to try Noom! Basically, I've come to realize that how you look on the outside is completely different from how you feel on the inside. That old saying, 'don't judge a book by its cover' is so very, very true. And despite still being able to fit into my clothes from yesteryear, I actually felt pretty gross on the inside, and not very comfortable in my own skin. I wanted that to change. I wanted to not only look good, but also feel great and boost my confidence in the process.
I've always been pretty active. I've played soccer since I was 4 years old, and recently just started back up again as a 38-year-old mom. Boy, has that been a humbling experience! My mind knows what I need to do, but my body is not able to do it! Ack! I enjoy anything outdoor related such as hiking, biking, jogging, skiing, etc. I also go to Pure Barre 3-4 times a week, and I'm loving how strong it is making me feel.
So, all of this sounds great, right? It is, but I tend to go through cycles. For six months, I will be super great about working out, getting outside, and eating healthy (or as healthy as a mom of two little ones can eat). And then, I just fall flat. All of a sudden, I'd rather binge-watch Netflix shows instead of going for a jog, or hitting up the McDonalds drive-thru instead of taking the extra 20-30 minutes for a home-cooked meal. I'm really hoping that Noom helps me to change those cycles and just continue into one long, healthy lifestyle!
My First Impression
My first impression with Noom is one of indifference. I felt that the online questionnaire asked a lot of great questions, but I do wish they had done a few things differently. For example, when I had taken the quiz as male instead of female to see how the experience differs, there were questions like "did you play sports as a kid?" and "would you rather lose weight or gain muscle?" even though the other answers remained unchanged. I wasn't asked those questions as a female, and I felt like I was missing out on something because of it... especially because one of my goals is to gain more muscle and feel stronger.
I love that Noom doesn't just count calories or tell you which foods are good or bad. They do that of course, but I also think that their lessons on the hows and whys we make certain choices are super interesting. I will admit, I think they are incredibly corny, and I actually cringe with some of the things they try and make into jokes. It's not my style of learning at all. But, at the core of the lessons, it is really great information and I've learned quite a bit. I've even found myself in the grocery store thinking about certain things I've read, and making difference choices with my food purchases. Total win!
My coach, Olivia, has been a great help as well. I haven't gotten very in-depth with her on a lot of things, but rather asked about certain Noom app features or bits of advice here and there. She is great at getting back to me, and never once have a I felt like she is a bot as some of the negative reviews have mentioned. I'm not sure if the coach feature really adds that much value to the overall experience for me, but I've also never been one to get a personal trainer or health coach in real-life either. I prefer to just be given the information and then do it on my own.
Overall, I'm still on the fence with the app. I'm finding it hard to really use it on a daily basis. I refuse to weigh myself every day like Noom suggests. I personally just feel like this will teach bad habits and tendencies for myself, and do not want to go down that path. I try and log my food daily, but it can be hard when either the food doesn't match up, or I have so many ingredients in something that it takes too long to add. Many times, I have found myself giving up on that part as well. I think the part I like the most are the psychology-based courses. I find them to be extremely informative and educational. Even those though, I really have to remind myself to sit down and go through them! We will see if that changes though as I get further along into the Noom experience! So, stay tuned!
My Experience After 60 Days
Midway Impressions
I'm past the 60 day mark with Noom and I have to say I'm feeling pretty disengaged from the app. I'm having this internal challenge with Noom, because I'm trying to stay off my phone and be more engaged in real life. Picking up my phone to dive back into the virtual world is really not appealing to me at the moment, which makes the entire Noom app a bit hard to deal with. I'm really longing for the old school days of in-person interaction, and that has become really obvious for me when it comes to something like health coaching and working out.
I have a membership at a small boutique gym where I workout multiple times a week, and I recently tried their online Zoom class. It was fine and I got a decent workout, but I didn't enjoy it and it's not something I would sign up for regularly. I really enjoy the camaraderie and support you get from being at the gym itself. I feel like the Noom app is similar in that way for me. I know virtual health coaching has a place for many people who prefer the flexibility of online and virtual weight loss apps, (not to mention it is a lot cheaper than a personal health coach in real life!), but after 60 days I haven't been able to jump on board with it just yet. 
Not Personalized for My Lifestyle
I think the other issue I'm having is that I do not feel like many of the lessons are directed towards me, which makes it feel a lot less personal. I was hoping that due to the in-depth personal assessment I took in the beginning that the lessons would be more catered to what I was hoping to achieve. I was looking to become healthier overall and in the process lose a few pounds of stubborn baby weight that never came off 5 years ago.
When using the Noom app those first 30 days, I did actually enjoy their caloric density lessons as I had never really considered the density of food. And it did help me to think about changing the way I shopped at the grocery store or what I grab for a snack.
Unfortunately, the psychology-based lessons do not resonate with me. Many of their suggestions and tips on how to handle certain situations are just not things that I deal with on a daily basis. For example, they talk a lot about what to do in work/office situations or what to do when you go out with friends for a drink. I don't work in an office and I've got two kids... going out? What is that!?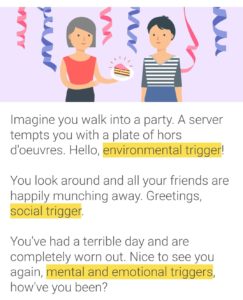 Now, tell me how to make healthy meals and snacks that my whole family will eat, while also squeezing in soccer games, homework, and running errands all day long... and you've got my attention! 
Food Logging Issues
I've also actually stopped logging my food, as it was becoming cumbersome and not something that seemed to actually be helping me change my eating patterns. If I made a dinner with 10 ingredients, I would have to add each individual ingredient in order to get an accurate calorie and color count. When I would just add the entire meal as a whole, it usually came out extremely skewed with the calorie counts.
I've also had a few issues with food matching up. I ate a snack bag of chips one day (yeah, I know… red food), and the information on the snack bag did not match with the info within the Noom app. Another time, I scanned the barcode of my Trader Joe's oatmeal, and it told me that barcode belonged to a slim fast shake. These small, but irritating issues made me give up on logging it all together. 


Hard for Very Active People
I've also found that the calories they want me to intake are not enough for my active lifestyle. (Which they would've known had they asked me about it in the online assessment). 1200 calories for someone not trying to lose a ton of weight and who is extremely active, I personally feel is not appropriate. I stand by my opinion that the timeline they gave me is still appropriate, however, I do not believe it should be due to eating only 1200 calories. Looking at others experiences with Noom, it seems as if everyone is given a 1200 daily calorie intake. This does not feel overly personal to me. I really want something that takes my real life situation into account and works around that. Currently, I do not feel Noom is doing that. 
Unhealthy Habits
I haven't felt that Noom has garnered any unhealthy habits for me. But, I also refuse to weigh myself daily (I prefer to go off how my clothes fit rather than the weight on the scale). I actually chose not to partake in that part of the Noom app from the beginning because I was afraid that it would make me too preoccupied with my weight. Which I suppose is technically a concern that Noom would garner unhealthy habits and not something I wanted to chance. 
My Experience After 90 Days
Well, I finally finished the 90 days with Noom and I can honestly say it just wasn't for me. As hard as I tried, I just couldn't relate to the majority of the lessons.
Not Personalized
As I mentioned in my 60 day review, they are not geared towards a mom who doesn't work in a traditional office setting. They are geared towards someone who works a 9-5 job. Which personally, I only know a handful of people who actually have that sort of lifestyle. My husband doesn't fit this mold either as he doesn't work normal hours, nor does he have an office he goes into. So when I showed him a few of the lessons, he was unable to relate as well. In fact, out of all of my close family and friends, I know exactly two people who fit this mold. Don't get me wrong, I'm sure there are a ton of people out there that could relate to these lessons, but they certainly are not in my circle.
In the 90 days that we were reviewing this app, I got approximately halfway through. I made it through 110 lessons and my opinion still stands that the first lesson, was the best lesson. The comparison of a handful of grapes to a handful of raisins was the only one that I genuinely still think about. I know this may be weird, but I don't eat when I'm stressed, (it's the exact opposite actually!) I only eat when I'm hungry, and I don't watch TV when I eat. These are all great things to turn into daily habits, but when he app just assumes you already do these things and tries to teach you how to break the cycle, the lessons become cumbersome and just something "to get through".
Logging Food
My opinion unfortunately did not change either on logging the food. I gave up entirely. I get really annoyed when things don't work as they are advertised. It's a pet peeve of mine. I did try a couple more times, but I found it more time-consuming than anything else. Plus, the calories they gave me really were never enough for my active lifestyle and it just irked me when I saw my food in the red zone. I mean, I get it... cupcakes, Halloween candy, sure, those things should be red. But when they talk about everything in moderation, and then give you a caloric goal of a child, it seems a bit disingenuous.
Tone of Voice
I also just could not get past their way of trying to get information across to their users. My son has this bad habit of picking up funny phrases from movies and then saying it to people in real-life situations. The moment one of those phrases is a big hit and people laugh, he continues to say it... all the time. This is how Noom felt to me. Their sarcasm and joking manner in the lessons might have been ok if it wasn't literally every moment of the app. But, every page was another little quip or a saying where they were trying to be funny. Honestly, it got incredibly cringe-worthy.
Final Opinon
My final opinion on Noom is that I would not recommend this to a friend or family member. I have seen the reviews where it did work for others, and honestly that makes me incredibly happy for them. I truly believe that you have to find what works for you and go with that. For me, this wasn't it. I need something more personalized and more focused on people with active lifestyles.
Check out the other reviewers' perspectives here:
Or follow along and see the complete review.