Verbal Fancy Box Review & Coupon – July 2013
---
This post may contain referral/affiliate links. If you buy something, MSA may earn a commission. Read the full
disclosure
.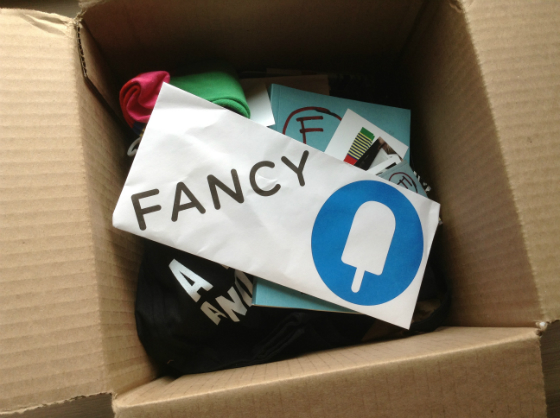 I think I mentioned this in my last Fancy Box review – but it looks like Fancy shipping times are improving! This month I was also happy with the items that Verbal selected for the box – good job Fancy!
The Box: Verbal Fancy Box
The Cost: $39 a month plus shipping
The Products: $80+ worth of product selected by Verbal
Check out all of my Fancy Box reviews!
All Fancy boxes come with cards giving a little more detail on what the product is, how to use it, or why the celebrity picked it.
F In Exams: The Very Best Totally Wrong Test Answers – Value $10
Calf-High Memphis Sock – Value $12
This book is hilarious. We actually already have it – so I'll be using it as an awesome gift! And while these socks are a little loud for me, they will be perfect (invisible) for tall boots this fall!
Conceal Shelf – Value $13
This was our favorite item in the box! It's a mini book shelf that makes it looks like your stack of books is just floating mid-air against your wall. I can't wait to install it. We may have to buy more and have a set!
Safe Travels Tote Bag – Value $20
Much like the middle finger umbrella from the April Pink Fancy Box, this is an item I just don't see myself being able to use in real life. It's going in the gift pile!
Morning Mug – Value $25
This mug "wakes up" when you fill it with coffee or any hot beverage!
Verdict: The July Verbal Fancy Box was a win for me! I paid $39 plus $7.95 shipping for this box and received $80 worth of products. I'll use just about everything and I'm very excited about the invisible book shelf. What did you think of the Verbal Fancy box this month?